Relationships matter.
That was the common theme voiced by leaders of the University of Maryland, Baltimore's (UMB) emergency management services and police force in presentations Sept. 18 at the University's quarterly Q&A.
Jonathan Bratt, MS, CEM, who is UMB's new first-ever executive director of emergency management, drove home that point while discussing his aim to develop strong relationships with city, state, and federal agencies.
"There's a saying in the first responder world: 'The worst place to exchange business cards is at the scene of the incident.' You want to have exchanged them beforehand," Bratt told a crowd about 70 UMB faculty, staff, and students who gathered in the Francis King Carey School of Law's Moot Courtroom. "So we establish relationships at UMB and with the external community, bringing in the city's and state's emergency management offices, the fire departments, and non-governmental organizations together to understand how can we better respond to an emergency before we actually have to respond to one."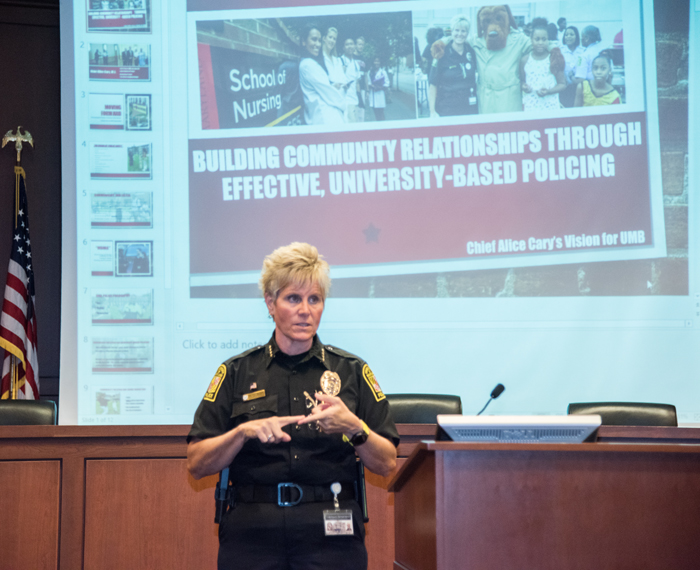 UMB Police Chief Alice Cary, MS, who assumed command in June, seconded Bratt's notion, stressing how she plans to build relationships within the University community while ramping up engagement initiatives in Southwest Baltimore with efforts such as UMB's Police Athletic/Activities League program and collaborations with the Office of Community Engagement.
"The culture and philosophy is changing toward community-based policing," said Cary, who is the first female chief in the UMB Police Force's 70-year history. "So in moving forward, we want to develop a proactive police force. And our vision is to connect with the UMB community and the neighborhoods that surround us."
Bratt, who has been in his post since April, delivered his PowerPoint presentation first, offering his vision for making UMB an emergency- and disaster-resilient University and detailing strategic goals for the short and long terms. He described emergency management as being a collaborative and integrative process that requires many disciplines to work together to succeed.
"There's not just one science that encompasses all of emergency management," Bratt said. "It involves engineering, medicine, sociology, psychology — every discipline has some input in the process. It's a team effort. As we prepare for and respond to emergencies, different expertise is brought in to help us understand how to manage and mitigate these events."
Bratt says he wants to introduce a culture of preparedness to the UMB campus and do it through training, exercises and community engagement initiatives such as Stop the Bleed, a campaign led by the R Adams Cowley Shock Trauma Center that teaches techniques to stem life-threatening bleeding in emergency situations. It's all part of his presentation's theme: Learn. Prepare. Act.
"You'll see it on the tagline of my emails — 'You are the help until help arrives' — and that's a reminder to take action in an emergency situation," Bratt said. "The true first responders are the bystanders, so it's important to learn what you need to do before an emergency."
In a similar vein, Bratt wants to integrate more emergency management into the schools' curriculums. He says he's talked to several deans who support the idea.
"For example, the Strategic National Stockpile might be a topic for the School of Pharmacy. Or resource management in hospitals could be a topic for the School of Medicine," Bratt said. "And outside the curriculum, there could be similar training and seminar opportunities for students as well."
Bratt says he will develop a five-year strategic plan for the University's emergency management program, review and update UMB's emergency operations plan, and build a team of professionals to execute the plans. That team was put to the test recently as Hurricane Florence threatened the East Coast. It met to assess the situation, then sent out a University-wide email to relay that UMB was tracking the storm and where updated information could be found. An audience member thanked Bratt for the email, saying it was comforting.
"It was a team effort. We came together, saw that there was a potential hazard coming, and knew we had to let you all know that we're watching it," Bratt said. "We'll strive to put out that type of messaging in the future."
Cary also cited the need for improved communication, saying she wants to make sure her officers are out and about and talking to not only members of the UMB community but the institution's Southwest Baltimore neighbors, too.
"We need to get out of the car and walk around," she said. "We need to communicate through emails, through websites, through just saying, 'Hi, how are you today?' Our officers are out there on the front line — they're the ones who are leading this agency, and they're the ones that get the feedback to our department so I can better understand the needs of our community."
Cary says it's important for officers to be visible but not stationary.
"I've tasked our officers to look at the hot spots, the concern areas," she said. "It's a focused patrol approach, so it's not predictive policing where you know that there's an officer standing at the corner from 8 a.m. to 10 a.m. every day, but something that works to mix it up."
Ashley Valis, MSW '06, UMB's executive director of strategic initiatives and community engagement, told Cary she's taken notice of that approach and appreciates it.
"I walk back and forth a lot from the Community Engagement Center, and I've seen police officers in different spots, switching it up," Valis said. "That makes me feel safer, because it's not that same old pattern."
Like Bratt earlier, Cary fielded questions after her presentation:
On concerns about safety around Lexington Market: "We're working with the city of Baltimore to ensure that that area is safe, and that's certainly something we need to move forward on and even prioritize."
On body cameras for officers: "We are beta-testing a model with Panasonic and wrapping that up in the feedback stage, so that's the next step in getting everyone outfitted. That promotes transparency, protects you as a citizen, and protects our officers."
On the transient population and panhandling: "I'm working on creating a homeless liaison officer program so that we'll have somebody that coordinates with the city of Baltimore on homelessness and panhandling issues, someone who will work cooperatively with our Office of Community Engagement."
On feedback for the police force: "I have an open door for any concerns. You can come directly to me and I can relay that information. I have an exceptional staff that thinks outside the box and is very creative to ensure that you're safe coming and going to campus."
Dawn Rhodes, MBA, UMB's chief business and finance officer and vice president, who moderated the Q&A discussion, urged attendees to take the lessons back to their own departments. "Relationships, collaborations, and partnerships. This doesn't just apply in the safety world," Rhodes said. "It applies to all of us in how we do our jobs and how we get things done."