When Taylor "Soul" Hines completed her training to become a Healing Youth Alliance (HYA) ambassador, she felt empowered to be vulnerable within a group to tell her own story.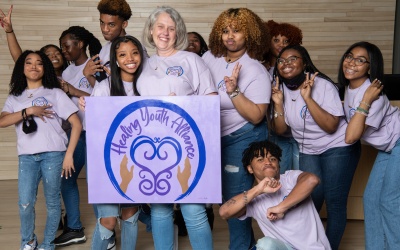 Hines, 20, loves statistics and case studies to cite as examples, but once she felt like she could drop a curtain to reveal herself, she experienced how she can engage her Black peers in a meaningful conversation about mental health and healing from trauma.
"My biggest thing was just transparency about struggling with things such as depression, bipolar disorder, and eating disorder," Hines said.
Those conversations transformed into a spiritual experience being able to connect her body and mind with talking about how to change the generational trauma experienced in Black communities that she experienced herself.
"Trauma gets cycled if it isn't addressed, and I think within the Black community a lot of our trauma is generational. It is embedded within us sometimes," said the Baltimore County resident. "To be able to see that helped me shift the narrative on how I want to address mental health."
That would be through her passions of art, singing, and songwriting. She aspires to establish a nonprofit one day to provide a space for Baltimore teens to create music and art in an uplifting environment.
On March 6, Hines officially became an HYA ambassador at the conclusion of the group's Healing Through Action virtual conference where members presented topics on mental health.
These ambassadors are teens and young adults between ages 16 and 21 who receive 24 weeks of training to learn how to professionally facilitate discussions and advocacy for mental health wellness and healing from trauma through an Afro-centric framework. They apply to become part of the program through creating a slide presentation about themselves and their interests in mental health.
HYA was formed in March 2020 as a partnership between the University of Maryland School of Social Work (UMSSW) and Baltimore nonprofits HeartSmiles and Black Mental Health Alliance. It was founded by Kyla Liggett-Creel, PhD, LCSW-C, clinical assistant professor, at UMSSW.
This cohort was led by HYA program coordinator Brandie Thomas-Cunningham.
"These are today's youth but tomorrow's leaders for sure. One of the most special pieces of working with this cohort for me was watching the way they took what they learned and used it in the ways they showed up and supported one another," Thomas-Cunningham said. "Watching youth learn and providing the opportunity is great but seeing the work come full circle in front of you is a beautiful experience."
Baltimore Mayor Brandon Scott commended the HYA on its works during opening remarks at the conference.
"As we know, our communities experience trauma every day from systematic racism, gun violence, and right now the COVID-19 pandemic. It is often a daily battle to cope with and heal from our experiences. That's why the work that you are doing through Healing Through Action is more important than ever," Scott said. "As mayor, I'm committed to improving the lives of Baltimoreans through a lens of public health, especially through our youth. From the Elijah Cummings Healing City Act through the work that you are doing, I know that Baltimore has a promising and healthy future ahead. I commend you and am so proud of your actions."
As an ambassador, these youth will be connected to projects in the community and speaking engagements to shine a light on mental health topics and trauma experienced by youth in their communities.
Denim Fisher, 16, has been boxing since she was 11 years old. When the pandemic interrupted her training in a sport that let her relieve bottled up stress, she realized how external factors can impact her mental health.
It was boxing that gave her confidence after being teased in elementary school.
"They tried to tear me down, which did not occur because I'm still here, I'm still standing and I pushed through," said the Pikesville High School sophomore.
What she lost in boxing, she made up for in being more interested in learning about mental health after being stuck at home during the pandemic lockdown and attending school online. The rudimentary online classes left little time for chit-chat and connecting with peers and her teachers. HYA's weekly check-ins provided Fisher that opportunity to share how she's doing.
"After that, you feel relieved and refreshed because you got all of your emotions that were bottled up, so that was really effective," she said.
The healing through African proverbs and philosophy was particularly profound for Fisher along with the concept of healing-centered engagement.
Learning of the philosophy about "ubuntu," meaning "I am because we are," demonstrated to her that healing together is better than going it alone.
"In Black culture, we do things together: We'll shop together, we'll cook together, we'll eat together, but we never think of it as a healing mechanism for our pain that we have either generationally experienced or individually experienced," Fisher said.
As Fisher continues her education, she has her eyes on becoming an attorney. Being an HYA ambassador will help her ignite a passion for change through understanding a deeper connection of trauma that her community and future clients experience.
"I'm just very inspired to be an attorney because I want to be a part of the change and if I'm able to be a part of the change and truly, truly make a difference in someone else's life, then I will go home content," Fisher said.
The 2021-2022 Healing Youth Alliance Cohort includes:
Alicia Allagan, Western High School
Raquel Baraka, Kenwood High and Sollers Point Technical High School
Jordyn Blanding, Howard University
Kendra Bryant, Towson University
Jaelyn Bull, Chesapeake Science Point Public Charter School
Kaylee Eaton-Torres, Baltimore Polytechnic Institute
Yolanda Famba, Western High School
Janiah Fields, McDaniel College
Charity Fisher, Cristo Rey Jesuit High School
Denim Fisher, Pikesville High School
Chelsey Gasque, Spelman College
Soul Hines, Mergenthaler Vocational Technical High School '19
John Neale, Baltimore Polytechnic Institute
Jerrell Reed, Baltimore Polytechnic Institute '20