During the summer months, the children who participate in the University of Maryland, Baltimore's (UMB) Police Athletic/Activities League (PAL) Program can usually look forward to meeting their friends at UMB's Community Engagement Center, playing outdoor games and sports with UMB police officers, and going on fun field trips.
Due to the COVID-19 pandemic, the summer of 2020 looked a little different than the norm, but the PAL kids were still able to engage in summer fun in the safety of their own homes. For five weeks, 28 PAL participants ages 9-12 logged into a Zoom virtual conference call every Tuesday through Friday for a full day of summer activities.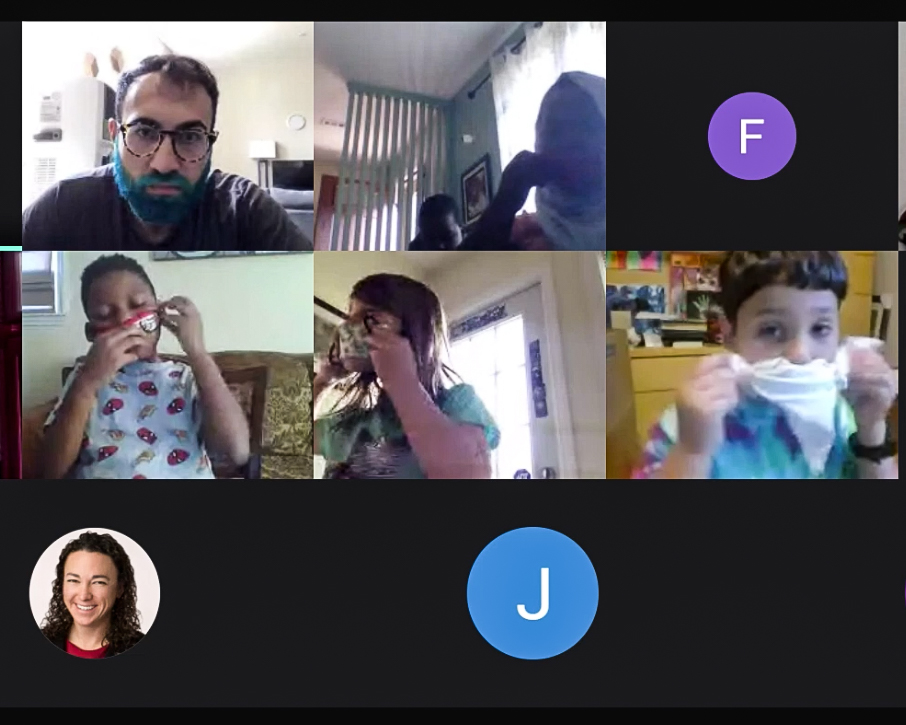 "With the uncertainty of a pandemic, this is a time when our kids need us as a support system the most," said Borndavid McCraw, UMB PAL coordinator. "Staying consistent with programming and engagement is critical."
The PAL Program partnered with several other organizations to bring a variety of fun activities to the virtual sessions. Through a partnership with URecFit, the PAL kids participated in daily fitness activities like martial arts and boot camp exercises.
URecFit also helped to coordinate a virtual book reading by children's author Justin Sims, who read his books, Young King Young King and Young Queen Young Queen, and answered questions about being a self-published author. Both books feature a series of affirmations and advice to help reinforce positive character traits in children that will stick with them for life. The book reading brought together children from the UMB PAL Program, the UMB CURE Scholars Program, and UMB Summer U.
(View a video below.)
"The read-aloud session was educational and very inspiring," said Sophia Octave, whose son is a CURE Scholar. "These books gave wonderful, lifelong lessons for the young generation to use as a guide to emulate."
The PAL Program also partnered with Art with a Heart, a local program that brings interactive visual arts classes to schools, community centers, group homes, hospitals, and more. Art with a Heart provided the PAL kids with art kits that were delivered directly to their homes. The boxes were filled with art supplies that they used to follow along with virtual instructional videos on how to create pieces of art at home.
PAL organizers also used the summer programming as an opportunity to educate the PAL children and teach them vital skills. By incorporating weekly lessons from BrainWise, 10 Wise Ways to Stop and Think, program leaders taught positive problem-solving and critical-thinking skills.
"The continued focus of our PAL summer programming is youth character development," McCraw said. "While meeting with them regularly, we can use fun activities to help them build their confidence and interpersonal skills."
McCraw also would use fun activities to share information and safety tips about the COVID-19 pandemic. During one online session, the PAL kids learned how to make their own reusable masks by following a live demonstration.
"Talking about the pandemic during our sessions is really important because it can help dispel myths and misinformation as well as help to ease their anxiety," McCraw added.
UMB police officers also played a key role in the virtual summer. Not only did they drop in on the virtual programming every week, but they also reached out to the PAL children individually. Every Wednesday, officers helped to deliver lunches donated by a local business, The Nook Cafe, to each of the PAL families. These drop-offs not only provided a delicious meal, but they also gave the officers an opportunity to check in with the kids and families involved with the program.
"It felt great seeing the kids and giving them lunches. The expressions on their faces were priceless," said Pfc. Vincent Bey-Williams, an officer with the UMB Police Department. "Engaging with kids in the community and continuing to help bridge the gap between public safety and the community is very important during these uncertain times."
The PAL Program also took the children on virtual field trips to the zoo and even space by taking advantage of virtual external resources. Thanks to the children's program at the San Diego Zoo, the PAL kids took a virtual tour of the animal exhibits. The PAL kids also participated in Nickelodeon's Slime in Space Field Trip, where they watched astronauts on the International Space Station test the consistency of slime in zero gravity.
After five weeks of virtual summer fun, the PAL kids have a couple of weeks off before returning to school in the fall. Program organizers are working to figure out what PAL after-school programming will look like in a virtual setting.