ICTR 2018 - 2019 Scholars Program
Please Note: This program was replaced with the UMB ICTR TL1 Training Program beginning with the 2019-2020 academic year.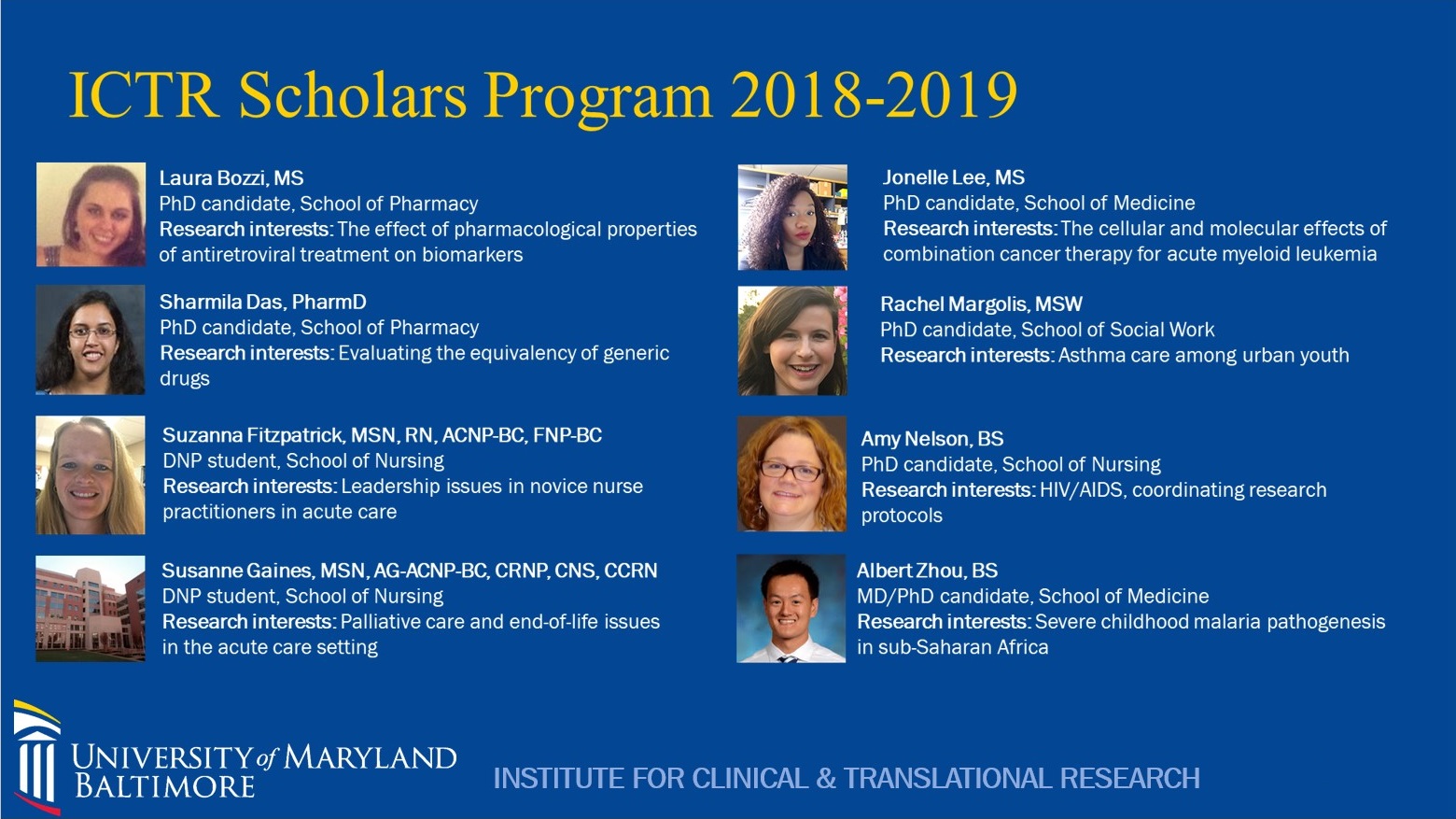 The UMB ICTR recently collaborated with JHU ICTR on the submission of a CTSA grant which was reviewed this past fall and is expected to be funded. In the meantime, the CTSA leadership from both universities started an ICTR scholars program as a prelude, and significant collaboration, to the CTSA pre-doctoral TL1 program. UMB identified eight scholars from multiple disciplines to complement the eight scholars identified at JHU.
The ICTR scholars from both institutions are enrolled in the Predoctoral Clinical Research Training Program (PCRTP). The PCRTP is yearlong career development opportunity that will prepare the scholars to become exemplary clinical researchers in any discipline, specialty or subspecialty. Programming began in early August and will run through June 30, 2019. The time commitment will be approximately 2-3 hours every other week, or 6 hours per month. Programming will be held at both JHU and UMB.
The PCRTP provides exposure to and training in clinical research for predoctoral trainees during their early professional development, specially tailored to their degree of interest and commitment. The Program builds on a strong foundation of interest and expertise in training in patient-oriented research. The program brings trainees together with clinical researchers, epidemiologists, biostatisticians, behavioral scientists, molecular scientists, and clinical specialists to address a wide variety of important scientific challenges. The program offers trainees opportunities to become part of specialized research teams, collaborating across Johns Hopkins, UMB and with colleagues across the U.S.
For scholars chosen to participate, we offer:
Access to JHU programming
$2,500 in ICTR voucher support for each scholar to access any of the Core services on UMB's campus
Extra biostatistics advising
The possibility to be chosen as a TL1 scholar if the CTSA is funded
As a trainee of this program, we would require the scholars to:
Participate in Monthly PCRTP activities (e.g. seminars – Writing a Scientific Paper, Poster Presentations, Research in Progress, etc.)
Meet with the ICTR Biostatistics Advisor to learn the use of biostatistics in the design, implementation and interpretation of clinical and translational research
The PCTRP has an exemplary history of developing trainees in:
Identifying an appropriate study design and data set for answering the question
Obtaining IRB approval
Gaining familiarity with aspects of data management
Identifying & applying appropriate statistical methods & correctly interpreting results
Familiarity with tracking and recording steps in the analysis of a data set
Writing up the results of a data analysis for a professional publication
Presentation of the results