After months of anticipation, the University of Maryland, Baltimore (UMB) is thrilled to announce that the new Community Engagement Center (CEC) has been completed on time and under budget.
This beautiful, historic building located at 16 S. Poppleton St. has been reimagined into an architecturally stunning, 20,000-square-foot space complete with a large event space, a dance and movement studio, private clinical rooms, and a robust computer lab. While preserving some elements of the original architecture, the building presents a bright, open, and welcoming atmosphere that is ready to be enjoyed by members of the community once health and safety protocols allow.
"I am excited that our Community Engagement Center is now complete!" says Tyrone Roper, MSW, the director of the UMB CEC. "I had hoped we would be able to share in celebrating the opening of the center with all of our neighbors and partners. I truly look forward to opening the center to everyone once it is safe to do so."
The new CEC is the cornerstone of UMB's Community Campus, a location and a concept that demonstrate a deep commitment to strengthening West Baltimore in collaboration with the neighbors who live there. The CEC is where UMB works hand in hand with neighbors to support them in achieving their career goals and giving children a safe place to learn and play. With this newly renovated space, the center is now even better equipped to partner with our community to reach our common goals of health and well-being.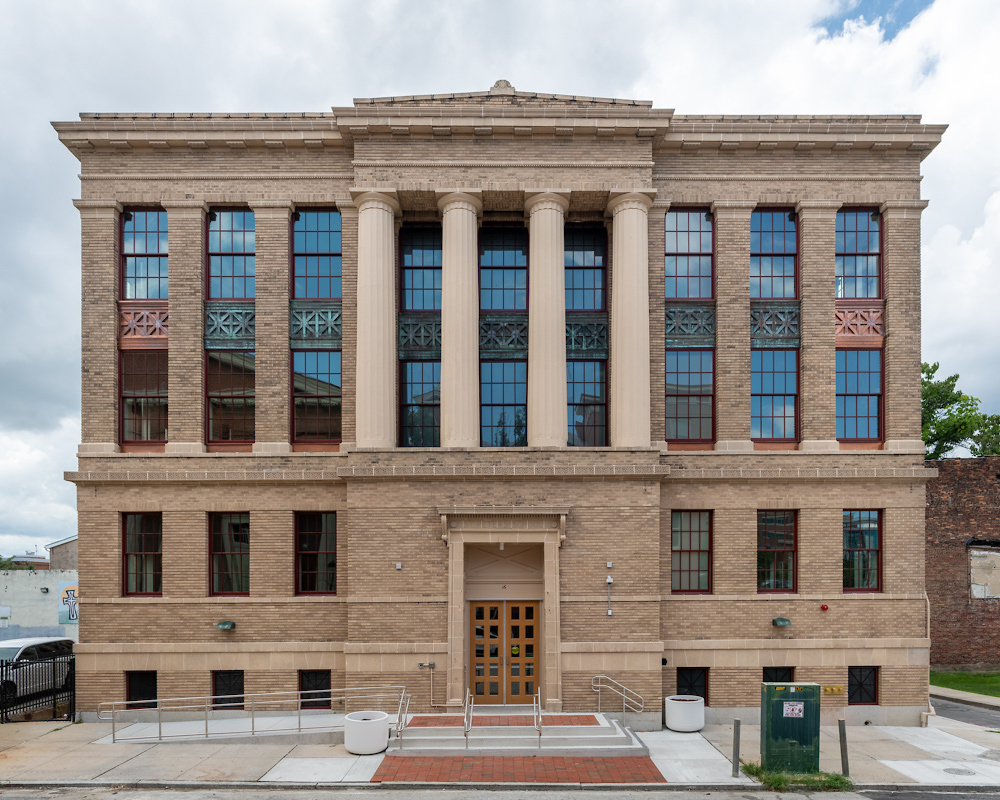 "This center is a place that our community deserves," says Ashley Valis, MSW, UMB's executive director of strategic initiatives and community engagement and a resident of West Baltimore, "Together, we have imagined, planned, brainstormed, and convened many residents to deliver a new center that will be a fun, educational, relaxing, respectful, and transformational space for our neighbors."
This new space is roughly seven times larger than the original CEC, which is located just a block away on West Baltimore Street. This major expansion is in response to more than 40,000 recorded visits from men, women, teens, and children who have engaged with its services and programming since it opened in 2015. With the additional space, the CEC will be able to provide even more neighbors with resources and programming including weekly food markets, monthly community meals, fitness classes, health services from the UMB Health Alliance, computer lab access, a free legal clinic, workforce support and trainings. It will also provide a home for a number of youth programs including the UMB Police Athletics/Activities League (PAL) Program, the UMB CURE Scholars Program, the Emerging Leaders Academy, and the Summer YouthWorks Program.
"As a resident of the Poe Homes [in Poppleton], the CEC has been a positive beacon of light for the neighborhood," Leslie Ware, president of the Poe Homes Tenant Council, said during his remarks at the building's groundbreaking ceremony. "It's a wonderful thing, and this new center will only continue to improve and build upon what we already have created together."
The additional space will also allow UMB to provide on-site spaces for our community partners, including the United Way of Central Maryland (UWCM). Through this partnership, UWCM will be expanding its widely recognized Ben Center model to UMB's Community Campus, providing neighbors with numerous family-focused programs and services.
While the COVID-19 pandemic is preventing the center from opening to the public, members of the UMB's Office of Community Engagement have been working tirelessly to continue to provide some of its programming and resources to West Baltimore neighbors using virtual platforms.
The CEC's newest virtual program, which will launch in October 2020, is the Rec2Tech program. The program was created through a partnership between UMB, James McHenry Elementary/Middle School, and Baltimore City Parks and Recreation, and teaches students ages 11 to 15 about science, technology, engineering, arts, and math (STEAM). Through virtually hosted classes, the participants learn to use different technologies such as a 3D printer, a laser cutter, and digital design software to make their own creative designs.
Zumba classes, line dancing, yoga, Workforce Wednesday, and other essential resources have also been operational virtually throughout the pandemic. Neighbors can find updated information about the virtual programming and community happenings with the weekly CEC newsletter.
UMB's commitment to the community is stronger than ever. The University looks forward to being able to open the doors of this new building and welcome neighbors into the CEC's new home soon.