The themes of "Catalyst" and "Community" came together at the University of Maryland, Baltimore's (UMB) annual Founders Week Gala on Oct. 26 at the Hyatt Regency Baltimore Inner Harbor, providing an upbeat and uplifting conclusion to UMB's weeklong celebration of its rich, 212-year history.

On the "Catalyst" front, it was announced that UMB's ambitious fundraising campaign had surpassed the $500 million mark, well on the way to its $750 million goal; seven inaugural Catalysts for Excellence were recognized for philanthropic work at their respective UMB schools; and the UMB Foundation, Inc. (UMBF) bestowed its Distinguished Service Award upon a longtime donor who supports UMB programs and the success of students in Baltimore.
(View a video recap of the Gala below. View the Gala photo gallery.)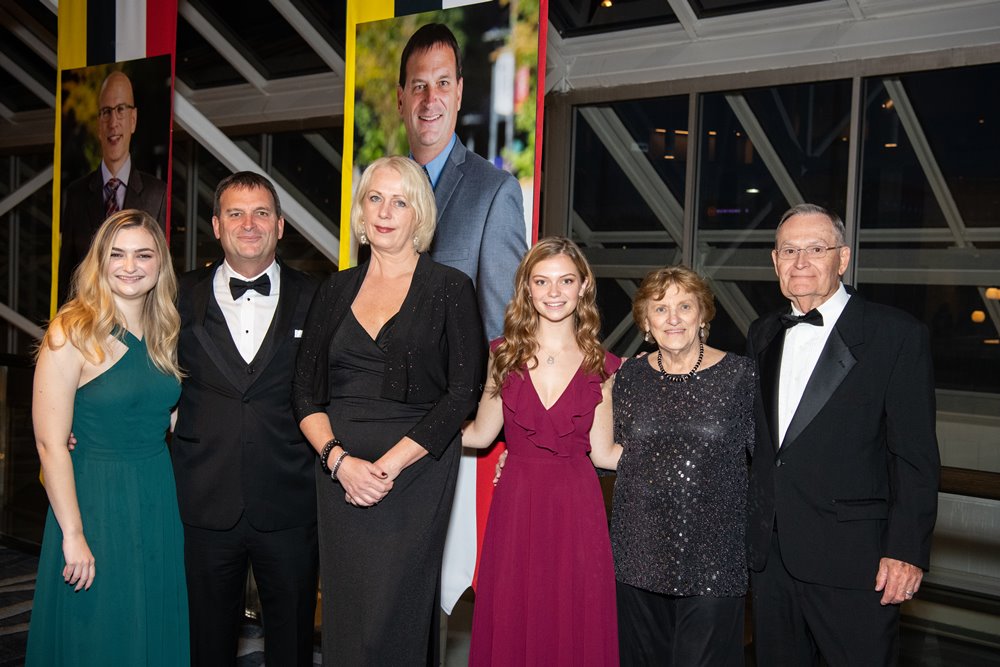 In the "Community" sphere, the University touted plans for its Community Campus, the centerpiece of UMB's deep commitment to West Baltimore and the collaboration with its neighbors that will strengthen that engagement, and two sixth-grade students from UMB partner James McHenry Elementary/Middle School, Kylie Adkins and Zaron Silver, spoke of their excitement about plans for the expanded Community Engagement Center (CEC). Kylie and Zaron, who both participate in the UMB Police Athletic/Activities League (UMBPAL), asked the crowd to come and visit them at the new CEC before introducing an artist's rendering of the expanded center.
The Gala came two days after another UMB celebration linking "Catalyst" and "Community": the ceremonial groundbreaking of that new CEC in West Baltimore, which drew dignitaries and featured speeches from UMB President Jay A. Perman, MD, and UMBF Board of Trustees member and former Ravens star Ray Lewis, among others. The new CEC will be housed in a renovated, 20,000-square-foot historic building at 16 S. Poppleton St. The building is nearly seven times the size of the current CEC, and, due to be completed in 2020 after an $8 million upgrade, it will serve as the Community Campus cornerstone and allow UMB to offer expanded free services and programming requested by its neighbors.
The new CEC site is just blocks away from the Saratoga Building, where Perman, during his remarks at the gala, noted that from his office on the 14th floor he can literally see the "whole of UMB."
"I see downtown. I see West Baltimore. I see our seven schools," he said. "I see the power of our physical presence. I see the breadth of communities and people we serve — all very different from one another. I see so clearly who we are and why we matter.
"And it is all of you who make it so. I can't begin to thank you for the work you put in to solve our grandest challenges; care for our neediest people; teach, train, and mentor our incredible students; and support all of our efforts to improve the human condition."
Four Exceptional Award Winners
The Gala is the signature event of Founders Week, which honors UMB's history; marks the achievements of faculty, staff, and students; and looks ahead to innovations to come. Before the crowd of 600 settled down for dinner, it was treated to videos extolling the work of this year's top UMB researcher, educator, public servant, and entrepreneur.
Robert K. Ernst, PhD, professor and vice chair in the Department of Microbial Pathogenesis at the School of Dentistry, was honored as Entrepreneur of the Year, two years after winning Researcher of the Year. Ernst is co-founder of the company Pataigin, which is commercializing technology to quickly identify infections by developing a "barcode" for each pathogen strain. The technology offers superior performance compared to current diagnostic options and could save patients from potentially harsh therapies.
David C. Gray, JD, PhD, MA, the Jacob A. France Professor of Law at the Francis King Carey School of Law, was feted as Researcher of the Year, gaining widespread praise as a national expert on the Fourth Amendment and for impactful research in which he artfully mixes his background in law and philosophy. Gray is the author of The Fourth Amendment in an Age of Surveillance and has been among the most cited scholars from the Carey School of Law since joining the faculty in 2008.
Michelle G. Giglio, PhD, associate professor at the School of Medicine (SOM), was named Public Servant of the Year for her tireless efforts to promote and present STEM (science, technology, engineering, and math) education outreach programs to underserved students in Baltimore. Also the academic and outreach coordinator at SOM's Institute for Genome Sciences, Giglio is active in UMB's CURE Scholars Program, organizing summer camps and other programs for the initiative that works to prepare sixth- to 12th-grade students in West Baltimore for research, STEM, and health care careers.
The Educator of the Year makes an impact at two UMB schools. Francis B. Palumbo, PhD, JD, MS, professor in the Department of Pharmaceutical Health Services Research at the School of Pharmacy (SOP), is a licensed pharmacist who possesses years of practical experience, a PhD, and a law degree. Palumbo also is executive director of SOP's Center on Drugs and Public Policy and teaches a popular course in food and drug law at the Carey School of Law.
Rodgers Honored for Distinguished Service
UMBF recognized Theo C. Rodgers, MBA, with its 2019 Distinguished Service Award, which honors the outstanding achievements of a volunteer who has substantially contributed to enhancing and sustaining the University. A longtime leader in the community and an advocate for youth, Rodgers was an inaugural benefactor in establishing UMBPAL, which fosters engagement and goodwill between University police and community youths. UMBF chair Harry Knipp, MD '76, FACR, handed the award to Rodgers after heaping praise upon the 16-year member of the foundation.
"During his time on the board, Theo has been a source of extremely effective leadership, offering advice, perspective, and proactive collaboration on a host of initiatives serving our great University," Knipp said. "But Theo has provided much more than advice and counsel. His significant philanthropy to UMB has strengthened a number of our programs, and he has served in a broader fashion to the city as a member of the Baltimore Community Foundation and a supporter of the Baltimore Education Scholarship Trust and the Healthy Neighborhoods initiative. Thank you, Theo, for setting stellar example for us to emulate."
Earlier in the evening, emcee Denise Koch of WJZ-TV introduced Knipp as part of the first class of UMBF's Catalysts for Excellence, chosen for exemplifying "powerful advocacy for success, achievement, and philanthropy for their respective schools while serving as visionaries for future progress."
The honorees:
Robert Ord, DDS, MD, FRCS, FACS, MS, School of Dentistry
Robert J. Kim, JD '83, Carey School of Law
Harry Knipp, MD '76, FACR, School of Medicine
Elizabeth "Beth" O'Connell, MS '74, BSN '73, School of Nursing
Terry Gyi, BSP '83, PharmD '06, School of Pharmacy
Betsy Krieger, MSW '83, and David Kandel, MSW '83, School of Social Work
After the awards presentations, the attendees enjoyed a dessert social with tasty snacks and enjoyed the music of the Sounds Good! jazz ensemble.
Learn more about the award winners and Founders Week.