Jay A. Perman, MD, president of the University of Maryland, Baltimore (UMB), launched the 2016-17 President's Symposium and White Paper Project focusing on the topic "Entrepreneurial Exploration."
(View a photo gallery.)
"We know that entrepreneurship is central to our success in improving health, creating wealth, and advancing justice," Perman said. "We know that it's a vital path to economic and social well-being."
Perman told those in attendance at the opening event, held Sept. 7, that this is "exactly the right time to be investigating the University's role and obligation with regard to entrepreneurship."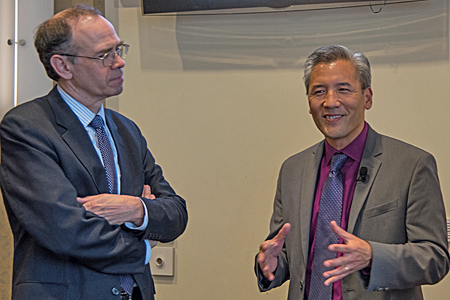 For one thing, the state is investing in university innovation at unprecedented levels and for another, UMB's "tight partnership with the University of Maryland, College Park [UMCP] is multiplying opportunities for students, faculty, and staff who want to pursue an entrepreneurial path."
Perman then welcomed UMCP's associate vice president for innovation & entrepreneurship, Dean Chang, PhD. His speech, on "tomorrow's de facto career," expanded on entrepreneurship as more than an alternative career path into the world of startup companies.
Instead, innovation and entrepreneurship can be thought of as a set of tools and a mindset that can be applied to solving tough challenges. "It's really about how to maximize the number of people you help and impact," Chang told those gathered in the Southern Management Corporation Campus Center.
This is the sixth year the entire UMB community has been invited to delve into a pertinent topic through the guidance of guest speakers and the scholarship of an interdisciplinary group of president's fellows. They must write a white paper to be presented next spring.
The 2016-17 president's fellows are Anna Hung, School of Pharmacy; Benjamin Portney and Camilo Vanegas, both of the Graduate School; Sheridan Yeary of the Carey School of Law; Chinonye Donna Egbulem of the School of Social Work; and Christine Carter of the School of Nursing.
The symposium is a joint initiative of the President's Office and of UMB's Office of Interprofessional Student Learning & Service Initiatives. The most recent white paper was submitted on the topic of cultural competency. Previous topics were community engagement, interprofessional education, civility, and urban renewal.
This year's theme, "Entrepreneurial Exploration," is one that is becoming familiar to the UMB community, as Perman noted in his remarks. "It's a theme we've been examining for a while at UMB in our institutional priorities, program, and policies."
Perman said that in developing UMB's 2017-2021 strategic plan, the theme will appear often "as we discuss how to inject innovation and design thinking into our curricula, how to open up entrepreneurial career pathways to our students, and how to recruit and develop faculty with a 'discovery to delivery' research ethos."
He said the goal is to ensure "that the legitimately groundbreaking ideas developed every single day at this University ultimately make their way out into the world."