Members of the University of Maryland, Baltimore (UMB) community expressed shock and sadness over the Oct. 17 death of Rep. Elijah E. Cummings, JD '76, who never forgot his West Baltimore roots and was committed to inspiring youths to overcome challenges and obstacles the way he had.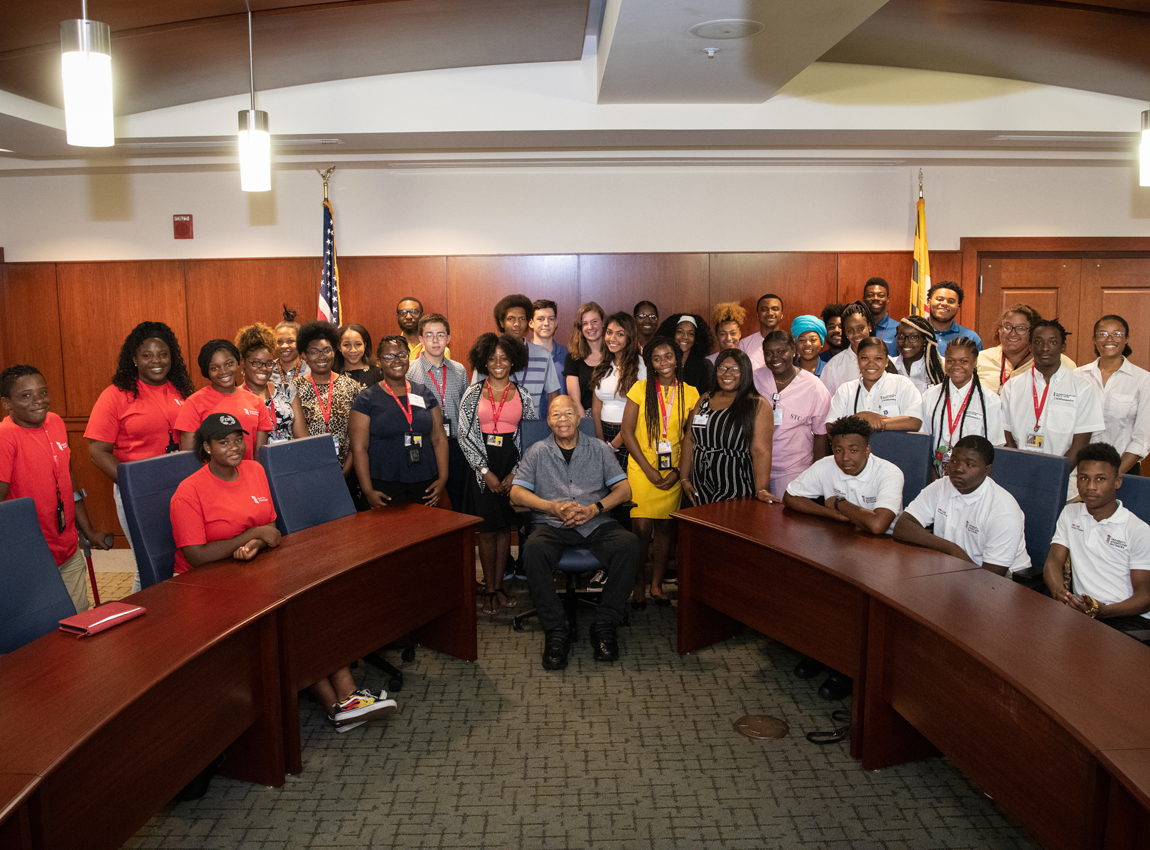 "No one was more dedicated to the youth of Baltimore than Rep. Elijah Cummings. No one," said UMB President Jay A. Perman, MD.
The 7th District congressman died of "complications concerning longstanding health challenges," his office said in a statement. A Baltimore-born son of former sharecroppers, he was in his 13th term representing Maryland in Congress and was chairman of the House Committee on Oversight and Reform.
"He worked every single day to ensure equity and opportunity for the city's children," Perman wrote in a letter to the UMB community. "Despite weighty responsibilities as a leader in Congress, he was a constant presence at UMB and in his district, pushing for programs that would develop the talents of young people and show them a future beyond their city block.
"And children knew that — they were drawn to him; they were drawn to his personal story of challenge and triumph; they were drawn to his long fight for racial, social, and economic justice. We have lost one of the nation's greatest leaders certainly, and we have lost a hero to generations of children whose lives are better because of Elijah Cummings," Perman wrote.
Cummings' influence was spread throughout UMB. A graduate of the University of Maryland Francis King Carey School of Law, he remained closely connected to the school throughout his career and was a longtime member of the Board of Visitors.
"Congressman Cummings cared deeply about people — the people of Baltimore, the people of this state, and the students in this school," said Maryland Carey Law Dean Donald B. Tobin, JD. "The world lost a towering beacon of justice today."
Cummings was a true leader who cared deeply about Baltimore, particularly those in the West Baltimore neighborhoods that he, too, called home, said Ashley Valis, MSW '06, executive director of strategic initiatives and community engagement at UMB. In April 2016, after a tumultuous time in the city's history due to the Freddie Gray uprising, Cummings helped cut the ribbon on UMB's Community Engagement Center in West Baltimore at 1 N. Poppleton St.
"From the moment he stepped foot in the UMB Community Engagement Center, he commented about what a special place it was, meant to nurture families and help bridge the gap between the University community and our neighbors," Valis said. "He encouraged us, supported us, and, most importantly, he knew this deep commitment from an anchor institution in West Baltimore was long overdue. He was always there when we called upon his wisdom, encouraging our YouthWorks students to stay the course and study hard, and pushing the University to do more to serve the residents, particularly young people, in our city. He will be so dearly missed."
In addition to community engagement, Cummings was passionate about inspiring youths participating in the UMB CURE Scholars Program, a nationally acclaimed program that guides West Baltimore middle and high schoolers toward careers in research, STEM, and health care. It is the first middle school initiative funded by the National Cancer Institute's Center to Reduce Cancer Health Disparities.
From the program's beginning in 2015, Cummings spoke to the young scholars on a regular basis, despite a busy schedule.
On the morning of his passing, a moment of silence was held in Cummings' honor at a meeting of the CURE Advisory Board. Founding executive director Robin Saunders, EdD, MS, praised Cummings' "unyielding support of the creation and success of our CURE Scholars Program."
"He, in fact, was an impetus to the program's development," Saunders added. "With a unique and prophetic understanding, he actually spoke to me personally about the trials I will endure when building this kind of program, and, like with many of you, I'm heartbroken about his passing. We have lost a true supporter and a true friend of the marginalized, invisible, and forgotten people of Baltimore."
Kevin Cullen, MD, director of the University of Maryland Marlene and Stewart Greenebaum Comprehensive Cancer Center (UMGCCC), a supporter of the CURE Scholars Program, recalled how Cummings spent an hour on a Saturday morning talking to the young students and sharing his experience growing up in Baltimore in the 1950s.
"As was always his way, his words were passionate, compelling, and deeply meaningful," Cullen said. "Rep. Cummings showed them what is possible for a child in this city."
At each visit to UMB, "he spoke eloquently about his own journey in a way that relates to our youth extremely well," added Brian Sturdivant, MSW '00, director of strategic initiatives and community partnerships. Cummings spoke many times to students involved in UMB's Summer Bioscience Internship Program and the city's YouthWorks program, which provides youths jobs at UMB.
Jahid Carr, the son of Nadine Finigan-Carr, PhD, MS, a research associate professor at the University of Maryland School of Social Work (UMSSW), was a YouthWorks student who listened intently to the congressman.
"Rep. Cummings definitely had an impact on my son not only because he was an advocate for the internship program but also because he shared about his struggles with school and being in 'special ed,'" Finigan-Carr said. "My son is on the autism spectrum and has struggled with school at times. He saw Mr. Cummings thriving with his disability and as a black man and was inspired to do the same."
Cummings also was a staunch supporter of the UMSSW's Promise Heights initiative, which works to improve the lives of children and families in the West Baltimore neighborhood of Upton/Druid Heights.
"We are saddened to hear of the passing of our congressman and neighbor Elijah Cummings," said Promise Heights executive director Bronwyn Mayden, MSW. "He visited Promise Heights several times during the last few years."
She recalled how during a visit to a local school, Cummings read to children and talked about the importance of reading and learning. He told the children he was placed in special education at an early age, but, through hard work, tenacity, and encouragement from family and community, he continued his education and graduated from law school.
"Elijah Cummings' life illustrates the outstanding success available to Baltimore's children when access to quality education is not a luxury but is every child's right," Mayden said. "We will miss his humor and his dedication to seeing every Baltimore child has a chance at prosperity."
"He was a committed advocate of the University of Maryland, Baltimore and we will be forever grateful for the time, energy, and passion he brought to his engagement here," said Harry C. Knipp, MD '76, FACR, chairman of the UMB Foundation Board of Trustees. "We can all take inspiration from the remarkable example he set, both as a common man and a great leader."