When the Center for Interprofessional Education (CIPE) launched the President's IPE Faculty Scholars Program in 2018, it sought to support faculty members who want to expand on IPE at the University of Maryland, Baltimore (UMB) "knowing that the future of health care is team-based."
The program's first cohort is doing just that, creating a team from the School of Medicine (SOM), SOM's Department of Physical Therapy and Rehabilitation Science (PTRS), the School of Nursing (SON), and the Graduate School that applied for a two-year seed grant that was accepted to develop an interprofessional internship at the University of Maryland Medical Center (UMMC).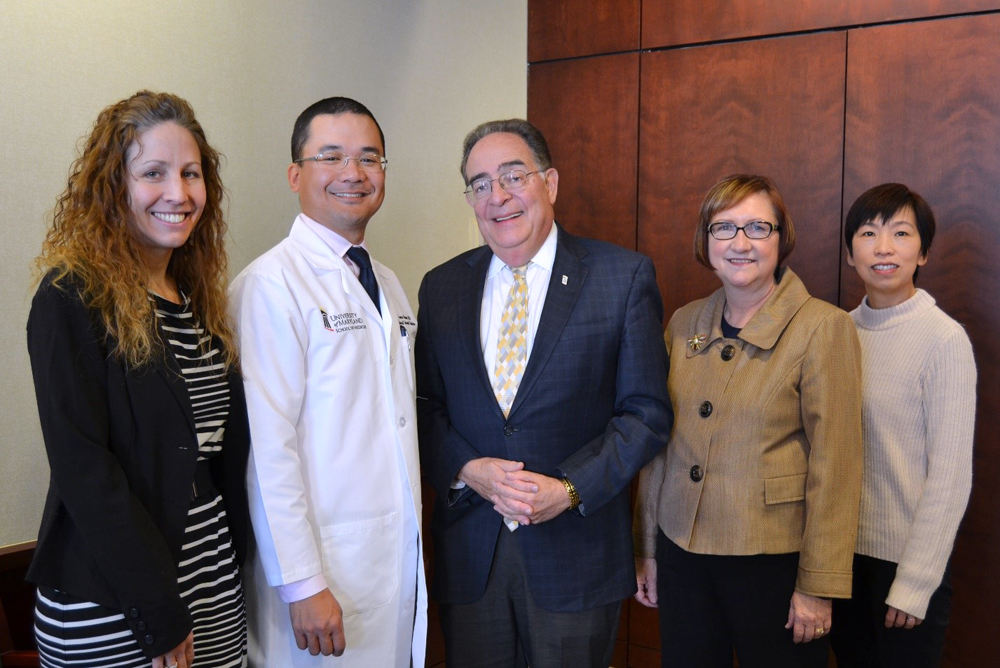 The cohort is composed of four members, including Karen Gordes, PhD, PT, DScPT, chief learning director for the Physician Assistant Leadership and Learning Academy at the Graduate School. In addition to creating the internship, she aims to advance the team's skills and knowledge in designing and evaluating interprofessional education curriculum.
"I also want to expand our scholarship opportunities in the area of IPE," she says. "Participating in the Faculty Scholars Program provides an exceptional opportunity to collaborate with other individuals dedicated and committed to the advancement of IPE."
The other team members are:
Linda B. Horn, PT, DScPT, MHS, assistant professor and director of academic affairs, PTRS
Mei Ching Lee, PhD, MS, RN, assistant professor, SON
Norman F. Retener, MD, assistant professor, SOM
In its seed grant application, the team described its goal as follows:
"This proposal is to pilot-test the feasibility of a clinical IPE internship program and its preliminary effect on the achievement of the Interprofessional Education Collaborative (IPEC) competencies. This project will develop an IPE internship experience at UMMC consisting of students from medicine, nursing, and physical therapy. The interdisciplinary student teams will focus on sharing knowledge and skills unique to each discipline in an effort to blend the strengths of each to provide quality, patient-centered care. The collaborative educational sessions between the three disciplines will occur over one semester in conjunction with each student's discipline-specific clinical internship at UMMC."
Horn says she aims to develop a meaningful and sustainable interprofessional experience for the students. "I have many years of experience in clinical settings where interprofessional collaboration is essential to providing the best care for patients," she says. "I feel strongly that students need to have education about interprofessional collaboration and practice so they can be better prepared for internships and clinical practice."
Lee sees her participation boosting her knowledge in the areas of teaching, research, and clinical application. "The program is providing me with the experience of IPE didactic teaching of students from several schools at UMB," she says. "These teaching experiences broaden my knowledge of barriers and facilitators in learning interprofessional collaboration from students' perspectives, and they enhance the development and implementation of effective IPE courses at the University.
"The knowledge gained from teaching will inform better design of IPE studies and interventions that are practical and feasible," Lee adds. "In addition, the Faculty Scholars Program will provide opportunities for networking and working with IPE experts on campus, facilitating team-building and collaboration in research. And by sharing IPE experiences and knowledge in clincial settings, staff and students will facilitate the implementation of interprofessional teamwork in the workplace."
Retener says advancing IPE helps ease students' transition from the classroom to clinical settings and ultimately makes them better health care practitioners. "This program also allows me to become an agent of change and a better advocate for IPE within my school," he says. "The School of Medicine is working to reform our curriculum, and this is a prime opportunity to include more interprofessional programs."
According to the team, the clinical internship at UMMC will occur in the spring of 2020, followed by evaluation, assessment, and the dissemination of its findings in the summer and fall next year.
In early October, Lee and Horn used funds from the $15,000 grant to travel to Portland, Ore., to attend the Interprofessional Education Collaborative, which featured poster competitions, networking opportunities, expert speakers, and more. Gordes and Retener are scheduled to attend the spring 2020 session. In addition, team members are active as teachers in UMB's Foundations of IPE course, which features faculty from the UMB schools of dentistry, medicine, nursing, and pharmacy offering face-to-face and online instruction on team-based care.
"I'm a strong proponent of interprofessional education," Retener says. "I've always believed that patient outcomes are dependent on more than just one person or profession and that good outcomes are best achieved by multiple disciplines working together."
To learn more about interprofessional education at UMB, visit the CIPE website.