Race relations and safety were the prime topics of President Jay A. Perman's quarterly Q&A, which was held Nov. 23 at the School of Medicine's Bressler Research Building at the University of Maryland, Baltimore (UMB).
Perman, MD, opened the session with an update from the "Discussions About Race in Baltimore" that he headed at UMB in May and July after the death of Freddie Gray. He said since last spring the Office of Academic Affairs has offered students "at least 60" opportunities to engage in conversations about racism, sexism, and homophobia as well as numerous faculty- and student-led workshops.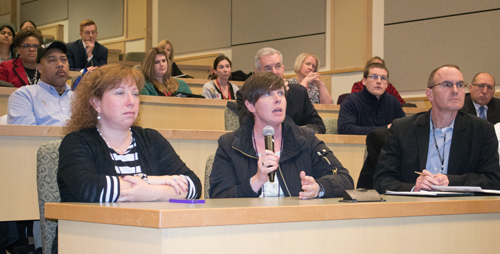 Perman's Diversity Advisory Council has expanded its membership and subcommittees, his President's Fellows are tackling cultural competency in their 2015–16 white paper project, and Human Resource Services has conducted an initial analysis of faculty/staff personnel actions by race, ethnicity, and gender with a final report due next month.
Then, aware that crime spikes in the holiday season and that frequent crime alerts have prompted much discussion, Perman turned the subject to public safety and introduced Deputy Chief of Police Milland Reed, MS.
Reed said UMB is "a safe place to work … essentially we're having a good year" and gave some statistics to support that claim, pointing out that UMB had 12 robberies last year but only four to date in 2015.
He discussed the UMB Police Force's fall crime reduction plan and the department's van escort service, which has had a record 8,000 riders in 2015. But Reed acknowledged if employees are fearful, the campus police have more work to do.
A lively discussion ensued once Reed and Perman opened the floor to questions. Many more details will be found in Perman's President's Message in December.