From the time the President's Fellows White Paper Project began on Sept. 6, 2018, to the time the fellows presented their paper at a symposium seven months later, 168 people in Baltimore City had been shot to death.
Findings related to how the University of Maryland, Baltimore (UMB) can impact gun violence in Baltimore City were released by this year's President's Fellows during a symposium April 8 at the Southern Management Corporation Campus Center. The interdisciplinary team of fellows studied the root causes of gun violence and used a team approach to examine its traumatic impact on communities. It also studied UMB's role as an anchor institution in addressing gun violence through education, research, clinical care, and service.
The topic of gun violence was chosen in the aftermath of the shooting at Marjory Stoneman Douglas High School in Parkland, Fla., on Feb. 14, 2018. Days later, UMB President Jay A. Perman, MD, wrote a letter to the UMB community sharing his sadness and anger at the tragic incident that claimed the lives of 17 students.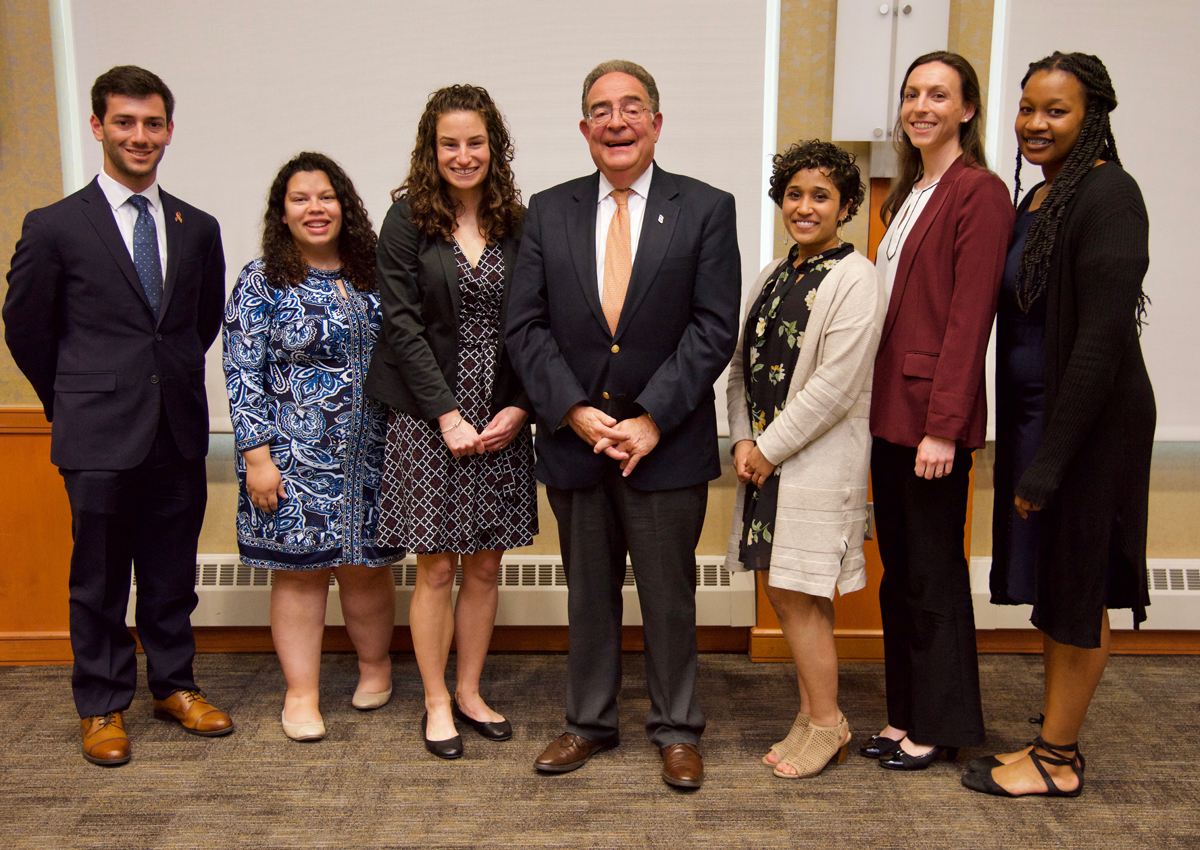 "I remembered that one of the things I called for was some input from the campus community as to what the role of UMB should be in gun violence," said Perman, speaking to the fellows and an audience of about 60 faculty, students, and staff at the April 8 event. "I do have a firmly held belief that most of the good ideas around here come from the students. I've learned the importance of listening to the students, so that's what we did with the President's Fellows for this academic year."
The President's Symposium and White Paper Project is a joint initiative of the President's Office and the Office of Interprofessional Student Learning and Service Initiatives. It engages faculty, staff, and students from all UMB schools and academic programs in a yearlong conversation on a topic that is of interest and importance to the University and its community.
The 2018-2019 President's Fellows — Nicole Campion Dialo, University of Maryland School of Medicine; Zachary Lee, University of Maryland Francis King Carey School of Law; Vibha Rao, MD '18, University of Maryland Graduate School; Jenny Afkinich, MSW, Graduate School; Lauren Highsmith, MSW '19, University of Maryland School of Social Work; and Jessica Egan, University of Maryland School of Nursing — tackled the topic and published a white paper, "Addressing Gun Violence: UMB's Role as an Anchor Institution" in which the fellows make 25 recommendations.
"The students have really done an excellent job," said Patty Alvarez, PhD, assistant vice president of student affairs, as she welcomed those in attendance and introduced Perman. "Thank you for all of your work and thank you for all of those who supported you in doing this work. We wouldn't be here today if it wasn't for the support of Dr. Perman and all of the trust and confidence that he has in our students to create meaningful change here on campus and beyond."
The University president thanked the students for their hard work on what he called "a topic that is emotional and draining in itself, but I know that in what you are going to report out to us, we'll all be the better for it.
"I know most of us feel powerless when we see a shooting in a school, when we see the carnage that I just mentioned, right outside our walls. But these folks," Perman said, gesturing toward the fellows, "they don't act powerless and they decided to take on the politics and the systems and the societal inaction that had gotten us to this bad place. Interestingly … they decided to examine gun violence not only as a matter of health, but health equity."
Perman said the students looked at all the things that may sow division in the community such as fear, anger, and injustice, and explored how those conditions give rise to violence.
"And then they turned the lens inward to tell us what our institution could and should be doing in our own community to mitigate gun violence and to care for those affected by it," he said.
The students collected data and interviews from a series of visiting speakers throughout the academic year, starting with the kickoff event Sept. 6 that featured Cassandra Crifasi, PhD, MPH, assistant professor and deputy director of the Center for Gun Policy and Research at Johns Hopkins Bloomberg School of Public Health, with her address "Understanding Gun Violence and Policy."
Other speakers included: former Baltimore City Police Capt. T.J. Smith, MA, MS; Carol Vidal, MD, MPH, assistant professor of psychiatry and behavioral sciences at the Johns Hopkins University School of Medicine; Jonathan M. Metzl, MD, PhD, director, Center for Medicine, Health, and Society, and professor of psychiatry at Vanderbilt University; and Natasha Pratt-Harris, PhD, associate professor and coordinator of the Criminal Justice program in the Department of Sociology and Anthropology at Morgan State University.
"Regarding our worldview, we orient our paper around one common and recurring theme that was inescapable in every study we read, in every interview we conducted, and in every recommendation we propose: Fostering healthy, collaborative relationships between the interprofessional schools of UMB, between UMB and the community, and amongst all individuals who reside in West Baltimore is key to building collective efficacy within and around our campus," the fellows wrote.
The Marjory Stoneman Douglas High School shooting hit close to home for Lee, the law student. He graduated from the school in 2013, as did his sister in 2015.
"After what had happened on Valentine's Day last year, I saw a handful of children from my hometown become the national leaders and sort of guide the conversation on what gun violence looks like in this country and I was very inspired by them, generally," Lee said. After participating in a March for Our Lives event, he said he thought "this can't be the end of the conversation, so I decided to take on this task."
Egan, a bedside nurse for seven years who is pursuing her doctorate in nursing practice, said she applied for the fellowship as a way of trying to address the impacts of violence she sees as a working nurse in the city. "I find gun violence particularly upsetting because it brings about a lot of human suffering that I feel should be avoidable," she said. "I joined this project to try to put steps in place to make sure that we are actively addressing gun violence and the suffering that comes along with it."
Among the group's recommendations:
Commission a Universitywide scan of the exposure and impact of gun violence on students, faculty, and staff.
Organize a campuswide orientation for incoming students as an "Introduction to Baltimore" history and trauma-informed care.
Support and encourage faculty to utilize tools to recognize and process their own implicit biases.
Examine how service-based and violence prevention work contribute to faculty's potential for promotion and/or tenure.
Create a structure that compensates faculty for the time required to complete appropriate "groundwork" for community research.
Institutionalize a formal community advisory board.
Host an annual open forum conducted by a professional mediator.
Support a campuswide award system recognizing students who have dedicated their educational careers to community service.
Increase the number of paid community service hours to eight (a full day) for employees.
Establish a funded award for members of the UMB community actively doing work in violence reduction and/or prevention.
Designate a "community affairs liaison" at each school.
Host an annual Universitywide community service event.
Invest additional resources in Social Work Community Outreach Services.
Increase support for Thread, a large network of volunteers from across Baltimore that works with city schools to support young people who are facing significant challenges such as poverty, lack of social support, and housing or food insecurity, by providing physical space for events and increasing the number of volunteers from UMB.
Create and promote a unified institutional position on public policies to mitigate gun violence.
Continue to prioritize community policing through the UMB Police Department.
After their presentations, the fellows answered questions from audience members, who praised their efforts. The 2018-2019 President's Fellows continue a proud tradition that dates to 2011. Past UMB student fellows have examined topics such as global literacy, entrepreneurial exploration, cultural competence, community engagement, interprofessional education, civility, and urban renewal.