There was no paparazzi. No red carpet. No one requesting autographs on the yellow bi-folded "Cinderella in Our City" program.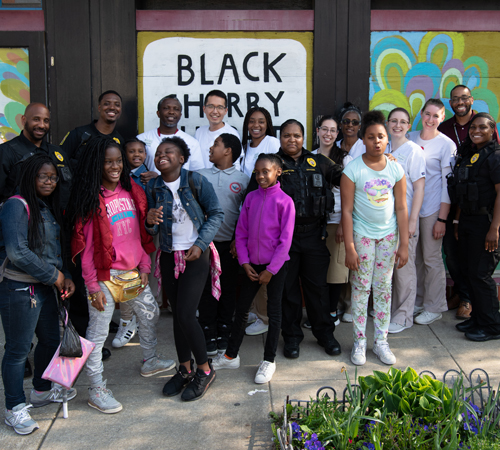 What the Black Cherry Puppet Theater did have on a recent spring afternoon was a standing-room-only audience and a stage full of smiling West Baltimore children thanks to a collaborative project among the Hollins Market neighborhood theater, the University of Maryland, Baltimore (UMB) PAL (Police Athletic/Activities League) Program, the UMB Community Engagement Center (CEC), and students from the University of Maryland School of Nursing (UMSON).
The performance of "Cinderella in Our City" was the final product of a 10-session puppeteering workshop put on by the Black Cherry Puppet Theater and facilitated by the PAL Program at the CEC. UMB police officers worked alongside the youngsters throughout the workshop, providing hands-on mentorship and guidance to prepare for the show. The project is the brainchild of Michael Lamason, executive director of the theater and coordinator of the puppet workshop, and Kelly Quinn, PhD, coordinator of the CEC.
(See video below for full production.)
With guidance from adult mentors, the children, ages 8 to 13, created their own puppets and wrote an original script, telling the story of Cinderella growing up in West Baltimore, over the course of seven scenes. On May 3, it was showtime.
"We are excited to have such a packed house!" said playwright/director Borndavid McCraw, program coordinator for the UMB Office of Community Engagement, as he welcomed the audience, composed of community members, fellow UMB police officers, and UMSON faculty, students, and staff. "If anybody else comes, they'll have to stand up, which is a great thing."
The PAL Puppet Program is meant to help children in West Baltimore work through their personal traumas by doing something creative and constructive while also strengthening their reading skills and their relationship with local law enforcement. It also provides a valuable learning experience for UMSON students, allowing them to establish relationships outside of a clinical setting by working directly with young members of the community.
"This is the best kind of work we can do in Southwest Baltimore, working with the police, neighbors and students from the University, and our great cultural institutions and artists," Quinn said.
"This original script is really special because it's set here in West Baltimore and each person, each line, had somebody's fingerprint on it," she told the audience. "We thought about what it means to go to a party in West Baltimore. We also thought about how sometimes it's hard to live here. We are going to hear all of this in this story."
For UMSON students, it's a chance to learn outside of a traditional classroom setting, said Niki Papageorgopoulos, MS.
"I think it shows the kids that people from outside the community really care and that we are here to support each other," she said. "And as nursing students, it gives us real-life experience with health disparities. It helps give us an understanding of patient-centered care in West Baltimore."
Student puppeteer Paris Maxey enjoyed every minute of it.
"I didn't like being involved in the puppet show. I loved it! And I learned that you can achieve your dreams," she said.
McCraw breathed a sigh of relief after the students took their final bows.
"I was getting a little nervous," he told the children. "I didn't know how it would go. But I knew when the lights came on, you guys would show up and make yourselves proud."
Laniya Brightful, playing the role of Fairy Godmother Hopra, decided to put her stamp on the character by reading her lines in a British accent.
Asked how she felt after the performance, Laniya quickly responded with a word her character told Cinderella to often repeat to herself.
"I feel phenomenal!"