A powerhouse panel helped the University of Maryland, Baltimore (UMB) celebrate Women's History Month by sharing their experiences on March 9 in Westminster Hall. "Women Making a Difference in Baltimore's Communities" focused on family values, work/life balance, overcoming challenges, and much more.
"If you can visualize what it is you want to do, you can do it," Baltimore Mayor Catherine Pugh, MBA, one of the panelists, said to the crowd of 200, which ranged from elementary school students to longtime UMB employees. "You have to trust your own vision. Open yourself up to greatness. It's within each of us."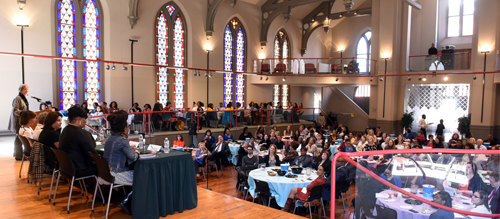 Pugh was joined on the panel by Ericka L. Alston-Buck, chief executive officer of the Maryland Community Health Initiatives (Penn-North); Edith Gilliard-Canty, president of the Franklin Square Community Association; Rachel Garbow Monroe, MBA, president and CEO of the Harry and Jeanette Weinberg Foundation; and Kandace Pierce, an office manager at UMB and "first lady" of Carter Memorial Church Of God In Christ.
Jody Olsen, PhD, MSW, visiting professor at the University of Maryland School of Social Work and director of UMB's Center for Global Education Initiatives, moderated the discussion and the panel provided answers that were lighthearted at times and deadly serious at others.
Gilliard-Canty touched on family when asked about role models. "My mother and my grandmother were single parents. They always stressed if there's something you want, you have to work for it. Nothing comes for free. And family," she said slowly, emphasizing every word, "is the most important thing in your life."
Alston-Buck said Monica Mitchell, a vice president at Wells Fargo and founding board president for the Lillie May Carroll Jackson Charter School, changed her life. "I came away from meeting her thinking 'I'm doing absolutely nothing.' Talking with her inspired me to do more," which Alston-Buck has as founding director of thePenn-North Kids Safe Zone.
Pugh, who noted her parents and broadcasting executive Dorothy Brunson as role models, provided one of the lighter moments when Olsen moved on to a section on what colleagues had said about the panelists.
"Is that it?" the mayor said, eliciting much laughter after Olsen said she was described as hard-working with a steadfast commitment to public service. "Doesn't say much about my personality," a smiling Pugh added, before admitting her day begins at 5 a.m. and ends after midnight.
Pierce was glad to be described as "one of the kindest people I know."
"My parents brought all of us up a certain way. It wasn't an option: we had to be nice — to everybody," said Pierce, who is married to Carl Pierce Sr., pastor of Carter Memorial Church. "There's not a person on this Earth I won't speak to, that I won't smile at and say how are you doing. Because you don't know what people are facing at that very moment. And that one smile and that one hello could save someone from doing something detrimental to their lives. I'm blessed. Just because I'm first lady of Carter Memorial Church I can't walk around like I'm all that and a bag of chips."
Alston-Buck said she was an "accidental activist." When she heard during the Freddie Gray uprising that there should be more recreation activities for children, "I thought someone should do something about that." Eventually she became that someone. She said she is what Olsen called "focused, goal-oriented, committed, and supportive" because she has to be to bring Penn-North children a safe space. "Each day 100 children show up and when they turn the doorknob I have to make sure it opens."
Called a leader who will go to the mat for anyone, Monroe shared an "inside story" from the Weinberg Foundation. "When you interview with me, you sit in the reception area for 10 to 15 minutes whether you are early, on time, or late — on purpose. And when I'm done meeting with you the first phone call I make is to a phenomenal woman named Shakera. And I say to Shakera, 'Well?' And if that person didn't talk to Shakera with respect, if they weren't genuinely interested in her, if they were on their phone being arrogant to somebody — they don't come back. And when they ask 'What happened? I got a PhD in philanthropic studies from Hopkins or Maryland, I'm perfect for the job,' I say to them, 'What's the name of the woman who sits at our reception desk?' Silence. And I say that's where you made your mistake and I hope you learned a life lesson. She had a vote and I had a vote and you treated us differently."
Among those soaking in all this advice was a group of fifth- through eighth-grade girls from James McHenry Elementary/Middle School who had walked over from UMB's Community Engagement Center (CEC) accompanied by Community Schools Coordinator Emily Ames-Messinger and Kemahn Jones, a Towson University student who works at the CEC.
Also in attendance was a group of ninth-grade students from Dunbar High School's PTECH Program. UMB is a partner in PTECH, a six-year program to develop tomorrow's leaders in the health sciences. Many attendees brought a donation for Baltimore Outreach Services,which provides services for homeless women. The crowd was treated to lunch by Breaking Bread, a woman-owned business in Pigtown.
Alston-Buck provided perhaps the most poignant moment responding to Olsen's question about "challenges you've overcome to be the woman you are today." She related being introduced to Penn-North in recovery services 20 years ago.
"On May 26, 1996, my greatest challenge was overcoming crack cocaine addiction," Alston-Buck said. "So to come from almost hopelessness and to go on and empower myself through education … My greatest challenge is to be able to speak to this. There is no shame in saying I'm in recovery. I get calls, can you talk to my daughter? When the TV crews come I get a hug from a cameraman who tells me he is 17 years clean. It is my biggest challenge, but it's also my biggest honor."
When the panelists were asked what brings them joy, Pugh spoke of the day before giving out eyeglasses at a city elementary school. "Now a girl who some thought had a learning disability can see," she said.
Then the floor was opened to questions. One School of Nursing employee asked how she "can give 100 percent" to both her job and her family, which includes a 2 ½-year-old son.
Monroe replied, "I don't measure the success of a colleague by the hour they arrive and the hour they leave. I don't care. Work hard and play hard. And I'm going to trust you and you're going to do great work. [Striving for 100 percent] you'll never succeed because you can't split your body. So be present when you're at work, be present when you're at home, and forgive yourself that you can't be both places at once."
When a Dunbar student came to the microphone asking for advice, Alston-Buck implored her to contact her directly. Earlier, after the young students were welcomed, Pierce had pointed out, "These ladies here — they are our future. They're going to be taking care of us someday. So we want to make sure they are equipped."
In closing, Olsen, formerly acting director of the Peace Corps, saluted the panelists and said everyone can be a leader. "What makes this city great is the hundreds and thousands of small things we do — that volunteer work, that special smile, the activity that we take on when we're not sure we have the time. There are thousands of ways to help, person by person, and that's what these five leaders have demonstrated so wonderfully."
UMB President Jay A. Perman, MD, added, "Speaking for the relatively few gentlemen in the room, I learned a lot, I was inspired, and for that, on behalf of the University, I thank you."
The UMB Women's History Month event was sponsored by the UMBrella group: UMB Roundtable on Empowerment in Leadership and Leveraging Aspirations.