"Juneteenth is a celebration of Black joy," says Seantè Hatcher, LCSW-C, associate dean of continuing professional education at the University of Maryland School of Social Work (UMSSW). "It's a time when we can all come together to see how rich and vast Black culture is. We are so much more than the descendants of slaves."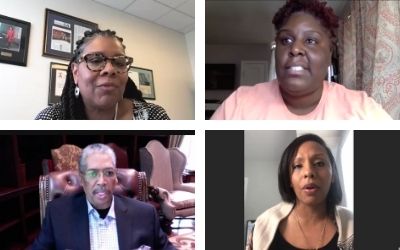 It was June 19, 1865, when Union soldiers, led by Major Gen. Gordon Granger, landed in Galveston, Texas, with news that the Civil War had ended and the enslaved were now free ­— more than two years after the Emancipation Proclamation. For over 150 years, June 19, or Juneteenth, also known as Jubilee Day, Emancipation Day, and Liberation Day, has been observed in pockets of the African American community as a day of freedom, reflection, and rejoicing.
As the holiday gains increasing acknowledgment across the United States, this year the University of Maryland, Baltimore (UMB) is recognizing the date as the "preeminent national celebration of freedom from slavery in the United States" by designating it as a holiday for the first time. In a letter March 29, 2021, UMB President Bruce E. Jarrell, MD, FACS wrote "Juneteenth serves as a day to reflect on the fight for freedom and justice — then and now — and to joyfully celebrate Black history and culture, and Black resistance and resilience."
Since Juneteenth falls on a Saturday this year, UMB will observe the holiday by closing the University on Friday, June 18, and granting administrative leave to employees.
Jarrell released his letter to the UMB community on March 29 and by March 30, Hatcher, along with Danielle Harris, LCSW-C, associate director, UMB Community Engagement Center; Courtney Jones Carney, MBA, executive director, Intercultural Leadership and Engagement; Neijma Celestine-Donnor, LCSW-C, assistant dean for diversity, equity, and inclusion, UMSSW; and Chrishna Williams, MS, director of alumni relations and career service, UMSSW, sprang into action to plan a week of cultural events for the UMB community celebrating the contributions and resilience of African Americans.
The celebration kicked off Monday, June 14, with a panel of museum leaders who discussed Black history post-enslavement and the strides that have been made to obtain full physical and financial autonomy. Panelists included Chanel Compton, executive director, Banneker-Douglass Museum; Earl W. Stafford, entrepreneur and philanthropist, Earl W. and Amanda Stafford Center for African American Media Arts at the Smithsonian National Museum of African American History and Culture; and Terri Freeman, executive director, Reginald F. Lewis Museum of Maryland African American History and Culture.
Moderated by Hatcher, the freewheeling discussion ranged from the impact of integration on African Americans to the importance of the arts in education.
Reflecting on the importance of African American museums, Freeman said the Reginald F. Lewis Museum and others like it provide an understanding of the 400 years of fundamental contributions Black people have made in America. "It's not African American history. It's American history through the lens of the African American experience," she said, emphasizing there is no way to disentangle the two.
The Black experience in America was a topic of discussion during Tuesday's virtual Juneteenth event "Black Diasporic Experience: Are We All Seeking Collective Liberation?" which explored the Black diaspora and the diversity of cultures and people within it. Moderated by Celestine-Donnor, the panel included speakers of African descent from Ghana, Belize, and the United States who discussed cultural differences within the Black community.
Check out the rest of UMB's Juneteenth Events:
Juneteenth Jubilee Community Day Block Party
Wednesday, June 16, 4 p.m.-6 p.m. ET
This is a live and in-person celebration of everything BLACK! Celebrate the ending of chattel slavery in the United States through food, giveaways, and music. Wear a Juneteenth T-shirt and join the celebration at the UMB Community Engagement Center, 16 S. Poppleton St., Baltimore, MD 21201. Register here.
Black Joy Zoom (House) Party
Thursday, June 17, 2 p.m.-4 p.m. ET
Move from virtual room to virtual room in this casual house party designed to emphasize Black joy through music, trivia, and social (distancing) connection. Register here.
To learn more about Juneteenth, check out these resources:
The Historical Legacy of Juneteenth (National Museum of African American History and Culture)
Juneteenth: Our Other Independence Day (Smithsonian Magazine)
What Is Juneteenth? (PBS: This website also hosts The African Americans: Many Rivers to Cross, a video series on African American history, culture, and perspectives.)