Dressed in her scrubs and wearing personal protective equipment, Telisha McDonald stood next to Bert O'Malley, MD, the president and chief executive officer of the University of Maryland Medical Center (UMMC). Underneath her mask, McDonald wore a big smile Dec. 15 as O'Malley handed her a plaque naming her Employee of the Quarter.
The Pigtown native was honored for her dedication, skill, and commitment to her job as a medical assistant at the Stoler Center in the University of Maryland Marlene and Stewart Greenebaum Comprehensive Cancer Center.
"I wasn't doing anything other than my job, so it was really a shock to me to receive it," McDonald says. "I'm so happy to feel appreciated, and even before being given the plaque, I felt appreciated at work."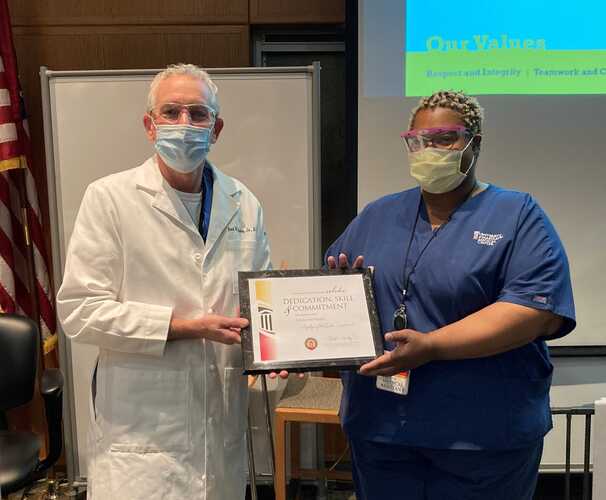 McDonald previously worked in a blood lab at the Red Cross for 14 years but was laid off in December 2019. After losing her job, she came across the University of Maryland, Baltimore's (UMB) Community Engagement Center (CEC), which was hosting career training workshops through its weekly UMB Workforce Wednesdays program. Workforce Wednesdays aim to empower West Baltimore job seekers through one-on-one career counseling, career training workshops, and resources to help connect them with employers.
"This program is really fulfilling because you're helping people meet their career goals and you're helping the employer find a great employee," says Lisa Rawlings, MBA, director of workforce development and job readiness at UMB. "On the other hand, it can be frustrating because it shows that there are so many barriers for people to be able to find employment and get hired. What we're trying to do is help our community members navigate those barriers and put them on the right track toward a great career."
McDonald says she tried to get a job at UMMC in the past but never made much progress. She hoped that UMB Workforce Wednesdays would provide the road map she needed to get hired.
"When I came in, we went over my résumé and I started filling out applications," McDonald says. "Honestly, I would not have thought to apply for the medical assistant job that I'm currently in. It was Miss Lisa who told me I would be a good fit."
After sending out a few applications, McDonald was invited by Rawlings to a couple of recruitment events at the CEC where she could network and participate in mock interviews.
"This was really good for me because I struggle with interviews," she says.
Because she was job-ready, McDonald was quickly scheduled for a screening interview for the Southwest Partnership's Community Referral Program for West Side Employment. The Southwest Partnership has an anchor institution program that partners with many community anchors in Baltimore including UMB and UMMC.
After passing her screening interview for the referral program, McDonald participated in a UMMC recruiting event at the CEC and landed four job interviews. She needed to attend only two of the four because during the second interview she was hired on the spot.
"After I lost my job and started looking for work, I didn't think that I was going to find anything good," she says. "But then I found this job after only a few weeks of coming to the Workforce Wednesdays events. I felt like, 'I'm back.' This is a fresh start and things are happening, so I felt good."
She started her new position at the Stoler Center in April 2020, putting her on the front lines of the COVID-19 pandemic. This required her to perform many duties including checking patients' vital signs, placing IVs, performing COVID tests, and scheduling appointments. She was able to stay on top of the tasks, learn on the job, and maintain a positive disposition with her colleagues and clients. It was for all of these reasons that McDonald was awarded Employee of the Quarter.
"This is a great example of a win-win," Rawlings says. "One of our neighbors got an opportunity to work with a great organization and our anchor partner got a great employee."
Due to the pandemic, the UMB Workforce Wednesdays program does not have a walk-in option, but community members can still book virtual appointments any day of the week with Rawlings using Microsoft Booking.