A national report on health disparities in West Baltimore included interviews with Jay A. Perman, MD, president of the University of Maryland, Baltimore (UMB), who commented on social determinants of health.
Perman, a pediatric gastroenterologist, was interviewed for a story, "Baltimore hospitals work to repair frayed trust in black communities," that was broadcast nationwide on PBS NewsHour. The report aired Feb. 15 as part of the launch of a special project by collaborating news media that had begun examining the health of Baltimore residents after the death of Freddie Gray in police custody last year.
The collaboration involved Capital News Service (CNS), which is a student-powered news organization run by the University of Maryland's Philip Merrill College of Journalism, Kaiser Health News (KHN), and public broadcasting.
Perman was interviewed by PBS special correspondent Sarah Varney, who is a reporter for KHN. On the same day, a story by KHN reporter Jay Hancock included an interview on the topic with Perman. Hancock's story, "In Freddie Gray's Neighborhood, the Best Medical Care is Close but Elusive," was posted on the sites of KHN, PBS NewsHour, and National Public Radio. On the CNS site, the story is displayed as part of the project "In Poor Health."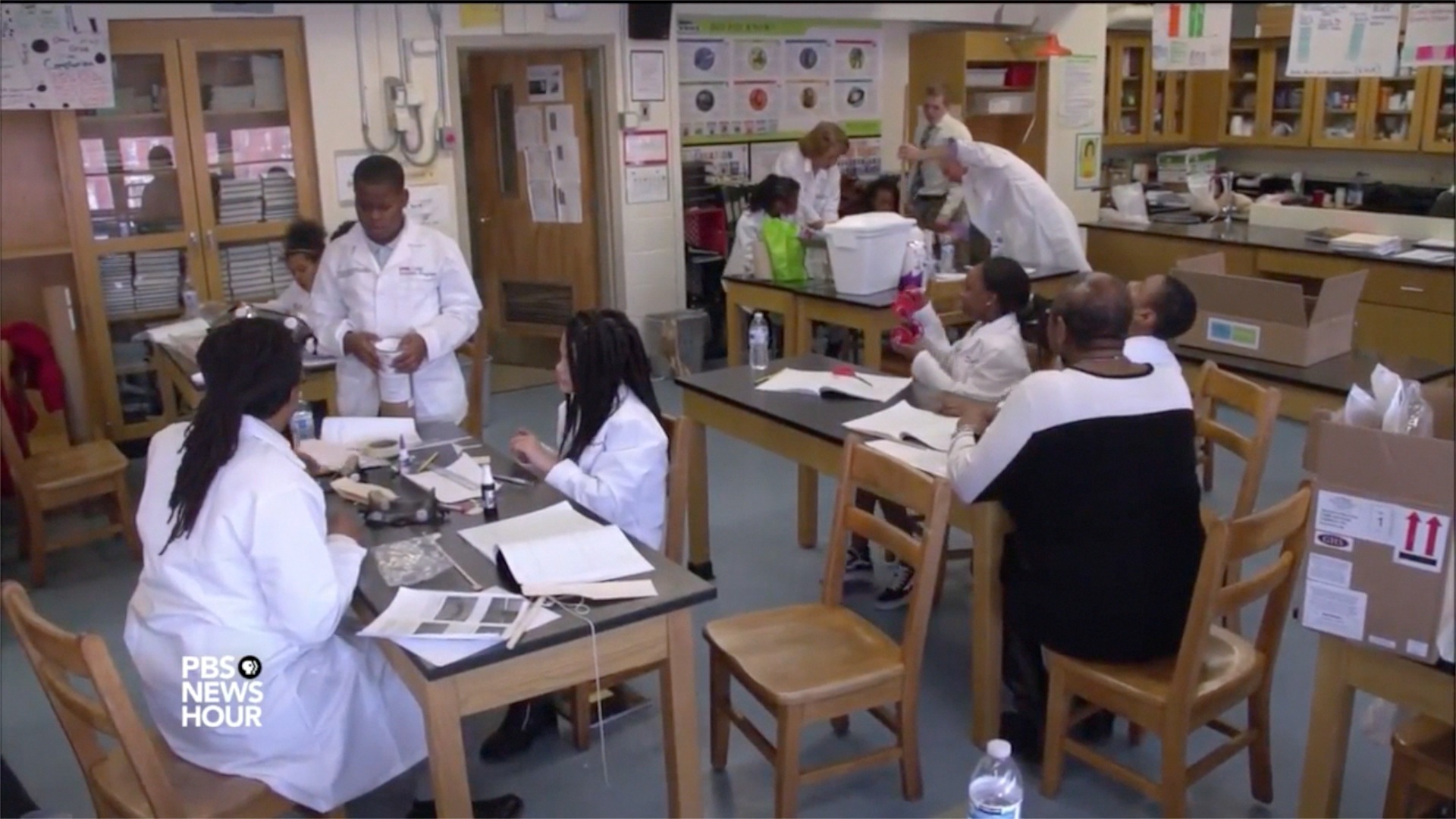 The PBS NewsHour piece pointed to two of the various ways that UMB addresses these racial and economic disparities. One is educating health care professionals to "delve more deeply into the social conditions that perpetuate poor health." The report shows interactions among a mother who has brought her children to the President's Clinic, the weekly interprofessional teaching opportunity during which Perman and pediatric nurse practitioner Elsie Stines, DNP, MS, CRNP, care for pediatric patients as UMB students participate.
Another is the establishment of the UMB CURE Scholars Program, which identifies promising middle school students in Baltimore and prepares them for health care and research careers through hands-on workshops and lab experiences, and mentorship. It is supported by the National Cancer Institute's (NCI) Continuing Umbrella of Research Experiences (CURE) program.
The PBS report shows students at Franklin Square Elementary/Middle School working on science projects in an afterschool lab session in which they are supervised by mentors from UMB.
By bringing more African-Americans into health care professionals and cancer research, the initiative aims to lessen the disconnect between poor, minority residents and the health care system.
Locally, the project prompted The Baltimore Sun to publish an editorial, "The health care gap," the Baltimore Brew to describe the project's findings, and The Daily Record to post the KHN article.
One of Perman's observations to Hancock was selected by Becker's Hospital Review for a Feb. 16 article, "A broken system on the mend: 10 telling quotes from patients, healthcare providers in Baltimore," accompanied by an overview of the project. Becker's quoted Perman as follows:
"As a profession, as an industry, we have not sufficiently appreciated, let alone done something about, the impact of social determinants" such as poverty, poor housing, lack of food choices and low education," Dr. Perman said, according to the report. "Guys like me and gals like me can easily say, 'I made the correct diagnosis. I wrote a proper prescription. I'm done.' What I say to my students is, if you think you're done — if 'done' means the patient is going to get better — you're fooling yourself."
The special project explores the distrust that has worsened the disparities. One result is a gap in life expectancy, which is just under 70 years in Sandtown-Winchester, the neighborhood associated with the life of Freddie Gray, a figure that is sharply lower than the 84 years in a wealthier part of Baltimore.
Addressing one reason for the historic distrust of the medical establishment among African-Americans, Perman told Varney: "I think there's still too much of a perception that we experiment. Now, that is not the case. Care is rigorously delivered with consent from the patient always. But it takes a long time, I think, for people to understand that the days of hidden experimentation are over."
Varney's report goes on to explore how public health suffers when people live in decaying neighborhoods without adequate transportation or nearby grocery stores.
"In the past, we have always thought about making correct diagnoses, and preparing the right prescription or therapeutic plan, and then sending the patient out," Perman said in his interview with Varney. "And I think it's the fact that we didn't focus — we in general in the American health care system didn't focus on what happens to the patient when they're not directly in our care and in front of us."
What happens to West Baltimore residents who struggle to access health care is, in fact, the subject of many parts of the special report, "In Poor Health."
Collaborators include students at Merrill who traveled from the campus of the University of Maryland, College Park to focus on life in West Baltimore.
Among 11 related stories, including maps and multimedia presentations posted Feb. 15 on the CNS site, is one following a patient on a lengthy quest for a blood pressure cuff. Another speaks with a patient who believes her long-ago drug use makes doctors dismiss present-day ailments.
Another is set at a clinic in Upton-Druid Heights. That neighborhood is familiar to those who are involved with the UM School of Social Work-led Promise Heights initiative, which confronts a poverty level that is among the city's worst.
Several are pieces about life expectancy, which in parts of West Baltimore can be compared to that of North Korea.
"Why," Perman asks rhetorically in the KHN interview, "in the midst of this extraordinary health care enterprise that is present in Baltimore, with all this expertise, are we sitting here on this side of Martin Luther King [Boulevard] and on the Westside ... you have some of the most disappointing life expectancies that one could imagine?"