The University of Maryland, Baltimore (UMB) is receiving a $3 million gift from The Whiting-Turner Contracting Co. for the establishment of an Interprofessional Education Center Facility in West Baltimore. The 7,500-square-foot facility will likely be located in the now-vacant H.C. Walterhoefer Building at 121 N. Greene St. The project will provide a physical space for UMB's Interprofessional Education Center, a Universitywide initiative launched in 2013 and devoted to interdisciplinary research, learning, clinical care, and public service.
"This exceptionally generous gift from The Whiting-Turner Contracting Co. will vault the University to a leadership role in the nation's pursuit of the best patient care through interprofessional education and treatment," says UMB President Jay A. Perman, MD. "The future of health care is reliant upon effective interdisciplinary teamwork, and our IPE Center was founded in order to ensure that students from each of our seven schools are trained with this in mind. Whiting-Turner's generosity will provide the infrastructure to enable that vision to take shape. This gift also will help to strengthen our West Baltimore neighborhood by replacing a vacant building with a vibrant center for learning and research. I am very grateful to our partners at Whiting-Turner for their investment in our future."
"Dr. Perman is a national expert in interdisciplinary education," says Tim Regan, president and CEO of Whiting-Turner. "We are delighted to be able to help with this important project that will facilitate teaching our young professionals these critical collaboration techniques."
The IPE Center Facility will provide a space in which faculty and students can collaborate and learn together using simulation equipment and other methods for developing and evaluating interprofessional techniques. Simulated clinical space that resembles an exam room, for example, will allow students to work together on developing skills such as patient history-taking and physical exams. Actors trained to portray patients – known as standardized patients – will work with the students to hone their skills at working together to gather information that benefits their individual disciplines. Students will be able to practice together with equipment in space that resembles actual clinical settings.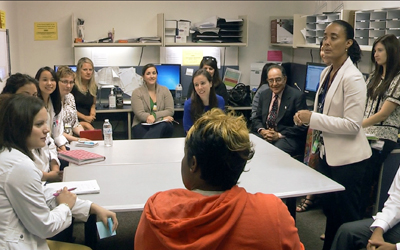 Beyond education, the facility also will enable research into developing new interprofessional techniques and evaluating their effectiveness. Faculty will be encouraged to develop new approaches to maximize the quality of student learning and design and implement best practices in IPE. All UMB schools will be involved, including dentistry, medicine, nursing, pharmacy, and social work. Law students who are studying health advocacy and policy also will participate, as will graduate students in the health fields within the Graduate School.
The facility also will house the President's Clinic, an interdisciplinary clinical program run by Perman, a pediatric gastroenterologist, and Elsie M. Stines, DNP, MS, CPNP, a pediatric nurse practitioner. The President's Clinic brings together students from all UMB schools to collaborate and discuss the diagnosis and treatment of Perman's patients, adding perspectives from all disciplines in solving difficult clinical problems. The clinic gives students a chance to see their IPE skills in action, in a real clinical setting.
"It is truly exciting that this extraordinary gift will create a dedicated physical space for our Interprofessional Education Center," says Jane Kirschling, PhD, RN, FAAN, dean and professor at the School of Nursing and director of interprofessional education at UMB. "Expanding the physical footprint in which we deliver interprofessional care will optimize team participation and enhance our training and research opportunities. Having a targeted space designed specifically to facilitate interdisciplinary work will immeasurably improve our students' ability to come together and foster their interprofessional care knowledge and skills."
Renovating the vacant Walterhoefer Building would be a significant step toward the University's concentrated redevelopment effort on and around its West Baltimore campus. The Westside/UniverCity Partnership is the vision of UMB President Perman and Baltimore Mayor Stephanie Rawlings-Blake. The IPE Center Facility would represent a significant step in the development of the critical Greene Street-West Lexington Street corridor, possibly stimulating further private development in the area.