The moment that 25-year-old Rajaniece Thompson felt like a real homeowner was shortly after signing the title of her new two-bedroom, three-bathroom home in the Pigtown neighborhood of Southwest Baltimore. On Feb. 15, 2020, about a month after moving in, her mom and grandmother flew in from Detroit and her aunt drove from Silver Spring, Md., to help her get settled.
Thompson gave her family a tour of her new home, then they sat down together for a vegetarian dinner cooked by Thompson's aunt. Even though it was a small housewarming, it was enough to make Thompson feel at home.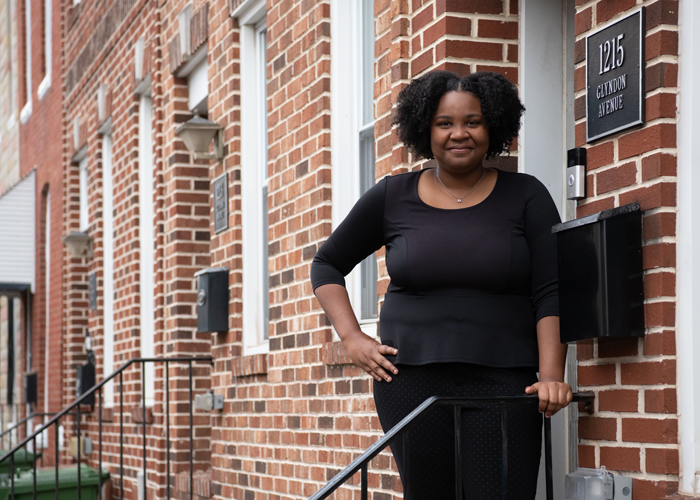 "Being able to sit down and eat dinner with my family in my new home really made everything feel real," Thompson says. "Normally, my family and people who are close to me invite me into their homes and cook for me and make me feel welcome. Now, I get to do the same for them. That moment definitely made me feel proud."
Thompson is a program specialist at the Institute for Innovation and Implementation at the University of Maryland School of Social Work (UMSSW) and a recipient of a University of Maryland, Baltimore's (UMB) Live Near Your Work (LNYW) Program grant.

LNYW is a homebuying assistance benefit for University employees that offers $16,000 toward down payment and closing costs of homes in select Southwest Baltimore neighborhoods to promote community revitalization and stabilization. Recipients also are eligible for a matching grant of $2,500 from the city of Baltimore. To date, 58 UMB employees have closed on homes through the program.
Before getting her position at UMSSW, Thompson spent a year working at UMB's Community Engagement Center (CEC) as the AmeriCorps VISTA (Volunteer in Service to America). During her time at the CEC, Thompson coordinated the weekly food markets with UMB student and community member volunteers. She also was heavily involved in the CEC's free exercise classes. These experiences gave her a unique opportunity to build relationships with many neighbors in the area.
"I think all the individuals introduced to me at the CEC have really shaped my experience in Baltimore," Thompson says. "I really feel so rooted in this community, and I'm really grateful for that experience. It really put me in the mindset of wanting to invest in this community and buy a home here. Now, I am truly a part of the community that I have grown so much in."
Thompson says she received plenty of support from community members already living in the area, and even from some colleagues who also took advantage of UMB's LNYW Program. They advised her on factors to consider on each of the homes she was touring such as parking, nearby food spots, and which streets were the quietest.
"If you just look at a map of the city, you may overlook these really great neighborhoods," Thompson says. "I was so lucky to have made connections in the community because I immediately thought, 'Wow, a lot of great things are happening here. I would love to live here.' "
Now settled into her new home, Thompson is not just a UMB employee but also a student at the University of Maryland School of Medicine getting her master's degree in public health with a concentration in community and population health.
She often tells people that she feels like she was always meant to settle down in Baltimore.
"When I started applying to the AmeriCorps program, I was hoping to work in the D.C. area because I had family there," she says. "I had a couple of interviews but kept getting turned down, until one of the interviewers recommended me to UMB's Community Engagement Center. Then, one thing led to another, and three years later here I am as a homeowner. I really felt like it was meant for me to be in Baltimore."