Betty Cloud visits the University of Maryland, Baltimore (UMB) Community Engagement Center (CEC) nearly every day to use its free computers. On Saturday, April 22, the West Baltimore resident came to the center for another reason - to take part in UMB's Second Annual Neighborhood Spring Festival.
"I love the togetherness of this, of seeing all these people here," said Cloud, 71, as she took a break from dancing to the music of the Hippocratic Notes, an a cappella group composed of students from the University of Maryland School of Medicine. "I love anything that brings the community together and this sure did do that."
Cloud was one of about 300 residents who attended the event, sponsored by the UMB Council for the Arts & Culture, despite rainy weather. The festival included health screenings provided by UMB experts and students, as well as family-centered activities such as live performances from a Korean dance troupe, line dancing, a marching band, live music, crafts for sale, games, hula hoop fun, face painting, arts and crafts, Earth Day activities, and more. Local fitness guru Chauncey Whitehead served as emcee.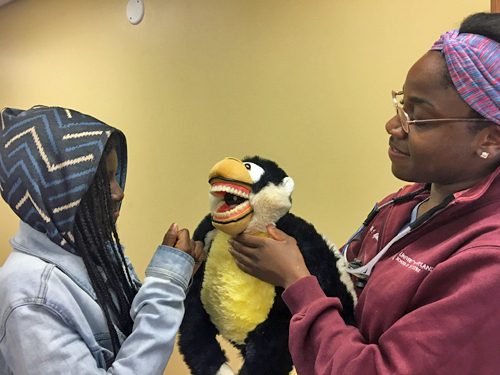 UMB President Jay A. Perman, MD, and Maryland's First Lady Yumi Hogan -- who also is honorary chair of the UMB Council for the Arts & Culture -- greeted visitors and volunteers. The pair also posed for pictures with entertainment acts ranging from the Christian Warriors Marching Band to the Hee Kyung Lee Korean Traditional Dance Team and Legally Sound, an a cappella group made up of students from the University of Maryland Francis King Carey School of Law.
Debra Ruffin, a UMB housekeeper, and her 8-year-old grandson, Blake Ruffin, took part in a free yoga class.
"Stretching is good for you," said URecFit employee Jahmya Ross, a University of Maryland School of Social Work student, as she taught the class. Other fitness demonstrations for the day included students from Cadet Martial Arts & Fitness and line dancing by Spirit Feet.
UMB CURE Scholars -- including sixth- and seventh-graders from Green Street Academy, Franklin Square Elementary/Middle, and Southwest Baltimore Charter – were just back from Washington, D.C. There, they had attended the American Association for Cancer Research annual meeting and presented posters and artwork about cancer. The CURE Scholars displayed their artwork at the Spring Festival and educated their neighbors about cancer research.
"This is what a healthy thyroid gland looks like and this is a thyroid gland with cancer," said CURE Scholar Kai-yonna Hughes, 12, as she held up her painting depicting the two different scenarios.
Rena Washington, who often visits the CEC for exercise classes and the weekly food market, smiled as she watched her great-grandson, 6-year-old Skylen Washington, get his face painted red and gold by Sparkles the Clown.
"I think this is great. I love the support that is shown to the community by UMB," Rena Washington said.
Children who weren't busy having their faces painted into various zoo animals and superheroes had the chance to create fun hats from balloons with the help of CEC Coordinator Kelly Quinn, PhD, Camilla Kyewaah, MS, program management specialist in the Office of the President, and medical school student Michaella Reif.
Community member Latasha Crawford took advantage of the free dental screenings provided by students from the University of Maryland School of Dentistry.
"Do you have children?" asked dentistry student Alexandra Fitzgerald, handing Crawford a brochure on dental hygiene. "Be sure to go over this brochure with them."
"I appreciate everything they do for us here," Crawford said later. "We need help with things like this."
Dentistry students Ebbie Njoku and Kwan Ngai showed Taylor Sampson and Junise Ray, both 10, the proper way to brush their teeth, using toy puppets as models. "Remember, two minutes, twice a day," Njoku reminded the girls.
Additional support for the day came from the University of Maryland School of Pharmacy Patient-Centered Involvement in Evaluating the Effectiveness of Treatments (PATIENTS) program; the University of Maryland School of Nursing, which provided environmental education and information about recycling; students from the University of Maryland School of Social Work, who provided information on the school's B'more for Healthy Babies program; and students from the University of Maryland School of Medicine, who provided blood pressure and other health screenings.
"Even with the rain, I enjoyed myself," said Hester Johnson, who works with the UMB CURE Scholars Program, a pipeliine initiative that prepares West Baltimore children for health and research careers. "It's just such a positive event. I hope there are many more events like this. It brings the community together."