University of Maryland, Baltimore (UMB) students and faculty from around the world were feted for their contributions to UMB's Center for Global Education Initiatives (CGEI) during an April 7 global interprofessional awards ceremony held at the Southern Management Corporation Campus Center.
"Global interprofessional education helps bring the rest of the world to Baltimore. This is the wave of the future," said Bonnie Bissonette, MA, director of the Student Center for Global Education. CGEI supports $10,000 grants to faculty members who agree to supervise a team of at least two students from one or more schools at UMB as part of a global health project.
Bissonette, along with Jody Olsen, PhD, MSW, director of CGEI and visiting professor at the School of Social Work, and Virginia Rowthorn, JD, deputy director of CGEI and managing director of the Law & Health Care Program at the Francis King Carey School of Law, presented awards to 44 students from the schools of law, dentistry, nursing, social work, pharmacy, and medicine who participated in global education programs during the 2014–2015 academic year.
Addressing the gathering, UMB President Jay A. Perman, MD, said: "UMB's global engagement amplifies our local commitment. Global education initiatives teach us that we're not as different as we might like to think we are from everyone else."
"Being involved globally is crucial to the University," said James L. Hughes, MBA, chief enterprise and economic development officer and vice president, who presented an overview of CGEI's interprofessional global health grant program. "UMB has a tremendous impact worldwide."
Prior to receiving awards, students who traveled to the Middle East and Brazil delivered short presentations summarizing their interprofessional projects and their take-away messages.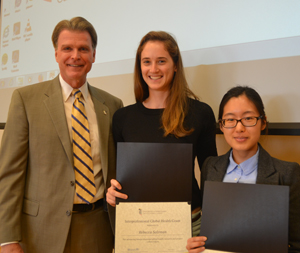 "Water doesn't flow along political boundaries," observed dental student Emily Chang, who participated in the Israel/Palestine/Jordan trip supervised by Robert Percival, JD, MA, director of the law school's Environmental Law Program. Percival's group studied water resource management practices and issues in politically sensitive regions.
Students from the schools of pharmacy, dentistry, and nursing who accompanied Isabel Rambob, DDS, clinical assistant professor at the School of Dentistry, to Brazil to study HIV-AIDS care spoke about the need to serve as patient advocates and of the challenges and complexities of providing HIV-AIDS care to underserved communities in Brazil.
Awards also were given to 13 faculty members who received grants for interprofessional global health projects. Members of the Student Global Advisory Council and faculty and staff who reviewed global grants were recognized for their contributions to interprofessional global health.
Beginning in June 2015, two interprofessional teams are scheduled to travel to Malawi, two to Rwanda, one to England, and one to Hong Kong.