Jay Magaziner, PhD, MSHyg, professor and chair of the University of Maryland School of Medicine's (UMSOM) Department of Epidemiology and Public Health, has a message for those who have suffered a hip fracture: Don't lose hope.
"Hip fracture is not necessarily the beginning of the end," because many people do survive, said Magaziner, whose life's work has been to study how to improve functions and outcomes for those who have suffered a hip fracture.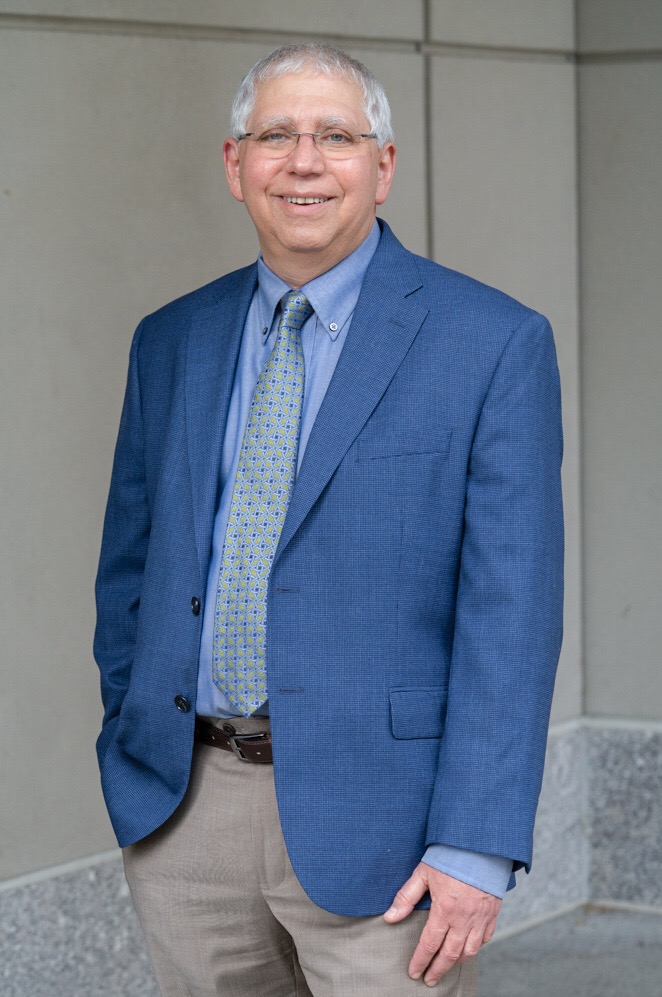 Magaziner discussed his pioneering discoveries during his University of Maryland, Baltimore (UMB) Researcher of the Year Presentation on Oct. 12, part of the 25th Annual Founders Week celebration.
The presentation took place via Webex before an engaged and interactive audience that included UMB President Bruce E. Jarrell, MD, FACS, and UMSOM Dean E. Albert Reece, MD, PhD, MBA, who also is the John Z. and Akiko K. Bowers Distinguished Professor and UMB's executive vice president for medical affairs.
Magaziner's presentation, titled "Hip Fracture Recovery: Past Research and Directions for Future Research and Practice," gave an overview of the work of the Baltimore Hip Studies, for which he is the founder and executive director. The studies, which identify, develop, and evaluate strategies to optimize recovery from hip fracture, have enrolled more than 4,000 patients and studied mortality, functional recovery, changes in bone and muscle, and effects on caregivers and the health care system.
Magaziner pointed out that this issue affects millions and will continue to do so for the foreseeable future. There are 1.6 million hip fractures worldwide a year, with 290,000 hospitalizations in the United States of people older than 65, mostly women. Globally, there are expected to be almost 4 million hip fractures by 2050, with 700,000 of those in the U.S.
Magaziner discussed how his early work on hip fractures began as observational research in the 1980s.
"What made it exciting for me was that no one had done this before, so whatever I found was new," he said.
He moved on to interventional studies, some of which involved essentially taking a portable lab into people's homes for exercise.
"I started thinking, 'We've learned a lot, we've observed a lot, but we really need to figure out what we can do about it.' We started to talk about the kinds of interventions we could undertake," he said.
Magaziner discussed the impact of hip fracture on function, changes in function, and patterns of recovery.
He examined basic functions such as putting on pants, walking a block, and climbing five stairs and where those functions stood a year later: 20 percent couldn't put on pants independently, 40 percent couldn't walk across a small room independently, and very few could climb five stairs, Magaziner said.
"There's a tremendous impact on these areas of function, which are basic to carrying on in the world without special guidance and assistance," he said. "What we wanted to know then is: What was the pattern of people recovering their function after hip fracture?"
Magaziner and his research team started to map out that recovery path, which he referred to as "a trajectory of recovery."
What he found was that functions involving lower extremities, gait speed, and social interaction "all recover to different levels and also have a different rate of recovery." He used this information to try "to determine where natural recovery occurred and plateaued, or stopped improving" and found a different recovery plateau for each area of function studied.
"There seems to be this progression in how people recover," he said. "And this progression is a reverse parallel of the process by which people lose function."
In discussing interventions and their timing, Magaziner pointed out that we know many of the losses and recovery patterns after hip fracture and have well-trained professionals to treat patients but are lacking evidence on what specific treatments to provide and when to provide them.
"We do have to keep providing the best care we know how to while we're figuring out what makes the most difference," he said.
Looking to the future, Magaziner emphasized that much work still needs to be done. He said he believes that multidisciplinary/multi-modal interventions have the potential to improve long-term outcomes. He added that there is a need to identify the components of multi-modal programs that have the greatest impact, design programs that target individual patient needs, and evaluate their combined effect.
And researchers need a strategy to accomplish all of this rapidly, he said.
"Each of these studies can take several years to mount," Magaziner said. "We need a proliferation of scientists going after this, and we're starting to see an increasing number of scientists around the world who are pursuing interventional studies on hip fracture. We need a strategy to do this even more quickly."
"Even if we get the best intervention, we still have to figure out how we are going to deliver it to those patients who need it," Magaziner said in conclusion.
Before his presentation, he received congratulations on his award from Jarrell and Reece, who pointed out that Magaziner has a grant portfolio of more than $20 million at UMSOM.
"It's an exciting moment, exciting day, and exciting time," Reece said. "Dr. Magaziner's many years of serious, scholarly, and distinguished research have more than qualified him for this prestigious award. His wonderful collegial and collaborative style makes this honor all the more well deserved."
Magaziner, who said he was "truly honored" to receive the award, thanked Jarrell, Reece, his colleagues, and his family. He singled out one family member in particular, dedicating his presentation to his Grandpa Harry, who lived with him when he was a child.
"I got to watch how he aged. He had a heart attack, and eventually he had a hip fracture," Magaziner said. "He has really had a big influence on the work that I have done over the many years as I have been trying to understand what happens to people after hip fracture and how we can help them improve outcomes."