Thomas Longden, PhD, assistant professor in the Department of Physiology at the University of Maryland School of Medicine (UMSOM), has received the National Institutes of Health (NIH) Director's New Innovator Award. The award provides $2.3 million to support an "exceptionally creative early career investigator" as part of the High-Risk, High-Reward Research Program of the NIH Common Fund. The award is reserved for scientists at the beginning of their independent research careers, before receiving other research program funding from the NIH.
"We are very honored to receive this award," said Longden. "I am confident that the upcoming research that this enables will lead to advances in our understanding of brain plasticity, and may help in finding new treatments for brain disorders with a blood flow component, such as Alzheimer's disease and stroke."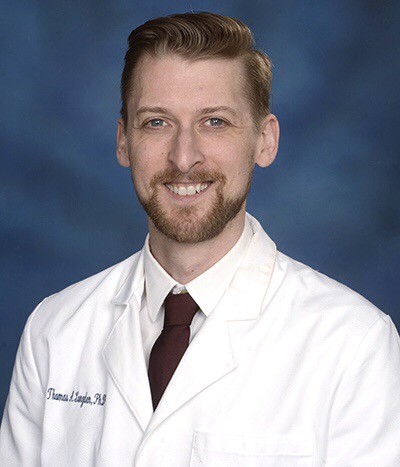 Longden's laboratory focuses on the control of blood flow in the brain, specifically on the moment-to-moment regulation of blood flow in response to nerve activity — a process that is important for normal brain function to deliver enough nutrients and oxygen to cells. When blood flow is disrupted, this can result in nerve cell dysfunction due to these cells not getting the energy supplies they need. This complex phenomenon, which forms the basis of functional MRI, involves a dynamic interplay between the cells of the neurovascular unit, including neurons, astrocytes, pericytes, endothelial cells, and arteriolar smooth muscle.
He plans to apply the NIH award funds to develop new tools and approaches to study a novel form of plasticity his group has identified in the mechanisms that underlie an increase in blood flow in the brain called functional hyperemia, for which Longden has coined the term "vascular signaling plasticity." The overall goal of the work is to understand this new dimension to brain plasticity from the molecular to whole-animal level, which may have implications for our understanding of how learning and memory work, and how the neuronal function is lost in disease. Thus, the team will also explore how vascular signaling plasticity becomes disrupted in dementias such as Alzheimer's disease.
Longden came to UMSOM in 2019 after performing post-doctoral work at the University of Vermont. He received his PhD in Pharmacology in 2010 from the University of Manchester (UK), and received his bachelor's degree in 2006 from the same institution.
"I am so proud that the NIH has once again recognized the innovative talents of our young scientists," said E. Albert Reece, MD, PhD, MBA, executive vice president for medical affairs, University of Maryland, Baltimore, the John Z. and Akiko K. Bowers Distinguished Professor and dean, UMSOM. "We are grateful that the federal government values their work and is willing to invest in potential new discoveries. I am excited to see what new insights we learn about the brain from this high-impact research."
The NIH's High-Risk, High-Reward Research program catalyzes scientific discovery by supporting highly innovative research proposals that, due to their inherent risk, may struggle in the traditional peer review process despite their transformative potential. Program applicants are encouraged to think outside the box and to pursue trailblazing ideas in any area of research relevant to the NIH mission.
"The breadth of innovative science put forth by the 2020 cohort of early career and seasoned investigators is impressive and inspiring," said NIH Director Francis S. Collins, MD, PhD. "I am confident that their work will propel biomedical and behavioral research and lead to improvements in human health."