Joseph R. Scalea, MD '07, is a surgeon, entrepreneur, and innovator in the field of transplantation. Perhaps even more important, he's a disrupter — and that might be his most fitting title of all.
This was crystal clear Oct. 13, when Scalea made his University of Maryland, Baltimore (UMB) David J. Ramsay Entrepreneur of the Year Presentation, titled "Rejecting the Status Quo: A Vision for the Future of Transplantation" and delivered on Webex. Using PowerPoint slides and exuding his trademark enthusiasm, Scalea detailed his and his business partners' mission to improve the logistics of human organ transplant tracking and shipment.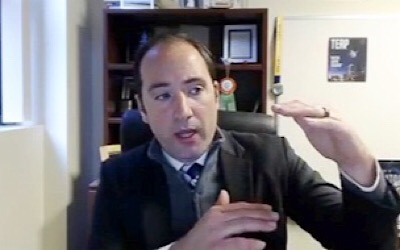 "Innovation is a term thrown around a lot, but it has a definition, and that definition is important," said Scalea, associate professor in the Department of Surgery at the University of Maryland School of Medicine (UMSOM) and a multi-organ transplant specialist. "Innovation implies that the technology created has a contribution that has not already been realized. Innovation implies that the technology is better than what already exists. Further, when those innovations are so dramatic that they displace an existing market of industry, we call that disruption."
Scalea's disruptions have proved to be transformative since he joined the UMSOM faculty in 2016, returning to the site of his medical education and residency. In that span, he has built the largest combined kidney-pancreas transplant program in the United States and co-founded three startups including MediGO and MissionGO, which were a focus of his presentation and where he serves as chief medical officer.
The Baltimore-based companies aim to improve the logistics of the human organ transplant supply chain for all modes of transportation and provide innovative applications for unmanned aircraft systems (UAS) to move organs from donor to recipient. In April 2019, after designing and testing technologies to transport and monitor the organ in flight, Scalea and his team performed the first transplant of a human organ carried by drone.
Scalea led the project and was one of the surgeons who performed the successful kidney transplant. The project included collaboration with the University of Maryland Medical System, the University of Maryland, College Park's A. James Clark School of Engineering, the University of Maryland Unmanned Aircraft Systems Test Site, the nonprofit Living Legacy Foundation, and others.
"The story of that drone delivery and transplant was shared and exposed to more than 1 billion people worldwide," Scalea said. "And this says two things: One, our public relations team at the University of Maryland did a great job. And two, the world cares about this, the world wants to see innovations like this improve the way we do things and help save lives. And here we are. It's really happening."
In September, MissionGO partnered with the Nevada Donor Network, an organ procurement organization, on two successful test flights carrying corneas for research and a human organ, respectively, over the Las Vegas desert. The second test marked the longest flight ever for organ delivery via UAS.
"That drone flew for more than 10 miles, which is critically significant in the field of transplantation," said Scalea, who added that these type of logistics improvements and innovations could save the transplant industry $2 billion a year. "In Las Vegas, no hospital is farther than 11 miles apart, so we demonstrated proof of principle that, at least for a city like Las Vegas, UAS could be used to move organs from hospital to hospital.
"But there is a ton of work to do, and we have not stopped. We are rocketing forward, and there are lots and lots of new questions to answer."
UMB President Bruce E. Jarrell, MD, FACS, opened the event by noting that the Entrepreneur of the Year award had been renamed in honor of former UMB President David J. Ramsay, DM, DPhil, who died in June. He called Ramsay's presidency, from 1994 to 2010, transformative, particularly with its focus on entrepreneurism and the creation of the University of Maryland BioPark.
"David established an infrastructure for an office to promote entrepreneurial activities and encouraged faculty to do entrepreneurial things, and this has continued to grow over the years," Jarrell said. "It's fitting now that we honor Dr. Scalea for this award, but also that we remember it was David Ramsay who made it possible."
Jarrell introduced Scott Plank, a Baltimore investor and the CEO of MissionGO and MediGO, who referred to Scalea as "my mentor in anything transplant-related and just so many other things." Plank recalled reading about Scalea's work with drones and organ shipment, requesting a meeting, and being impressed with his purpose and passion.
"Some people would say that I come in like a hurricane when you meet me, but I'd say Joe comes in like a Category 5," Plank said with a smile. "We really hit it off well and talked a lot about unmanned aircraft systems and the importance of this type of work. What I mostly look for in a business partner or an entrepreneur is shared values — collaboration, impact, and importance to the community — and Joe has all of those qualities in spades."
Scalea thanked Jarrell, Plank, and UMSOM Dean E. Albert Reece, MD, PhD, MBA, for their support, as well as his other business partners, his wife, and his two children. He said he was humbled to be recognized for his entrepreneurial pursuits and excited that his companies and project partners are "launching the future of transplant care."
"This presentation represents nearly five years of ideas, the cumulative efforts of hundreds of my closest colleagues, millions of dollars in investment, and thousands of hours of hard work," Scalea said. "Sometimes I've wanted to stop, but I don't, because it's been so much fun.
"This project has given me the opportunity to identify a clear career path," he added, "but most importantly it's how I envision using the rest of my life to help others."