In the heart of West Baltimore at 16 S. Poppleton St. sits a historic building that has been a fixture in the neighborhood since 1917. The columns on the building's façade are faded and the windows broken and boarded up, but the inside holds a wealth of history and potential for the city of Baltimore.
After years of being vacant, this historic building — once part of the St. Peter's Church complex — and its capabilities are finally being utilized. While keeping the building's historic exterior preserved, the University of Maryland, Baltimore (UMB) is transforming the interior into a brand-new Community Engagement Center (CEC).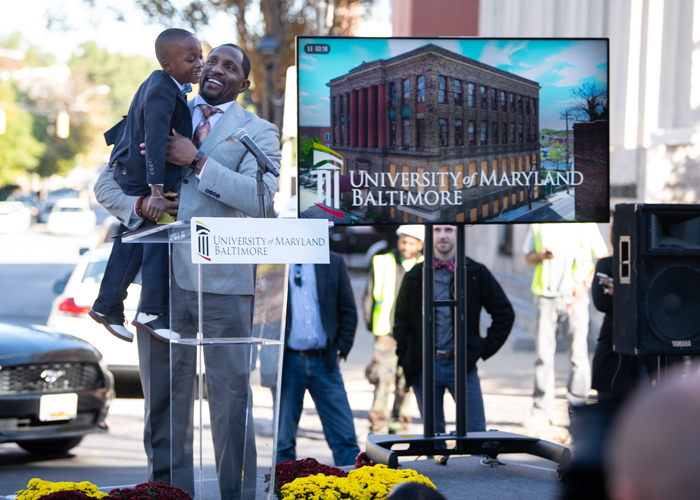 Oct. 24 marked the official start of the renovation with a groundbreaking ceremony. UMB faculty, staff and students, city leaders, elected officials, and West Baltimore residents were all invited to come and celebrate.
(View a photo gallery.)
"I've been waiting for this for a long time," UMB President Jay A. Perman, MD, told the large crowd attending the ceremony, which was held on the corner across the street from the construction site. "This building is not UMB's alone. It's all of ours. This is your building."
During his remarks, Perman reflected on the partnership between UMB and the West Baltimore community. That partnership took a tremendous step forward in 2015 when the University opened a modest, 3,000-square-foot CEC located a short walk from the new building. The CEC provides a number of free resources to the community, including workforce development, fitness/health classes, food markets, and space for the UMB Police Athletic/Activities League (PAL) Program.
In four years, the center has recorded more than 35,000 visits from men, women, teens, and children who engage with its services and programming. Having outgrown the current space, UMB leaders and West Baltimore community members are excited to see the center expand into this new space that's seven times larger. The additional space will make room for a more rich portfolio of community-driven programming that children, families, and neighbors in West Baltimore have been asking for: an exercise/dance studio, a large multipurpose room for community meals and events, a safe play area for children, a wellness suite, and a more robust computer lab.
"To see the center grow is very exciting," said Cassandra Fair, a Poppleton resident who has been a regular visitor to the CEC since its opening. "The energy at the groundbreaking was fantastic! Everyone seemed to be invested, and that's what's so exciting about this project. When it first started there was only a few of us, and now it feels like everyone is involved."
Collaboration with the community is a crucial pillar in this reimaging effort. What makes this project so special is that community members have been involved in the planning and programming process every step of the way. UMB has established a joint effort with community organizations like the Southwest Partnership to ensure that the specific needs of its West Baltimore neighbors are met.
"Doing these things in tandem with the community, not for the community, but with the community really speaks to what an anchor institution is and should be," Baltimore City Councilman John T. Bullock told the crowd at the groundbreaking ceremony. "I stand here encouraged and I hope you are as well because a brighter day is really dawning here in West Baltimore."
Bullock's sentiments were echoed by many community members who attended the ceremony.
"As a resident of the Poe Homes [in Poppleton], the CEC has been a positive beacon of light for the neighborhood," Leslie Ware, president of the Poe Homes Tenant Council, said during his remarks at the ceremony. "It's a wonderful thing, and this new center will only continue to improve and build upon what we already have created together."
(View the full list of speakers below.)
The importance of community partnerships also was emphasized by Ravens legend, Pro Football Hall of Famer, and UMB Foundation, Inc. board member Ray Lewis, who spoke at the ceremony. He said that this project is all about the people in the community who will be inspired to live up to their full potential.
"This is an investment in people, because if you invest back in people, then all of this works," Lewis said. "If we can affect these people together the way we're doing now, we can change our city. If we affect people, we affect nations."
Lewis demonstrated his investment in West Baltimore residents during the ceremony when second-grader Blair Pinnacle III said he wanted to have a boxing class at the new CEC. Lewis brought Blair on stage with him and said he would talk to his friend, former heavyweight champ George Foreman, about getting a boxing class for the new center.
Perman says UMB's partnership with Lewis is a great addition to this renovation and reimagining effort, not just because of his legacy as the greatest player in Ravens history, but because he has lived in Baltimore and has a special understanding and connection to the community.
"I think this partnership gives what we're doing authenticity," Perman said. "Ray understands the people of this neighborhood better than I do. I haven't lived it and I've had to learn, and Ray brings me back to reality. He explains things to me I never would have thought of."
As the ceremony continued, Perman also set aside a few moments to play a video tribute to the late Rep. Elijah E. Cummings, JD '76, who was a fervent supporter of UMB's community engagement initiatives and an advocate for the West Baltimore community. Perman recalled Cummings speaking at the ribbon-cutting of the current CEC by coincidence. At the time, the center was an early voting location, and Cummings had come out to vote just as the ribbon-cutting got underway.
(View the tribute video here.)
"Rep. Cummings was a true friend to UMB," Perman said. "He was a passionate and powerful advocate for West Baltimore, and he was one of the best people I've ever known."
After the speakers wrapped up, the event continued with the ceremonial groundbreaking. Keeping with the theme of community collaboration, instead of having a traditional ceremony with shovels to dig into the dirt, community members were invited to hang paper leaves on a metal elm tree sculpted by Bruce Jarrell, MD, FACS, executive vice president, provost, and dean of the University of Maryland Graduate School. On each leaf, attendees were asked to finish the phrase: I will grow in the CEC when I …
Some people wrote about their health and exercise goals, others wrote about their career goals, and some wrote about their family and community goals. Collectively, everyone's leaves covered the tree with color and aspirations for a bright future together.
"The fact that we were able to secure this property and will grow our programming exponentially to serve more families and children is extremely exciting to us," says Ashley Valis, MSW, UMB's executive director of strategic initiatives and community engagement and a resident of West Baltimore. "Together, we have imagined, planned, brainstormed, and convened many residents to deliver a new center that will be a welcoming, fun, educational, relaxing, respectful, and transformational space for our neighbors. It will be a place that our community deserves and has needed for a long time."
The new CEC is expected to open its doors by the summer of 2020. Upon completion of the renovation, an elm tree sapling will be planted on the grounds to represent the hopes and aspirations placed on the sculpted tree at the ceremony.
List of Speakers:
Jay A. Perman
President, University of Maryland, Baltimore
Kenneth C. Holt
Secretary, Maryland Department of Housing and Community Development
John T. Bullock
Baltimore City Councilman
Robert Caret

Chancellor, University System of Maryland
Bishop Carl A. Pierce
Carter Memorial Church of God in Christ
Jane Buccheri and Leslie Ware
Hollins Roundhouse Neighborhood Association and Poe Homes Tenant Association
Sharina Thompson and Blair Pinnacle III
CEC Advisory Board
Ray Lewis
UMB Foundation, Inc.