To "protect and serve" is the creed followed by police officers on the job every day. On Oct. 17, officers from the University of Maryland, Baltimore Police Force (UMBPF) took the latter part of that creed literally. Armed with aprons and hair nets, half a dozen officers along with police Chief Alice Cary, MS, spent the evening serving dinner to residents at the American Cancer Society Hope Lodge of Baltimore.
"It is amazing that the UMBPF officers are coming in to embrace our family," said Karen Seaberry, manager of the Hope Lodge facility in Baltimore. "They've always made us a part of the community. They protect us, they serve us, and now it's great to see them come in and interact with some of our guests."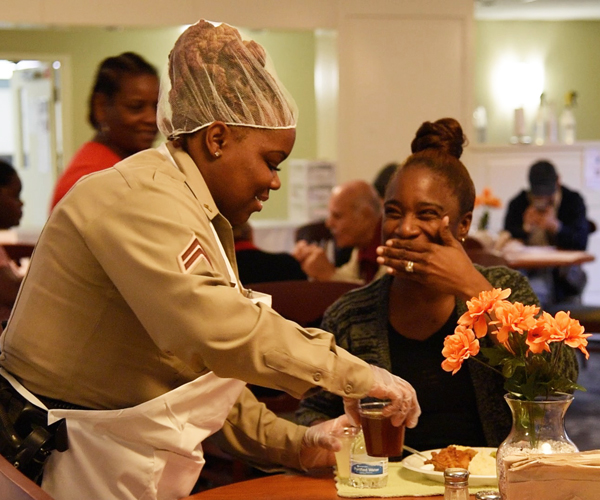 (View a video below.)
Hope Lodge provides a home away from home for patients battling cancer from all around the world. There are 31 Hope Lodge facilities across the United States — including Puerto Rico and Hawaii — and the mid-Atlantic facility is located on the University of Maryland, Baltimore's campus on West Lexington Street. Hope Lodge provides housing and hospital transportation for its residents free of charge but does not always have the means to provide meals.
Cpl. Hazel Lewis discovered this after meeting a cancer patient who was staying at Hope Lodge. Lewis was providing her with a police escort from her treatment at the Maryland Proton Treatment Center.
"Out of curiosity I asked her what she was eating tonight," Lewis explained. "She said she didn't know because Hope Lodge doesn't necessarily provide dinner every night. Meals usually come from volunteers or through donations, and I said, 'Wow I never knew that.' "
That was all it took for Lewis to begin looking for ways to help. She rallied UMBPF officers to donate money, so they could cater and serve a hot meal to the Hope Lodge residents. Her fellow officers were more than happy to pitch in and volunteer.
(View a photo gallery.)
"I was all for giving support," Pfc. Ronald Nicholson said. "I think it's a great idea and a good way to give back to the community and show our love and support as police officers."
Lewis, Nicholson, and Cary along with Deputy Chief Thomas Leone, Assistant Chief Dameon Carter, Detective William Epperson and security guard Evelyn Greenhill served up a dinner of baked chicken, mac and cheese, rice, and greens with a bundt cake for dessert. They also prepared and delivered plates of food to patients who were too sick to come out of their rooms for dinner.
Chief Cary expressed her excitement to see her officers engaging the community in such a heartfelt way, and she commended Lewis for taking the initiative to coordinate this act of service.
"Hazel has a great heart. She's full of compassion, not just at Hope Lodge but everywhere else on campus," Cary said. "I'm hoping this will be the start of a new tradition, and it's all because of Hazel Lewis and her outreach."
This dinner is only the first course of a new relationship between the UMBPF and Hope Lodge of Baltimore. Lewis says she hopes to make Hope Lodge dinners a monthly event for her department.
"I think this is just the beginning!" Lewis exclaimed. "Hope Lodge is right on our campus. It's right next door to us, so why not give back?"
Lewis' act of selflessness will be crucial for residents of the facility as the holiday season approaches, as many guests will not be able to spend time with their families. Seaberry is encouraging people to follow Lewis' lead and donate their time by putting on events or activities at Hope Lodge to create a jovial atmosphere throughout the holiday season. She's also asking the community to check out Hope Lodge of Baltimore's Amazon Wishlist, which has a list of suggested gifts and supplies people can donate through Amazon.com.
For more information on how you can volunteer or donate to Hope Lodge of Baltimore, visit the American Cancer Society website or call the facility directly at 410-547-2522.