Twenty-six newly minted UMB CURE scholars received their white coats Oct. 1 in symbolic recognition of their first steps toward careers in health care. The UMB CURE Scholars Program is supported by the National Cancer Institute's Continuing Umbrella of Research Experiences (CURE) Program, identifying promising middle school students and providing them mentoring, workshops, and hands-on experiences in laboratories.
(View a photo gallery.)
At the ceremony, University of Maryland, Baltimore President Jay A. Perman, MD, reminded children, families, mentors, and supporters that talent is universal but opportunity is not. He cited remarks by a recent speaker on campus who observed that a person's access to opportunity differs in the same way that a staircase or an escalator lifts one to the top. "If you fall down an escalator, it doesn't matter so much because an escalator won't let you stay down." It keeps rising, he said. "That's what we're building here today," Perman said. "We're building an escalator."
U.S. Rep. Elijah E. Cummings referred to the illnesses such as diabetes and cancer that disproportionately affect African-American communities. "A lot of times, out of our pain comes our passion to do our purpose," he said. "If there's anybody who will be most qualified to find the cure for cancer, it is these young people. They have probably seen the pain and they want to do something about it." Cummings, who is a 1976 graduate of the University of Maryland Francis King Carey School of Law, helped launch the CURE Scholars Program at UMB in 2015. Another dignitary who was present for both ceremonies was Sanya A. Springfield, PhD, director of the National Cancer Institute's Center to Reduce Cancer Health Disparities.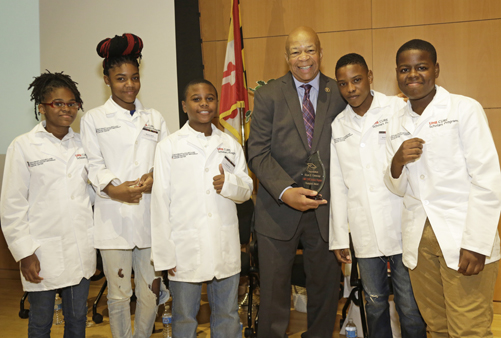 To recognize their support, Springfield and Cummings were presented with awards by UMB CURE Executive Director Robin Saunders, EdD, MS, and several eager helpers: CURE scholars who got their own white coats a year ago and are now seventh-graders. Among them was Shakeer Franklin, who received a shoutout of his own for being the subject of a documentary about how CURE has kindled his interest in science and made him a better student at Franklin Square Elementary/Middle School. Shakeer from West Baltimore, by Oscar-award-winning filmmakers Susan Hadary and John Anglim of MedSchool Maryland Productions (a division of the School of Medicine), has been released theatrically in Los Angeles.
The CURE scholars event was sponsored by Kaiser Permanente.
Read more about the event and the matchup of new scholars and their mentors in The Baltimore Sun, and watch the ceremony on video below.