Women typically shrink from the word "self-promotion," and are not comfortable talking about their achievements. But they must overcome these obstacles if they want to advance their careers.
That was the message relayed by Paula Monopoli, JD, the Sol and Carlyn Hubert Professor of Law at the University of Maryland Francis King Carey School of Law and founding director of the Women, Leadership and Equality Program, to more than 200 women working in higher education at the annual University System of Maryland Women's Forum (USMWF) conference, held Oct. 21 at the Southern Management Corporation Campus Center at the University of Maryland, Baltimore (UMB).
(View a photo gallery.)
"It's not simply because we lack the skills to talk about our achievements in our workplace. It's because we get kicked hard when we do. We get a negative reaction," Monopoli said during her keynote address, "Demonstrating Your Value," in which she shared techniques and strategies for women to deploy to gain solid footing on their career paths.
"As women we are not supposed to talk about our value," she said. "Your good work deserves to be known."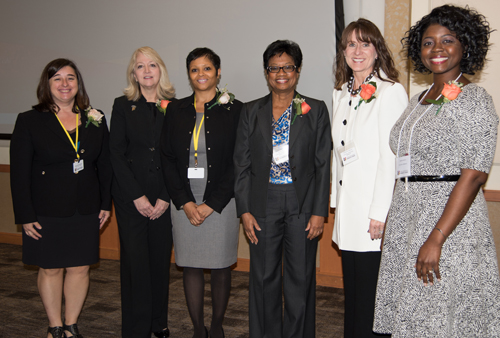 The Women's Forum was founded in 1989 by the wife of an interim chancellor, said conference chairwoman Aphrodite Bodycomb, MSM, MBA, associate director of administration and operations, Health Sciences and Human Services Library at UMB. It became the first organization to represent women at the system level. The goal of the forum is to enhance the status of women, foster network opportunities, and provide opportunities for women to get ahead in their careers.
"When we ask for money or for power, people sort of say 'ew, she's not supposed to do that,'" Monopoli said. "I try to teach my students an authentic way they're comfortable with to talk about the good work that they're doing and get it out to the broader workplace. I also teach them though that if they do this, then they're going to get the negative pushback. The reaction is going to happen, they shouldn't internalize it and they should persist."
Women who feel that they are not valued in the workplace tend to leave, and that means they don't stay on to receive promotions or fill positions of power, Monopoli said. She recommends women ask themselves the following questions:
With whom should I be communicating my value in the workplace?
Am I communicating effectively to them?
How do I get those people to embrace my ideas and value them?
"Now, I don't promise that if you do these things you're going to get a lovely, positive reaction from your supervisor or from the people who are in charge of your career in the workplace," she said. "In fact, I will predict that you won't. Do it anyway, because if you don't do it, it will be for certain that you won't be valued. You've got to persist."
Jennifer Litchman, MA, chief communications officer, vice president, and special assistant to UMB President Jay A. Perman, MD, welcomed attendees to the UMB campus and shared with them some of the University's history. Founded in 1807, UMB was Maryland's first public university. UMB also is home to the first dental school in the world, the fourth oldest school of pharmacy, and the fifth oldest school of medicine in the country.
"So clearly, there's a lot of history here at UMB and we are very proud of our past, but we're more excited about our future, the future of our students, our staff, and our faculty and the future of our partnerships with all of our sister institutions," Litchman said.
"We're also concerned about the future of women here at the University as well as within the system and to that end, we created UMBrella," she said, referring to the UMBrella Group: UMB Roundtable on Empowerment in Leadership and Leveraging Aspirations. "I founded it because I felt and saw a void that existed in formal pathways and support structures for women at the University."
UMBrella's network of women in leadership encourages women to foster meaningful relationships, continue their education, and enrich their professional development experiences. UMBrella will soon be launching a coaching program in conjunction with the University's human resources office, Litchman said, to provide small group and one-on-one coaching to women.
Other conference speakers included: Norma C. Hunter, MEd, senior organization and employee development consultant at UMB, who presented "Introduction to Type and Careers" using Meyers-Briggs Type Indicator testing; Nicol King, MA, training, development and benefits manager, Bowie State University; Lakeisha Mathews, MS, director of the Career and Professional Development Center at the University of Baltimore; and UMSWF Faculty Award winner Nancy Kang, PhD, MA, assistant professor at the University of Baltimore.