"If you find the dreamers and you invest your money and you invest your time in them, they always exceed your expectations," Impact Hub Baltimore Executive Director Michelle Geiss told a capacity audience at the Southern Management Corporation Campus Center (SMCCC) on Oct. 24.
Geiss was the second speaker invited by the President's Symposium and White Paper Project at the University of Maryland, Baltimore (UMB) to share ideas and perspectives on the 2016-2017 topic, entrepreneurial exploration. Her group, Impact Hub Baltimore, describes itself as part innovation lab, part co-working space, and part civic forum. Its diverse membership includes community innovators and entrepreneurs dedicated to driving positive change in Baltimore. The Hub itself provides workspace for community projects and a gathering spot for those interested in promoting social justice and welfare.
In order to illustrate her approach to community partnership and entrepreneurialism, Geiss showed the audience a photo of Gregory, an 8-year-old resident of Reservoir Hills, telling them, "When I meet kids in Baltimore like Gregory I'm often asking myself where's Gregory going to end up in 10 years? What's his life going to be like in the future?" Understanding Gregory's perspective and his community's perspective about what they want for the future and what issues hold them back is critically important, she explained.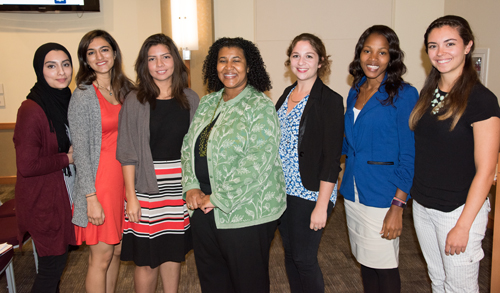 Geiss offered "three practices that are the underpinning of successful entrepreneurship." First, she urged, start with "Why?" Get clear on your motivation and purpose. Next, listen to others who can see things from other angles. Finally, Geiss said, learn by doing. "As entrepreneurs, we have to spend a lot of time learning what the landscape looks like and really understanding our niche, our unique contribution," she told the 75-80 students, faculty, and staff in attendance. "Entrepreneurs just start somewhere. We try things. We involve other people. We get their feedback and we keep building on what works. You can start small and then it snowballs in the right direction."
"A lot of what Michelle talked about we actually do at the Community Engagement Center," explained Ashley Valis, MSW, executive director, strategic initiatives and community engagement at UMB. "We are in one of the neighborhoods with the lowest life expectancy outcome in the entire city, as well as the lowest income and where Dr. Perman and my office are trying to have the greatest impact." Valis recounted the center's launch a year ago, and how service programming has grown with advice and feedback from the community. One very successful program is Workforce Wednesdays, when community members receive help with job training resources, resume writing, and other assistance designed to help job seekers. Located at the western edge of the University of Maryland BioPark, in the Poppleton community, the center is also a convenient location for residents to receive assistance with record expungements, housing issues, and other legal matters through UMB's JustAdvice Project, gain access to healthy food at the Wenesday Market, take part in fitness and nutrition programs, and much more.
"Come over and visit us at the center and it really is a place on campus where our UMB community meets with the real-world Baltimore community," Valis urged the audience.
About halfway through the talk, Geiss stopped to engage the audience in an exercise designed to enhance skills in observation, listening, and partnership. Under every other chair in the audience, some small object was placed – an old camera, a small flowerpot, a stuffed animal, and other things. Geiss asked persons with such an object to turn to the person next to them without one and share, one person at a time, all of the ideas the object made them think about that might lead to a better Baltimore.
Jocelyn Broadwick, coordinator of The Writing Center, and her partner, TaShara Bailey, PhD, MA, a postdoctoral fellow with the president's Diversity Advisory Council, examined their object, a toy metal tree with branches that move apart under centrifugal force when it spins.
"So many moving parts," said Broadwick. "It makes me feel there's a secret inside." Bailey, agreed, and also noted the look of openness when the tree was spinning, and the great diversity of pieces and colors it displayed.
Others in the audience said the exercise reminded them of the benefits of working with people from other backgrounds. "You're less likely to develop plans with just one kind of person in the room," said one.
Geiss brought the discussion back to UMB's role and what the University could and should do to benefit neighboring West Baltimore communities.
"I step out of my building and it's so obvious what the problems are," said Saniya Chaudhry, a first-year School of Pharmacy student. "I'm so overwhelmed with school. I personally don't know how to help,"
Todd Yeary, a second-year evening law student, and senior pastor at Douglas Memorial Community Church, said "The question 'should' versus 'able to do' is an important question, because 'should' implies that there ought to be continuity with our core values as an institution," adding, "So if we're going to be an anchor, an institutional anchor in this city, then our core values ought to be identifiable by folks who will never pay tuition to get in or get an admittance letter."
Courtney J. Jones-Carney, director of the Office of Interprofesssional Student Learning and Service Initiatives, reminded the audience of last month's symposium kickoff speaker, Marc Nivet, and his talk about universities using their leverage to benefit their surrounding communities. "He talked specifically about, we have X number of contracts with food vendors. So we bring in all this food and we are basically in a food desert," she said. "So how do we speak to whoever those food vendors are and say, 'we give you X amount of money, and because of that we would like for you to work on some sort of initiative that's going to eliminate this particular food desert.' How do we work together as an institution to make those sorts of things happen?"
Finding answers to that question is one of the goals of the President's Symposium and White Paper Project, said Ben Portney, a PhD candidate in the Graduate School and one of the President's Fellows. "A lot of people are really trying to get things moving and sometimes they're doing the same things or they're moving in the same direction," he said. "So I think one of our missions overall for the white paper is to get everybody together and on the same page to figure out how we can attack it as a University as a whole." He quickly added, "Please don't hesitate to reach out to us so we can find ways to collaborate."
The third installment of the President's Symposium and White Paper Project speaker series will feature University of Baltimore professor John C. Weiss III on Thursday, Nov. 17, at 4 p.m. in SMCCC Elm Ballroom B. An experienced venture capitalist, Weiss will discuss "Who Buys, Why Do They Buy, and How Much Will They Pay?"