Baltimore's new bike sharing program has rolled into the Westside, making pedal power a possibility for users who want a one-time trip or prefer a monthly pass.
(View a photo gallery.)
Representatives of the city's program, Baltimore Bike Share, and its operator held a "lunch-and learn" session on Nov. 21 at the University of Maryland BioPark, which is the site of one of several stations accessible to students, faculty, and staff of the University of Maryland, Baltimore (UMB).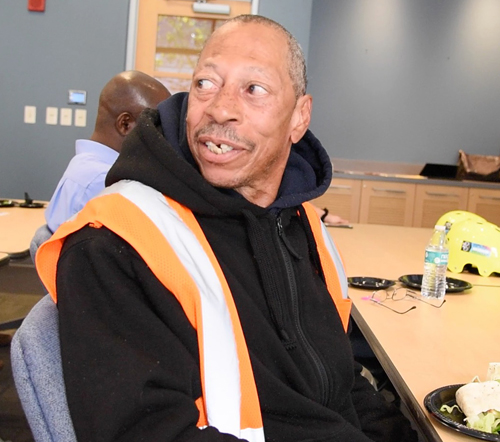 That station has 16 bikes located on a parking lot at 829 W. Baltimore St., which is opposite UMB's Community Engagement Center and the Maryland Proton Treatment Center, and links with other stations on the Westside including Hollins Market.
A 16-port bike docking station has been installed at the southwest corner of Baltimore and Greene streets, underneath the pedestrian bridge, thanks to a partnership between UMB and the University of Maryland Medical Center (UMMC). That site is also convenient to users from the Baltimore Veterans Affairs Medical Center.
"We are proud to partner with UMMC and the BioPark on this effort," says Tony Green, manager in Parking and Transportation Services at UMB. "We believe bike sharing is a great way to encourage healthy choices and provide a sustainable transportation option that improves the mobility of our students, faculty, staff, and our neighbors."
Although there are 16 slots, the number of available bikes docked at each station will change as their riders circulate throughout the downtown network and some bikes enter a maintenance mode. On a bike that has been flagged as not suitable for checkout, the seat is turned down and facing backward as a signal that it is getting care.
That TLC is in the hands of a group of veterans who were formerly homeless but are now South Baltimore residents employed by Corps Logistics, the vendor that operates the bike system. Veteran Ivan Baylor, who was recently profiled in a Baltimore Sun article about Baltimore Bike Share and its "Bike Man," was introduced to BioPark tenants at the event.
Said Corps Logistics President Jim Duffney, "As the system grows, we're going to hire more and more." He was joined by Jay Decker, Baltimore Bike Share coordinator, who told tenants that the program has had more than 1,000 users since its launch last month. The mode of transit is based on being able to check out a bike from any station and return it to any other station in the network. "It's designed to complement other ways to get into town so you could take a subway to Lexington Market, grab a Bike Share [bike] and then bike here," Decker said. Or instead, someone could take a leisurely ride on a Friday afternoon.
Many of those in attendance raised their hands to say they had already tried out Bike Share in Baltimore or used similar services in other cities. At a demo outside, tryouts continued as Nora Finn, UM BioPark events and programming director, put on a helmet and pedaled west. Also taking a spin was James L. Hughes, MBA, president of the UM BioPark and vice president and chief enterprise and economic development officer of UMB.
Among the supporters, bike helmets in hand, were Jane M. Shaab, executive director of the UM BioPark and UMB assistant vice president for economic development; Linda Cassard, MBA, assistant vice president, Office of Research and Development; and Jon M. Laria, JD '92, managing partner of Ballard Spahr LLC's Baltimore office and chair of the Mayor's Bicycle Advisory Commission.
Bikes can be rented for $2 per trip, with one trip lasting 45 minutes. Trips over the 45-minute threshold will cost an additional $2 per half-hour. Monthly passes also are available for $15, which come with unlimited 45-minute rides.
Some of the bikes at the 40-foot by 6 ½-foot stations have pedal assist electric motors to help propel them. Marked with a lightning bolt decal, the Pedelec bikes act like a regular bike and don't have any complicated gears to learn. Simply begin pedaling and the bike will provide an extra boost to get a rider moving.
About 40 percent of the bikes will be outfitted with electric motors, giving Baltimore the largest fleet of electric bikes in the Western Hemisphere, reports the Baltimore Business Journal.
Funded by UMB, the BioPark, and UMMC, the bike stations join 20 others in Baltimore. The city's Department of Transportation plans to add an additional 30 stops by the spring, which will bring the fleet to 465 bikes.
Available 24/7 and intended for errands, commuting, and recreation, Baltimore Bike Share includes a helpful list of frequently asked questions for those who wish to learn more.