The University of Maryland School of Pharmacy (UMSOP) is pleased to recognize the hard work and achievements of 132 students graduating in the first class of its Master of Science in Medical Cannabis Science and Therapeutics program, the only program of its kind in the nation.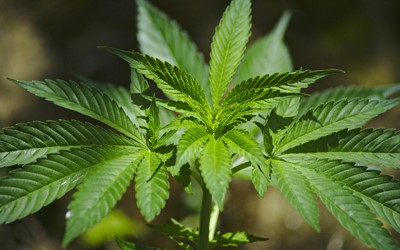 The virtual graduation celebration will debut May 21 at 6 p.m. on the school's YouTube channel. The program will feature remarks from Natalie D. Eddington, PhD, FCP, FAAPS, dean and professor of the School of Pharmacy, a keynote address from David Casarett, MD, of Duke University School of Medicine, congratulatory messages from faculty, the reading of each graduate's name, and degree conferral from University of Maryland, Baltimore President Bruce E. Jarrell, MD, FACS. (Media are invited to view the ceremony on YouTube. Graduates and faculty are available for interviews. CONTACT: Mary T. Phelan, UMB senior media relations specialist, 443-615-5810 (cell) or maryphelan@umaryland.edu.)
Launched in August 2019, the program provides students with the knowledge and skills needed to support patients and the medical cannabis industry, add to existing research in the field, and develop well-informed medical cannabis policy. Based at the Universities at Shady Grove (USG) in Rockville, Md., the two-year program blends online learning with face-to-face experiences and is designed for any individual who has completed an undergraduate degree and is interested in pursuing a career in the medical cannabis industry. During the coronavirus pandemic, students and faculty were required to adapt to a fully online learning model.
The MS in Medical Cannabis Science and Therapeutics is the first graduate program in the country dedicated to the study of medical cannabis. It aims to meet the needs of all individuals interested in advancing their knowledge about medical cannabis, including health care professionals such as physicians, nurses, and pharmacists; scientists and regulators; growers and dispensary owners; and policy and industry professionals.
"As the first graduates of the first master's program in medical cannabis in the country, you are trailblazers and leaders, innovators and risk takers, and changemakers," Eddington said. "As states have legalized medical cannabis, trailblazers like you have lined up to be at the forefront of this emerging industry by opening or working in dispensaries or welcoming patients into your medical practice. Those of you not directly involved in the industry seek ways to be involved, to advocate for improved regulations and policies, to change laws, and to better understand the science of this plant."
The School of Pharmacy's MS in Medical Cannabis Science and Therapeutics addresses the areas of basic science, clinical use, adverse effects and public health, and federal and state laws and policies surrounding medical cannabis. Online coursework is designed to accommodate students with or without a background in science or medicine as well as offer flexibility when completing assignments. In-person symposia are typically held once each semester to provide students with opportunities to network with peers as well as to meet and interact with experts in the science, therapeutics, and policy of medical cannabis.
"The field of medical cannabis has grown and evolved in the two years since you started this program, and I see now clearer than ever the need for individuals with your expertise to nurture and push this industry forward. With your passion, knowledge, and skill, you will improve the lives of patients through research, practice, education, and advocacy," said Leah Sera, PharmD, MA, BCPS, assistant professor in the Department of Pharmacy Practice and Science (PPS) at the School of Pharmacy, director of the MS in Medical Cannabis Science and Therapeutics program, and a clinical pharmacist who practices in the field of palliative care.
To better meet the needs of working professionals, the MS in Medical Cannabis Science and Therapeutics does not require the completion of a thesis. Instead, students complete a capstone course that features a selection of expert seminars, case studies, and discussions. Graduates of the program have acquired the skills to be able to help identify patients appropriate for medical cannabis therapy and determine appropriate dosing and administration for those patients; ensure the safe and effective design, development, and manufacture of medical cannabis products; identify potential research opportunities related to the science and health effects of the cannabinoids found in medical cannabis; and participate in health policy decision-making processes related to medical cannabis.
The MS in Medical Cannabis Science and Therapeutics welcomes students who possess a bachelor's degree from an accredited college or university, currently work or are interested in working in the medical cannabis industry, and have the ability to travel once per semester to attend required symposia at USG, which is located in a suburb of the nation's capital.
To learn more about the program, visit https://www.pharmacy.umaryland.edu/academics/ms-medical-cannabis-science-and-therapeutics/.
About the University of Maryland School of Pharmacy
Established in 1841, the University of Maryland School of Pharmacy is ranked 14th out of more than 140 schools of pharmacy by U.S. News & World Report. The school is a thriving center for professional and graduate education, pharmaceutical care, research, and community service. Its faculty create the future of pharmacy by pioneering new roles for pharmacists in advanced clinical practice and conducting cutting-edge research in drug discovery and development, comparative effectiveness and patient-centered outcomes, and disease management. A contemporary curriculum, innovative educational experiences, and strategic professional relationships help to inspire excellence in the School's more than 1,000 students, residents, and postdoctoral fellows. The School offers nine academic programs: Doctor of Pharmacy; PhD programs in Pharmaceutical Health Services Research and Pharmaceutical Sciences; and MS programs in Medical Cannabis Science and Therapeutics, Palliative Care, Pharmaceutical Health Services Research, Pharmaceutical Sciences, Pharmacometrics, and Regulatory Science. With a research portfolio of $32 million in grants and contracts, the School is ranked 16th by the American Association of Colleges of Pharmacy amongst schools of pharmacy. In 2017, the School launched its exclusive Pharmapreneurship™ program, which describes the School's commitment to supporting and best positioning both faculty and students to achieve their career aspirations and address our nation's health care challenges.
CONTACT: Mary T. Phelan, UMB senior media relations specialist, 443-615-5810 (cell) or maryphelan@umaryland.edu