As vaccination sites across Maryland race to distribute the COVID-19 vaccine to as many people as possible, students from the University of Maryland School of Pharmacy (UMSOP) are volunteering their time to help with the effort. As part of the vaccination clinic opened in the University of Maryland, Baltimore's (UMB) campus center, UMSOP students are training to work behind the scenes to ensure that the vaccines are properly managed and distributed.
"Part of our role as pharmacists is medication management and preparation for administration," said Cherokee Layson-Wolf, PharmD, BCACP, FAPhA, associate dean of students at UMSOP. "It is very important to have our students involved in this process so they can understand how important it is to manage this very important resource."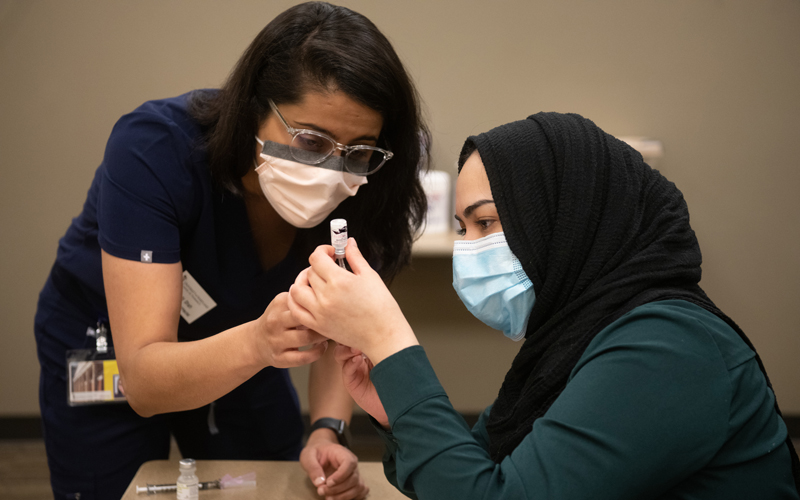 The dose preparation process is particularly important because the COVID-19 vaccines are fragile and must be carefully mixed and distributed. This is because the mRNA structure and protein ingredients in each dosage will lose their potency the more they are manipulated.
"With this training, our students will be able to both vaccinate patients and prep the doses," said Layson-Wolf. "This will give them an appreciation for how the vaccines are mixed and created, and they will have a better understanding of the whole process."
(View a photo gallery.)
Pharmacy students of all education levels are encouraged to take part in this training. Fourth-year students who have had experience in the COVID vaccination clinic are tasked with training first-, second-, and third-year students. Many of them actually opted to give up one of their clinical rotations to teach other students how to handle the COVID vaccines.
"I thought it was a really unique opportunity that I wouldn't be able to get with just my schoolwork," said Michael Obineme, a fourth-year student at UMSOP. "It is a real privilege to be able to step up to the front lines and help with the recovery effort in any way that I could."
During the training, each student was given two different sized vials of saline solution, one the size of a standard Pfizer dose and the other the size of a standard Moderna dose. The students practiced splitting up the doses into syringes, six for Pfizer and 10 for Moderna.
"Our students are critical members of this response to COVID," said Layson-Wolf. "Through this whole effort, I believe that our students have really found that they play a really important role in public health on both a one-on-one basis and broader basis."
Because of the virtual learning mandates that were put in place during the pandemic, for many students this was the first in-person learning experience they have had over the last year. Belinda Tamrakar, a first-year pharmacy student, jumped at the chance to volunteer her time to help with dose preparation. She was happy to have the opportunity to help the community get vaccinated while also furthering her education.
"I really wanted to get more hands-on experience the same way a real pharmacist would work in the day-to-day world," she said. "Over the last year, we have seen a lot of health care workers doing what they can to help everyone in this pandemic, so I just wanted to be a part of that effort."
So far, about 50 students from UMSOP have been trained on COVID vaccine preparation and management and will be working in UMB's vaccination clinic at the Southern Management Corporation Campus Center. Layson-Wolf says that they plan to train more students to work in the clinic as vaccination efforts continue throughout the state.
"It's really fulfilling to be able to play such an important role in the recovery effort and providing vaccinations to the community," she said. "This global pandemic is what we are training for here at the School of Pharmacy. Vaccine administration and preparation is so critical and it's wonderful that we have been able to collaborate with other schools at UMB to serve the community during such an important time."