On Friday, March 6, U.S. Sen. Ben Cardin, JD '67, of Maryland called for a roundtable discussion about the novel coronavirus (COVID-19) at the University of Maryland Medical Center (UMMC).
Top health experts from across the state of Maryland attended the roundtable, including key players from the University of Maryland, Baltimore (UMB) community: Bruce E. Jarrell, MD, FACS, UMB's interim president; E. Albert Reece, MD PhD, MBA, dean of the University of Maryland School of Medicine (UMSOM) and executive vice president for medical affairs, UMB; Kathleen Neuzil, MD, MPH, director of the Center for Vaccine Development and Global Health; and David Marcozzi, MD, MHS-CL, FACEP, assistant chief medical officer for acute care services at UMMC and associate professor at UMSOM.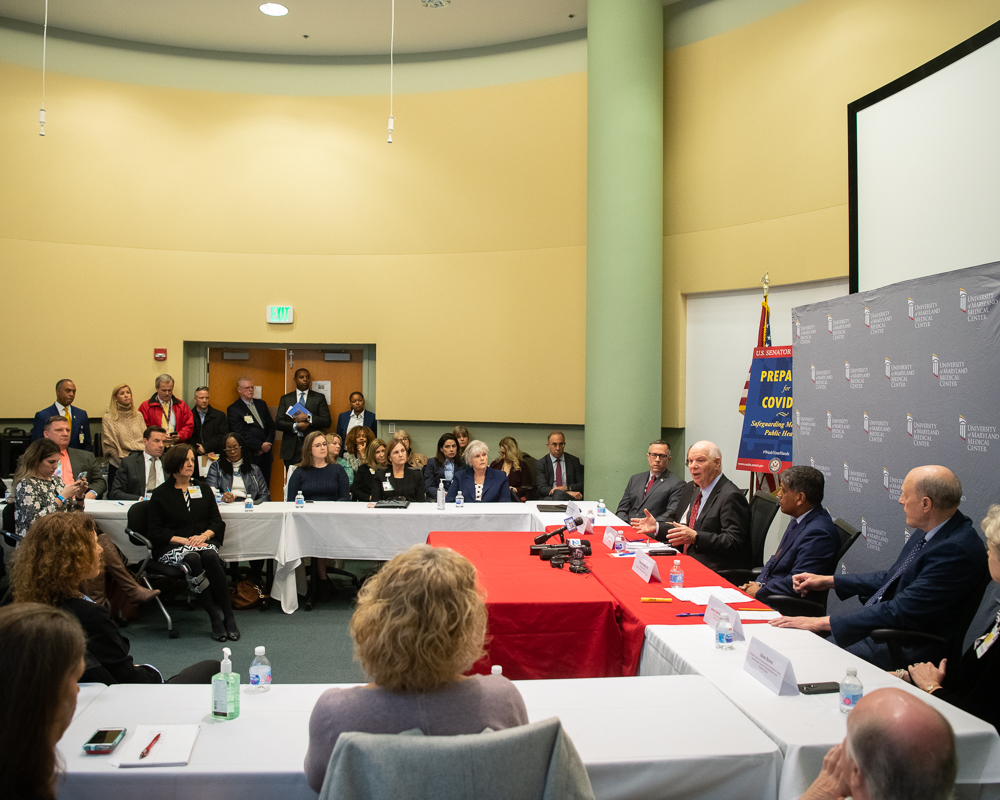 (View a photo gallery.)
Cardin provided a briefing on a variety of topics surrounding COVID-19, including prevention, supplies, federal/local funding, travel guidelines, and the steps being taken to create a vaccine. After the briefing, he opened up the floor to questions and comments from the health experts gathered in the room.
(View a video below.)
This roundtable discussion came on the heels of an announcement from Maryland Gov. Larry Hogan that three cases of COVID-19 had been confirmed in the state of Maryland. All of the infected patients are Montgomery County residents and had traveled outside of the United States.
You can watch these news reports of the meeting:
For more information and updates on COVID-19, visit UMB's Novel Coronavirus website.