The University of Maryland, Baltimore (UMB) has launched a Police Athletic/Activities League (PAL) program for children in West Baltimore. It is one of just two PAL programs in the United States offered at a university.
PAL is a national program that works to promote the prevention of juvenile crime and violence by building relationships among kids, police officers, and the community through positive engagement.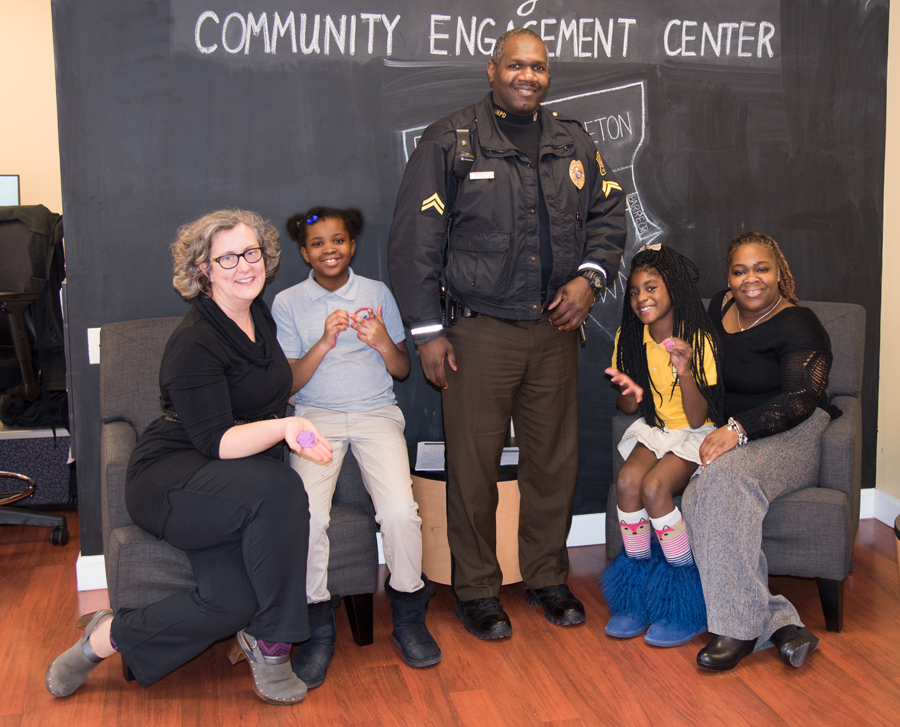 The UMB PAL program launched Feb. 1, 2018, and is being held at the UMB Community Engagement Center in West Baltimore. Members of the UMB Police Force (UMBPF) are leading the program.
"Many youths will benefit from the existence of the PAL program and I am happy that our campus police officers will be participating in this wonderful program," said Martinez Davenport, MS, interim chief of the UMBPF. Davenport saw the benefits of PAL when he was with the Baltimore Police Department in the 1990s before the program was cut in 2009. "Officers and youths had created a strong bond that broke down negative barriers between the police and the community," he said.
At a recent meeting, more than a dozen fourth-graders from James McHenry Elementary/Middle School worked on their homework with the help of several police officers and public health nursing students from the University of Maryland School of Nursing. When the homework was done, they conducted a science experiment that resulted in making a rubber ball.
"It's an innovative approach to not only connect law enforcement to the community, but also to stress the importance of higher education to these kids," said Jeff Hood, executive director of National PAL. "I think it's a very good idea."
UMB received $28,800 to launch the program, which will initially serve 32 students. An additional $10,000 was given to the school by UMB Foundation, Inc., trustee Theo C. Rodgers, chairman and CEO of A&R Development.
"I am extremely pleased to note that UMB is continuing to invest in the people of West Baltimore," Rodgers said. "It is a pleasure for me to be able to partner in launching the PAL program, which we all hope will have a long-term positive impact on the youth of that community."
PAL is meeting two afternoons a week with as many as 16 elementary students attending on Thursdays and 16 middle school students on Fridays. The grant will enhance existing programming at the CEC, provide a set curriculum, and allow it to continue year-round.
Covering more than just athletics, PAL activities will include science experiments, physical fitness, career exploration, community service, visual arts, reading enrichment, and more. Outside partners will bring in programming and Saturday field trips will explore the city and beyond. On a recent Saturday, a group of 18 students and five officers saw the movie "Black Panther" and later discussed the characteristics of superheroes.
Kyle Locke, MS, philanthropy officer at UMB, spearheaded bringing the program to campus after heading up a similar program several years ago.
"Nowadays, anything our police force can do to connect with the community more is definitely needed," Locke said. "One of the priorities of (UMB's) president is community engagement. We want to try and bridge these gaps with good programs. … Young people need mentors and need to see other things outside their daily lives. This program gives them that opportunity."
Cpl. Hazel Lewis, a 14-year veteran with the UMBPF, is leading the program along with Kelly Quinn, PhD, coordinator of the CEC.
"I think this will build a great relationship between the entire community and the police department at UMB and hopefully police officers all over," Lewis said. "I think we are breaking a lot of barriers right now."