A lot of people have spent a lot of time putting together UMB's Self-Study Report for the Middle States Commission on Higher Education, which accredits the University every 10 years. So it was fitting that a full house of 85 people showed up at a town hall on March 9 to hear UMB's Middle States co-chairs describe the report and inform them of what comes next.
"Those of you who came to earlier Middle States sessions and sat at these tables, we gave you work to do," said UMB Middle States co-chair Roger J. Ward, EdD, JD, MPA, chief accountability officer, vice president of operations and planning, and vice dean of the Graduate School. "There is no work to do this time around in terms of should we include this, should we take that out. We've gone past that process and now we're just getting ready for the site visit by the Middle States evaluation team."
Ward and co-chair Natalie D. Eddington, PhD, FAAPS, FCP, dean of the School of Pharmacy and executive director of University Regional Partnerships, took the audience through the 2 ½-year process of amassing the Middle States Self-Study. What Ward called "the federal government stamp of approval" is needed every 10 years to ensure the University qualifies for federal funding for students and researchers.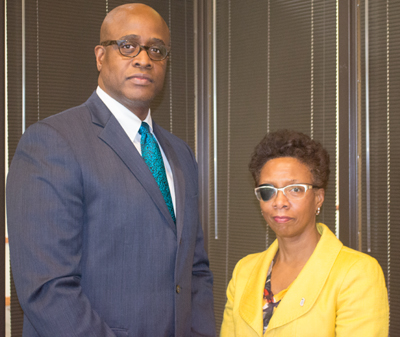 The University must meet 14 standards. Ward said No. 7 and No. 14 — Institutional Assessment and Assessment of Student Learning — were the most important. "How you are measuring what you're doing and when you find shortcomings, what are you doing to fix it," Ward said. "They are the big things. But you must show compliance in all 14 standards before you can be accredited."
The co-chairs said the Self-Study Report showed UMB is in compliance in all areas, but it took hundreds of people to create such an all-encompassing document.
Work groups were formed to study each of the standards. "We pulled representatives from across campus," Eddington said. "Faculty, students, as well as staff. They worked together over a two-year period and really got to know each other and really allowed each other to share their thoughts and vision. I thought it was a very important process but also a very nurturing process."
The benefits extended beyond the Middle States report. "We were fortunate to do this in such a way that we could use a lot of the outcomes of the working groups as a starting point for our 2017-2021 strategic plan," she said.
The town halls and various other information sessions check off the next-to-last box on UMB's 15-item Middle States timetable. The last box is hosting a site visit by the Middle States evaluation team April 3-6, headed by Denise Rodgers, MD, vice chancellor for interprofessional programs at Rutgers University.
"We can't pull the wool over Dr. Rodgers' eyes," Ward said with a smile. "She's a Middle States commissioner in addition to her duties at Rutgers. When she was here for a site visit in November, she was very thorough and gave us a lot of ideas we acted upon."
The Middle States evaluation team will meet with UMB's Middle States Steering Committee and working group chairs, as well as groups of University and school leaders, faculty, staff, students, and constituents. On April 6, the evaluation results will be read in an open forum and "hopefully at the end of that presentation we'll be happy because they'll tell us we did a great job, which I believe we have," Eddington said.
She and Ward urged the audience members to read the Self-Study Report at http://www.umaryland.edu/middlestates/. When Eddington asked Ward how many pages it was, Tricia O'Neill, JD, assistant vice president in Ward's office, spoke up with "3,483 pages." Without skipping a beat, Eddington said, "So if you have some extra time on your hands here is something you can read."
Ward added a serious footnote that the appendices make up most of that and the main 200-page report "is an easy read" and well worth the time. "You can learn an amazing amount about the institution by reading it," he said. "It's remarkable what we have learned during this process."
Said Eddington: "The tables and graphics are very informative. We have an overview of what is going on at each school. It's very interesting to see the approaches we have each taken, the programs we have to support our faculty and students. It's a very comprehensive document and like Roger says it's an easy read that you can complete in a single sitting. I didn't touch the Appendices though."
There is another Middle States town hall on Thursday, March 24, 3 to 4:30 p.m., also in the SMC Campus Center. Those who missed the one on March 9, please try to attend. Register at http://www.umaryland.edu/middlestates/register/.