After a nationwide search, the University of Maryland, Baltimore (UMB) has selected Alice K. Cary, MS, to oversee public safety at the 71-acre Baltimore campus and serve as chief of the University of Maryland, Baltimore Police Force (UMBPF).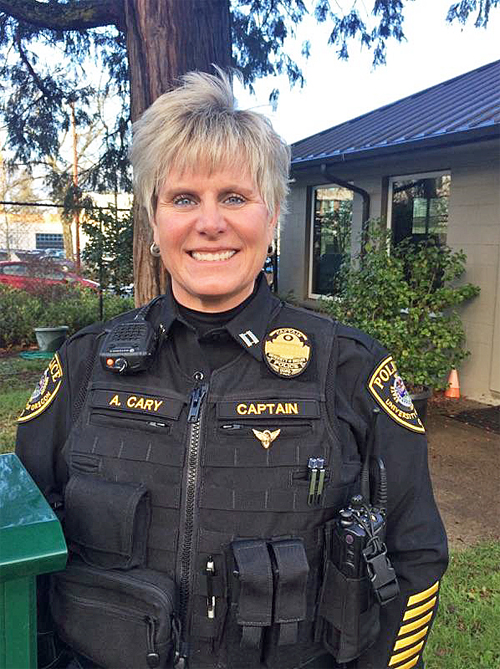 Most recently, Cary served as Patrol Operations Captain with the University of Oregon Police Department (OUPD), providing oversight of patrol and investigative officers and planning, deployment, and response to major events and emergencies. "Protecting UMB's students, faculty, and staff is my foremost priority," says UMB President Jay A. Perman, MD. "Chief Cary's wide array of experience and record of accomplishment at the city, state, and university levels uniquely positions her to maintain the high standards of safety which our community deserves and demands."
Before her eight-year tenure with OUPD, Cary served as a criminal investigator with the Lane County (Ore.) District Attorney's Office and as a state trooper with the Wyoming Highway Patrol. She earned a master's degree in criminal justice management from Colorado Technical University and has achieved certification from the Federal Emergency Management Agency (FEMA) and the FBI's Executive Leadership Institute. Cary also has received numerous awards for meritorious service.
"The search committee was very impressed with Chief Cary's presentation," says Dawn M. Rhodes, MBA, UMB's chief business and financial officer and vice president. "She emphasized caring and respectful treatment of every member of our community, offered strong ideas for improving communication at every level, and expressed a willingness to openly examine and confront areas that need improvement."
Cary says UMB impressed her just as much during the search process. "I immediately felt the connection between UMB and the community," she says. "It was evident to me that there was so much pride, passion, and love for the area with a strong sense of family cohesiveness. I knew I wanted to be a strong contributor as well."
Cary takes leadership of the UMBPF on June 11.
About the University of Maryland, Baltimore
Founded in 1807, the University of Maryland, Baltimore is Maryland's only public health, law, and human services university, dedicated to excellence in education, research, clinical care, and public service. UMB enrolls 6,500 students in six nationally ranked professional schools — medicine, law, dentistry, pharmacy, nursing, and social work — and an interdisciplinary Graduate School. The university provides more than $40 million each year in uncompensated care to Maryland citizens, and receives more than $550 million in extramural research funding annually. For more information about the University of Maryland, Baltimore visit www.umaryland.edu.
About the University of Maryland, Baltimore Police Force
The UMBPF has concurrent jurisdiction with the Baltimore Police Department, giving it the same authority and power as the BPD over the area within the boundaries of the Baltimore campus. The staff includes more than 150 sworn officers, security officers, communications officers and administrative staff. For more information about the University of Maryland, Baltimore Police Force visit www.umaryland.edu/publicsafety.