University of Maryland, Baltimore (UMB) President Jay A. Perman, MD, joined Maryland Gov. Larry Hogan and Baltimore education leaders June 14 to announce that two Baltimore City schools have been selected as new Pathways in Technology Early College (P-TECH) sites. The program will be up and running at Carver Vocational Technical High School and Dunbar High School this fall for the 2016-2017 school year.
The P-TECH education model is a nationally recognized approach that blends high school, college, and work experience. In six years or less, students graduate with a high school diploma and a two-year associate degree in a STEM career field at no additional cost. Students also benefit from career experience and mentorship in the workplace and will be first in line for skilled jobs upon graduation through partnerships with private sector participants. Each P-TECH school works with industry partners and a local community college to provide a curriculum that is academically rigorous and economically relevant.
"Our population of health scientists and professionals needs to better reflect the populations of people they serve," Perman said. "This is how you reduce the disparities we have in this country — and this city — in terms of health care delivery and health outcomes. We can improve the health of populations hardest hit by chronic disease by preparing students for health sciences jobs at UMB and at other allied health institutions, while at the same time offering economic opportunity to West Baltimore residents."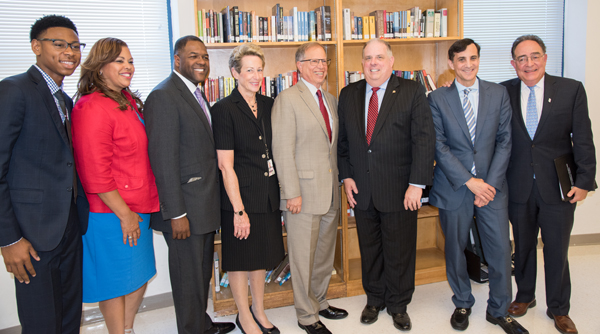 Hogan praised the efforts of city school leaders, members of the Maryland General Assembly, and program co-developer IBM for working together to bring P-TECH to Baltimore.
"Our administration is committed to thinking outside the box, and advocating for innovative solutions to ensure that every single child has the opportunity to get a world-class education, regardless of what neighborhood they happen to grow up in," said Hogan. "With the announcement of Maryland's first two P-TECH sites, students in Baltimore City will have the chance to gain in-demand skills that employers need for the 21st-century workforce, and employers here in Maryland will gain a steady pipeline to skilled professionals."
IBM will partner with P-TECH Carver (with a degree focus in cybersecurity and information technology (IT), while UMB, Johns Hopkins University, and Kaiser Permanente will serve as the industry partners for P-TECH Dunbar (with a degree focus in health IT). Both sites were chosen by the Baltimore City school system, and each will receive $100,000 in grant funding from the state.
"In urban centers like Baltimore, we know that growing technology companies are creating jobs and opportunities, but if our youth are not prepared with the necessary skills, these opportunities will not be accessible," said Baltimore City Mayor Stephanie Rawlings-Blake. "The need for better training opportunities is particularly true for young people in some of our communities that are frequently overlooked as a source for tech hires."
Perman echoed those sentiments, calling P-TECH – which provides opportunities for high school students - a "natural next step" to UMB's CURE Scholars Program. The CURE Scholars Program, launched last fall, provides science and health care educational opportunities and mentoring for middle school students in UMB partner schools in West Baltimore.
"The CURE Scholars Program is designed to put young students on a path to good-paying careers in the health sciences and to build a health care workforce in Baltimore that can capably address the chronic diseases that devastate our neighborhoods," Perman said. "The point is to reach students early, to tap into their natural excitement and curiosity, to make them love science like so many of us do, and to pave this career path for them before it can grow steep and encumbered.
"I can't wait to see what's possible when this community unites around our students and transforms the way we prepare them for 21st-century work," Perman added. "This is good for our students, good for our schools, and very, very good for Baltimore."
In addition to P-TECH Carver and P-TECH Dunbar, four P-TECH planning grants have been awarded to launch additional schools in other parts of the state. To learn more about P-TECH schools, visit www.ptech.org. For more information on Maryland's Career and Technology Education programs, visit www.mdcteprograms.org.