The University of Maryland, Baltimore's Promise Heights initiative, which is led by the School of Social Work (SSW), has played a pivotal role in the lives of students at a West Baltimore high school that has been disproportionately afflicted by violence.
The saga of a group of seniors at Renaissance Academy (RA) has unfolded since last fall on local television, in a continuing series of reports that grew out of the award-winning project "Collateral Damage" in The Baltimore Sun, in a multimedia story, "Coming of Age in a City Coming Apart," in The Washington Post, and most recently, in a report on WMAR-TV.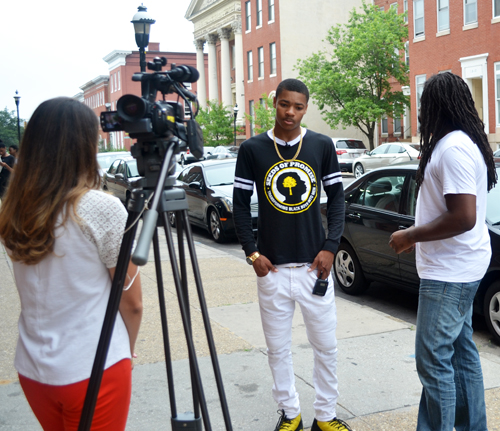 For one of the members of the RA Class of 2016, the potentially life-altering attention may help him get a better job and enroll in community college. Khalil Bridges, who was the focus of the Post story published online June 16 and in print editions June 19, found himself in the spotlight again on June 22.
"'I believe in you': An outpouring of help for a Baltimore teen" tells how Bridges had not expected anyone to help him financially when he graduated from RA. But readers who were touched by his will to overcome travails responded. As Washington Post reporter Theresa Vargas wrote: "In the days since Bridges was featured in a Washington Post article that detailed his struggles to graduate from one of Baltimore's most troubled high schools — a place where three young men were lost to violence this school year — dozens of offers to help have poured in from strangers, some who know Khalil's community well and others who live far removed from it."
On June 23, The Post published: "'Soar Khalil soar!' Nearly 250 strangers give a Baltimore teenager $30,000." On June 28, WMAR's Mallory Sofastaii interviewed Bridges, his mentor Antwon Cooper, and Hallie Atwater, LCSW-C, MSW, of the SSW outside the high school about the outpouring of generosity.
The effort to assist Khalil is being overseen by Atwater, who is the community school coordinator at RA, one of Promise Heights' six community schools in West Baltimore. A place-based initiative, Promise Heights helps families and children in the poverty-stricken neighborhood of Upton/Druid Heights, where RA is the only high school, from cradle to college or career.
In Bridges' case, his preferred career would be physical therapy or athletic trainer. But his only income is unpredictable shiftwork in fast food and, with his ailing mother in a nursing home, his prospects have been uncertain. Beyond that, he has lived, until recently, in an area of West Baltimore that has had many murders of teens and young adults in recent years.
Rachel Donegan, JD, assistant director of Promise Heights, was quoted on crime and its impact for the article "'I don't know if people understand what is happening in Baltimore,'" which appeared as part of the June 16 multimedia presentation.
Promise Heights surveyed 209 students at RA and at Booker T. Washington Middle School for the Arts. The latter is among the initiative's community schools and has suffered its own loss; a 13-year-old student was shot and killed on June 11. Of the respondents, 43 percent said they witnessed physical violence at least once a week, and 39 percent said they knew someone who had been killed before the person reached age 20.
The survey was made possible through the BUILD Health Challenge, which awarded a $75,000 planning grant in 2015 to Healing Together Collaborative (HTC): Preventing Youth Violence in Upton/Druid Heights.
Key partners in HTC with Promise Heights are the Druid Heights Community Development Corp. (DHCDC), which is the lead recipient; the R Adams Cowley Shock Trauma Center at the University of Maryland Medical Center Violence Prevention Program; Roberta's House, a family grief support center; Maryland Communities United, a grass-roots membership organization; and the Baltimore City Health Department.
The HTC came together as a result of The Sun's "Collateral Damage" series, which in turn drew grant funding from the Center for Health Journalism at the University of Southern California Annenberg School for Communication and Journalism. The result was a collaboration to give young people a voice to speak about crime in a video and in a community forum co-sponsored by Promise Heights.
Youth and community partners have come up with activities and interventions to provide preventive and responsive supports for youth violence prevention, which will be the focus of a BUILD implementation grant application to be submitted in September 2016.
The Sun also published a multimedia story, "Mantra for graduates of troubled Baltimore high school: 'You can make it'" on RA's June 3 ceremony during which Principal Nikkia Rowe honored Bridges in part for repeatedly speaking on behalf of RA.
The Sun published a letter to the editor noting RA's improved graduation rate, in which SSW Dean Richard P. Barth, PhD, MSW, and Assistant Dean Bronwyn Mayden, MSW, Promise Heights executive director, described the role of mentors made possible through an expanded Seeds of Promise program. The SSW obtained a $720,000 grant from the Maryland State Department of Education for Seeds of Promise through August 2017.
Anyone wishing to further the work of Promise Heights can contribute to the University of Maryland Baltimore Foundation, Inc., selecting Promise Heights.
The Post published a letter to the editor from Barth about how teenagers, including Bridges, benefit from the services of community schools such as RA. "This proven model deserves expansion to more schools and to have enough reach to support youth who continue to need ideas, resources, and caring even after graduation," he said. "Every parent gulps when they think about the risks of their child's post-high school experience—imagine the risks for those children who rely on community schools for their guidance and, even, their survival."