The University of Maryland, Baltimore's Promise Heights initiative has been working with community partners and adolescents in West Baltimore to seek solutions to the violence that has become a public health crisis.
"This is a public health emergency," Bronwyn Mayden, MSW, executive director of Promise Heights, said in reference to data obtained in a survey of young people reporting how violence affects their lives. Nearly four in 10 said they knew someone who had been killed before turning 20 years old.

"We have to band together to prevent the violence and all the trauma we're seeing," Mayden said in welcoming more than 120 people, many of them teens and young adults, who attended a forum held Feb. 3 at Bethel AME Church. The event's multiple sponsors included The Baltimore Sun and partners in the BUILD Youth Violence Prevention Program.
View a photo gallery.

The Promise Heights initiative, led by the University of Maryland School of Social Work (SSW), seeks to improve the lives of children and families in the impoverished neighborhood of Upton/Druid Heights. Mayden is assistant dean of the SSW, and several faculty and staff members helped organize the forum and participated in the discussions that took place.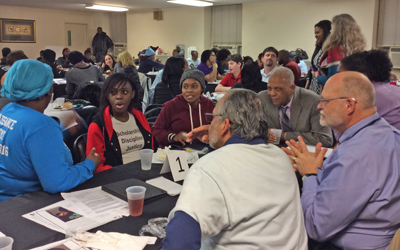 Attendees included SSW clinical associate professor Frederick Strieder, PhD, MSSA, director of Family Connections; the Rev. Frank M. Reid III, D.Min, senior pastor of Bethel AME; Gregory Thornton, Ed.LD, chief executive officer of Baltimore City Schools; a representative of the Baltimore City Police Department and a representative of the Baltimore City Health Department (BCHD).

The results of the survey and the ideas of young people about how to address the troubling results were published Feb. 4 in a Baltimore Sun article, "Survey shows prevalence of violence in lives of Baltimore students." Its publication and the work that led to the survey grew out of the Sun's 2014 series by Andrea K. McDaniels, "Collateral Damage."

To prevent violence, 64 percent of those surveyed suggested more jobs for youth and more than half called for more activities after school, for teen support groups, and for parents talking with the children about violence.
Promise Heights surveyed 209 students at Baltimore Renaissance Academy (RA) High School and Booker T. Washington Middle School for the Arts, which are among the initiative's five Community Schools. Of the respondents, 43 percent said they witnessed physical violence at least once a week, and 39 percent said they knew someone who had been killed before the person reached age 20. On the topic of weapons, 40 percent knew someone with a gun, and nearly 19 percent said they could easily get a gun. Slightly more than half blamed gangs as the cause of violence but 48.2 percent disagreed.
Many of the students surveyed and others actively engaged in the prevention effort were directly touched by fatal incidents in November and January. In the first, RA student Ananias Jolley, 17, was stabbed in a high school class and later died. Classmate Donte Crawford was charged with first-degree murder in that case. On Jan. 29, two students in leadership roles at the forum saw the body of another RA student, Darius Bardney, 16, who had been shot moments before at an apartment complex.

The survey was made possible through the BUILD Health Challenge, which awarded a $75,000 planning grant in 2015 to Healing Together Collaborative: Preventing Youth Violence in Upton/Druid Heights (HTC).
Key partners in HTC with Promise Heights are the Druid Heights Community Development Corporation (DHCDC), which is the lead recipient; the R Adams Cowley Shock Trauma Center at the University of Maryland Medical Center Violence Prevention Program; Roberta's House, a family grief support center; Maryland Communities United, a grassroots membership organization; and the BCHD.

The collaborative was formed in response to the Collateral Damage series, which appeared in December 2014 and was supported by the Annenberg Center for Health Journalism at the University of Southern California (USC). As a follow-up, USC Annenberg helped fund an effort for the Baltimore youths to tell their own stories.

In a resulting video produced by The Sun, "Collateral Damage: Community Voices on Hardship and Healing in Upton/Druid Heights," children ranging from pre-kindergartners to teenagers speak. Among them is the 17-year-old who would go on to be charged in the stabbing death. And in an interview, the mother of the slain youth describes her loss. The video was shown to a hushed crowd.
Hallie Atwater, LCSW-C, of the SSW, who as community coordinator at RA has helped students and families cope with the trauma, was involved in the forum and was quoted in The Sun's article. "It's sad and not fair, and it's really adding up in a big way," she said of the violence.

Seeking an antidote, a group of youth ambassadors with the DHCDC developed a conflict resolution tool incorporating the slogan, "Be TRUE to your WORD." At the conclusion of the forum they joined Mark Montgomery, who works with youth at Bethel AME, and Tavon Benson, of the DHCDC, in leading a pledge based on the tool. Adults were given cards that said: "Do Your Part to End Youth Violence in West Baltimore."