Members of the National Institutes of Health's (NIH) Accelerating COVID-19 Therapeutic Interventions and Vaccines (ACTIV) Working Group, which includes Kathleen Neuzil, MD, MPH, DTPH, the Myron M. Levine, MD, DTPH Professor in Vaccinology and director of the Center for Vaccine Development and Global Health (CVD) at the University of Maryland School of Medicine (UMSOM), assessed the practical considerations and prerequisites for using controlled human infection models (CHIMs) to support development of a SARS-CoV-2 vaccine.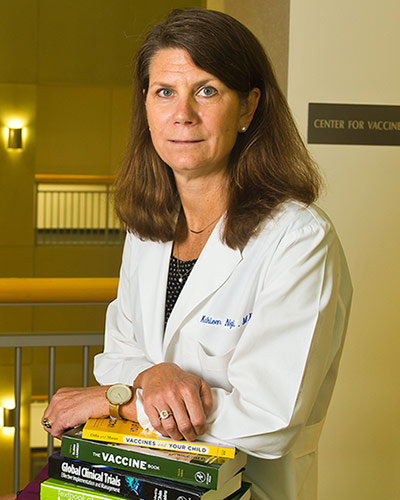 Neuzil and Meagan Deming, MD, PhD, postdoctoral fellow, were authors of a commentary outlining the timeline for developing a challenge study, which was written on behalf of the NIH ACTIV working group and published in the New England Journal of Medicine.
The commentary also highlighted the need for safeguards as set out by the World Health Organization (WHO). The authors concluded that large, randomized, controlled trials of SARS-CoV-2 are the fastest and most effective path forward for establishing vaccine safety and efficacy. Parallel development of CHIMs may provide complementary tools to address additional questions such as the duration of immunity and correlates of protection, if such studies can be conducted ethically.
Learn more: https://www.nih.gov/news-events/news-releases/nih-activ-vaccine-working-group-weighs-role-human-challenge-studies-sars-cov-2-vaccine-development