The Class of 2022, along with family and friends, logged on from their computers to celebrate this year's Student Clinician Ceremony, held on Friday, June 19. Now in its 18th year, the University of Maryland School of Medicine (UMSOM) Annual Student Clinician Ceremony marks the third year of medical education as students transition into clinical clerkships.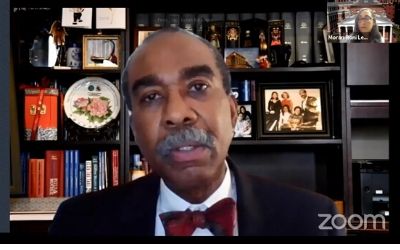 "It's unfortunate that we cannot conduct this special ceremony in person," said Dean E. Albert Reece, MD, PhD, MBA, who is also executive vice president for medical affairs, University of Maryland, Baltimore, and the John Z. and Akiko K. Bowers Distinguished Professor, UMSOM, during his address. "Let this virtual format serve as a roadmap reminder of the value that you bring to the clinical setting and that which you could not be entering at a more critical time."
As health care systems and medical schools across the nation adjust to the "new normal" of COVID-19, the wake of protests against police brutality and racial injustice has shined a bright light on the state of racial and ethnic disparities in health care.
"It is perhaps a happy, hopeful coincidence that today's ceremony — honoring the profession of medicine and your transition to clerkships — would coincide with such a historic holiday," said Kerri Thom, MD, MS, professor of epidemiology & public health and medicine, associate dean for student affairs, and assistant dean for student research and education, who was referencing Juneteenth, the nickname for June 19, 1865, which marked the effective end of slavery in the United States.
During the ceremony, third-year medical students Erica Makar, Nita Gombakomba, and Malina Howard recited a poem by Arthur Knoll in recognition and celebration of Juneteenth.
"Recent events have served as an intense reminder of the humanity of medicine," said Makar. "And it is from this lens that I hope to specifically care for LGBTQ youth and communities of color in clinical practice, through advocacy and by teaching others."
H. Neal Reynolds, MD, associate professor of medicine and co-director of the Multi-Trauma Intensive Care Unit at the R Adams Cowley Shock Trauma Center, also emphasized the power in humanism in his keynote address. "A lot has been changing; however, humanism is one of the things that will never change," said Reynolds. "Develop special ways to help your patients and you will, in fact, be that best doctor."
The ceremony concluded with the class reciting the Student Clinician Oath and asking their family members and friends to pin their white coats — a tradition that signifies students' commitment to their patients and the profession.
This ceremony followed two days of practical skills sessions, small group discussions, and panel presentations pertaining to professional and ethical issues in patient care.