Researchers at the University of Maryland School of Medicine (UMSOM) have identified a surprising new mechanism that may significantly expand use of an important class of cancer drugs, called PARP inhibitors. These drugs are currently only approved to be used in those with certain mutations in the BRCA1 or BRCA2 genes that are associated with breast and ovarian cancers. The new findings were published online last week in the Proceedings of the National Academy of Science (PNAS) journal in collaboration with a group at Johns Hopkins University School of Medicine.
In the new study, the investigators determined a chemotherapy drug called Azacytidine (AZA) can cause certain cancer cells that do not have a BRCA mutation to respond very well to therapies that specifically target cells with these gene mutations. They found the drug activates an inflammation pathway that causes the release of inflammatory proteins called cytokines in the tumor cells. This inflammatory response in the cancer cells tricks them into acting as if they have been infected with a virus, a process known as "viral mimicry." The inflammatory-like signal then directly causes the cancer cells to make a change in DNA damage repair genes. This change causes the cells to resemble those with a BRCA mutation, thus making them sensitive to killing with a PARP inhibitor.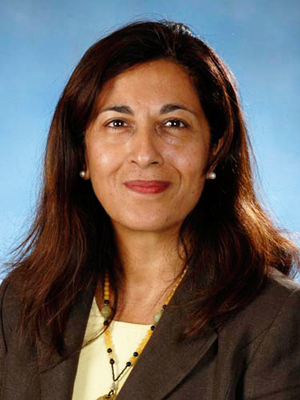 In a previous 2019 study also published in the journal PNAS, the group determined that lung cancer cells given AZA respond to a PARP inhibitor as if they have BRCA mutations, but the underlying causes were not known. "We now understand that the inflammation changes described above directly link to inducing 'BRCA-ness' in cells that do not have these mutations," explained Feyruz V. Rassool, PhD, professor of radiation oncology at UMSOM and a researcher in the Experimental Therapeutics Program of the University of Maryland Greenebaum Comprehensive Cancer Center (UMGCCC).
The above new findings provide further evidence to test whether PARP inhibitors can effectively treat cancer cells without BRCA mutations once they have BRCA-ness induced by AZA. PARP inhibitors, which block an enzyme that helps repair damaged DNA in cells, are currently approved only to treat those cancers with BRCA mutations.
In fact, the researchers recently helped launch an early phase clinical trial, combining an AZA-like drug and a PARP inhibitor for patients without BRCA mutations who have advanced breast cancer. While the trial is primarily being conducted at Indiana University, the investigator team at UMSOM and Johns Hopkins University (JHU) will evaluate inflammatory processes in tumor biopsies and blood samples from the study patients both before and after treatment.
The new PNAS study was co-authored by Michael Topper, PhD, instructor of oncology at JHU, UMSOM postdoctoral fellow Lena Mclaughlin, PhD, and Stephen Baylin, MD, chief of cancer biology at JHU School of Medicine. It was funded by Stand Up to Cancer, a charitable initiative founded in 2008 by nine women in the entertainment industry to accelerate groundbreaking research and bring new treatments to cancer patients as quickly as possible. Funding for the current study was also provided by the National Cancer Institute, the National Institutes of Health, and the Adelson Medical Research Foundation, as well as the Hodson Trust and the Evelyn Glick Fund.
"Identifying how inflammation is linked to cancer-causing processes is foundational work that has broad implications," said E. Albert Reece, MD, PhD, MBA, executive vice president for medical affairs, University of Maryland, Baltimore, and the John Z. and Akiko K. Bowers Distinguished Professor and dean, UMSOM. "This translational research will hopefully lead to exciting new avenues for treatment to improve the lives of cancer patients."