Whether it was at the Maryland Proton Treatment Center, the R Adams Cowley Shock Trauma Center, the Institute of Human Virology, or a host of other health services facilities, Baltimore City high school students participating in the University of Maryland, Baltimore (UMB) Summer Bioscience Internship Program (SBIP) can combine their experiences with their unique gifts to become the community's new leaders despite the challenges they may face, U.S. Rep. Elijah E. Cummings, JD '76, told the youths.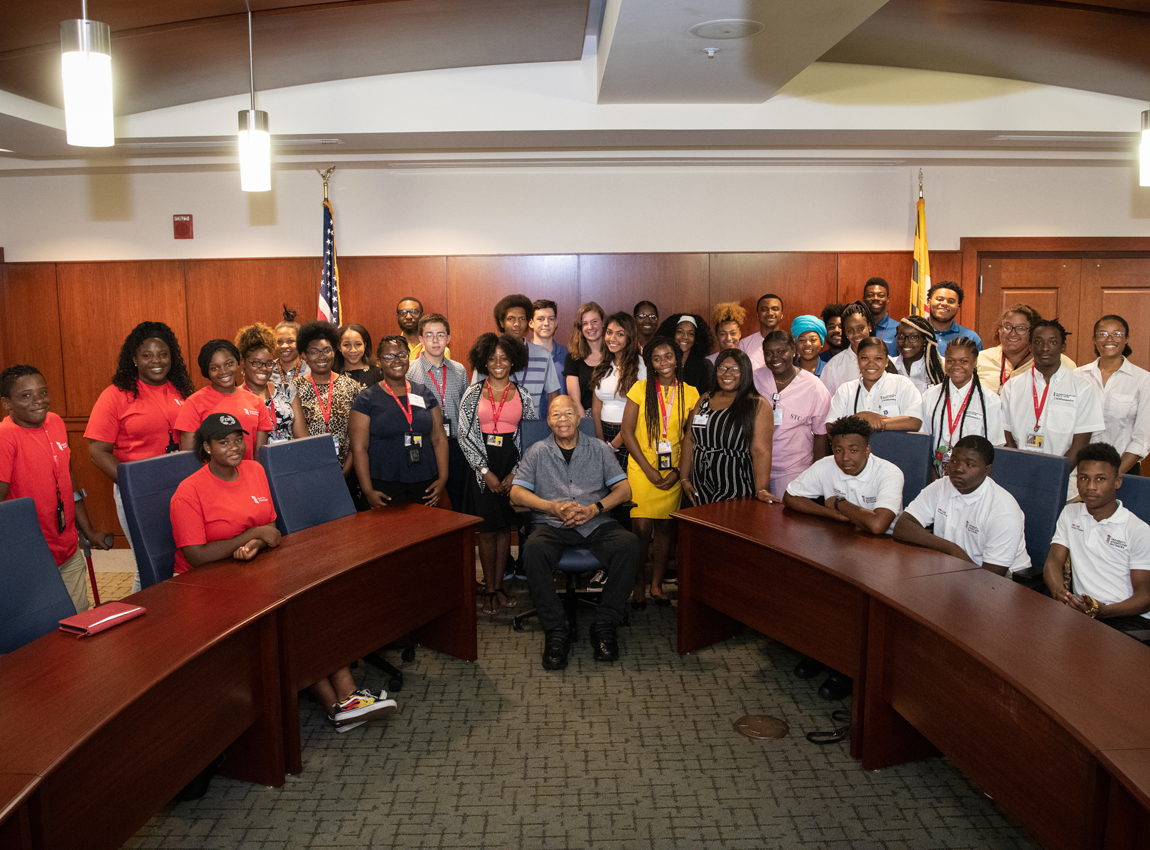 "My point is that life will throw you some curves. You will go through some pain and you will be hurt at times. You take your pain and turn it into a passion to do your purpose. And so, I beg you, don't curse your experience living in West Baltimore or wherever you live," said Cummings, speaking at a July 30 luncheon held for the youths and their mentors in the President's Boardroom at UMB. "I come by here to encourage you to be all that God meant for you to be. It is so very, very important."
SBIP is one prong of the YouthWorks program at UMB, which is participating in the work-readiness initiative with the Mayor's Office of Employment Development for the 29th year. The other sectors are the Community Engagement Center; private sector (administrative/office jobs); and the CURE Scholars Summer Program. The latter hosts students from UMB's CURE initiative, which is supported by the National Cancer Institute's Continuing Umbrella of Research Experiences (CURE) Program.
The five-week summer internship program provides research and higher education exposure at UMB for high school students 16 and older who attend West Baltimore schools or live in West Baltimore.
UMB President Jay A. Perman, MD, welcomed the students and their mentors before introducing Cummings.
"I'm very proud of the fact that we can host summer interns so that so many of you can have an experience here at the University in various lines of endeavor," Perman said. "Some of you are in laboratories. Some of you are at the Community Engagement Center. Some of you have experienced some clinical exposure. It's fantastic to have all of you because you are the future. You're the future of health care. You're the future of research. You're the future of our community."
Cummings "has been incredibly responsible for all of this happening," Perman said, noting the congressman has supported the program for many years. "Thank you, sir, for always inspiring us, always making us better, and for everything you do for this community and your city."
Cummings shared the story of his upbringing and his parents' arrival to Baltimore in 1948.
"They came to Baltimore for the same reasons that the refugees are coming to us from Guatemala and Honduras. They felt that their children would have a better chance in Baltimore," Cummings said. In their new city, his father found work as a laborer and his mother worked as a domestic, cleaning homes in Guilford and Roland Park.
His parents, who dropped out of school after fourth grade to work as sharecroppers, always stressed the importance of education. From kindergarten through 12th grade, Cummings did not miss a single day of school.
"It's because I realized that if I was going to escape poverty, if I was going to make a difference in the world, I had to be educated," he said.
Until sixth grade, Cummings was mistakenly assigned to special education classes that were well beneath his capabilities. A teacher gave him the chance to work hard and prove that special education classes weren't for him, and the opportunity changed his life, according to Cummings.
"This little guy from South Baltimore," as he described himself, went on to graduate with honors from high school, from Howard University, and from the University of Maryland Francis King Carey School of Law. He passed the bar exam on his first attempt.
"I come here, I tell you that story, not to make me look good, but I come to tell you that there's greatness in you. Don't let anybody tell you that there is not greatness in you, because there is," he said.
Brian Sturdivant, MSW, UMB's director for strategic initiatives and community partnerships, oversees the SBIP program.
"We have students who have either missed the YouthWorks deadline or have aged out of YouthWorks and elect to participate unpaid," he said. "That tells me that they value the experience more than the pay, and that tells me that we must be doing something right."
Laura S. Buchanan, MD, assistant professor of surgery at the University of Maryland School of Medicine (UMSOM) and a mentor in the program, said she benefits from participating just as much as the students.
Kristiana Dyson, 18, worked at Shock Trauma, where she says she was "in the middle of all the action."
She will be attending Norfolk University and eventually wants to become a physician assistant. "A lot of people my age, as they are going to college, don't have anything clinical for their experience, and I do now. This is a great program."
Kiana Carr, a student at Towson University, spent the summer working in the University of Maryland Department of Radiation Oncology.
"It opened my eyes to a field of medicine I didn't know existed," she said.
Private Sector YouthWorks, formerly known as Hire One/YouthWorks, is a summer internship program in which UMB collaborates with the Mayor's Office of Employment Development. Interns work at UMSOM, the Carey School of Law, the University of Maryland School of Dentistry, UMB Human Resource Services, the Office of Accountability and Compliance, Public Safety, Campus Life Services, URecFit, and other UMB agencies.
The goal of Private Sector YouthWorks is to give students real-world experience in a professional work environment. Students get an opportunity to work in academia, which is a unique experience unlike private industry, and see what a successful career looks like.
For Maurice Marshall, 17, a student of Green Street Academy who worked as a counselor in URecFit's SummerU program with West Baltimore youths, Cummings' remarks were beyond inspiring.
"It's good to see a person from where we come from in such a high-level position," Marshall said. "It shows you we have no limits on what we can do."