Samirah Franklin recently tried on a new role for size: catcaller at a protest rally.
"Hey you're looking good. I like those jeans," Franklin, 19, of Sandtown, slyly told a young woman who visibly winced at the attention she was receiving. "You're looking reallllly good."
Several bystanders encircled the woman, in an effort to come to her aid, forming a human buffer zone between the harasser and her intended target.
Franklin and the "victim" were among 60 people who participated in a workshop on how to be a nonviolent active bystander on Jan. 20, at the University of Maryland, Baltimore (UMB) Community Engagement Center. Through role-playing exercises participants learned techniques in how to de-escalate conflict and come to the aid of someone being verbally harassed or intimidated. (View a photo gallery.)
The training, sponsored by UMB's Anti-Oppression Work Group in collaboration with the political action group Swam Revolt, was one of 23 taking place simultaneously at sites across the District of Columbia, Maryland, and Virginia, and the only one held in Baltimore.
"That was really hard to do," Franklin acknowledged of her role as the "attacker" after the exercise was over. "Some people aren't going to be bothering you in 140 characters [on Twitter]. Some people are going to be in your face. I have some hate in me and I try to redirect the hate toward change."
As an African-American Muslim woman, Franklin said she felt coming to the workshop was "super important."
"In my normal walk of life, I would definitely like to be prepared with any way I could to be an ally to someone who needed some help," she said. "We've all got to have a better way of handling things."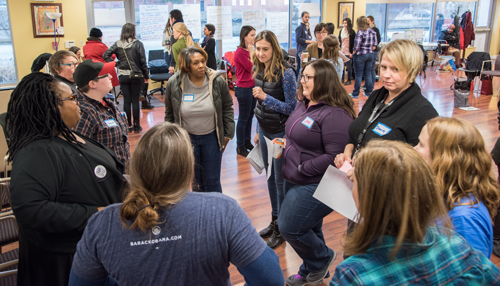 The workshop encouraged people to become active bystanders and de-escalate conflicts by engaging the target, rather than the attacker, and offering the target support. In all, nearly 2,000 people underwent the training throughout the region.
"We're not preparing for the 1960s. We're not going to touch one another. We're not going to push you to your breaking point. But this is hard work," said Annie Hilb, who along with University of Maryland School of Social Work students Karen Campion and Bethan McGarry facilitated the afternoon workshop. "There's no easy way of dealing with these complex issues."
Many attendees said they participated in the workshop as a way to prepare for the Women's March on Washington, taking place the next day.
Participants also learned how to use their cell phones to document injustice and offer support to keep bad situations from getting worse.
Among the exercises conducted was what is known as a "hassle line," in which two lines of people face each other and take turns verbally harassing each other for a minute at a time. Shouting and animated gestures filled the room. The goal is to find ways to intervene without escalating the confrontation.
"I've been in situations where I've seen something happen and I've thought, could I have done something differently?" said Chrysalinn Archie, a community member who attended the workshop with her husband, Ulysses. "This training will give me that skill set."
Jennifer Gallinat attended the training while visiting from St. Louis for the Women's March on Washington.
"In many ways, with the people attending today, it was like preaching to the choir," she said. "But there are times when even the choir needs to hear the sermon, too."