Almost 7,000 individuals with active failure-to-appear (FTA) misdemeanor warrants in Baltimore City are getting a second chance in the new year to obtain a new trial date and vacate their FTA arrest warrants. The second chance is made possible by a partnership among the University of Maryland Francis King Carey School of Law and its Access to Justice Clinic, the Office of the Public Defender for Baltimore City, the Baltimore City State's Attorney's Office, and the Baltimore Police Department.
Professor of Law and Director of the Access to Justice Clinic Douglas Colbert, JD, announced the program at a news conference at the University of Maryland, Baltimore Community Engagement Center on West Baltimore Street on Jan. 5. Colbert was joined by State's Attorney Marilyn Mosby, Baltimore Police Department Commissioner Kevin Davis, Baltimore Public Defender Elizabeth Julian, Executive Director of the Baltimore Criminal Justice Coordinating Council Kim Barranco, Deputy Sheriff for Baltimore City Samuel Cogen, and Pastor Todd Yeary of the Douglas Memorial Community Church in Baltimore.
The FTA Second Chance Program (#FTA2ndchance on social media) will run weekdays Jan. 9 to 31, 2017, offering those who missed court dates for nonviolent misdemeanors the chance to obtain legal advice from a lawyer and receive a new court date to resolve their pending misdemeanor charges. Eligible individuals can appear at a public defender's office at one of three district courts, apply for the warrant recall and return home the same day. FTA warrants are eligible only if they stem from any of more than 100 designated misdemeanor offenses. Eligible individuals must have no other unapproved pending charge.
Individuals interested in more information may call the Office of the Public Defender at the following numbers: Wabash Office: 410.878.8114; Eastside Office: 410.878.8600, ext. 0; Patapsco Office: 410.878.8400.
The Access to Justice Clinic began advocating for an FTA warrant relief program in the fall semester of 2015. Students, led by Colbert, argued that such a program would be beneficial for all involved, expediting a court process that costs all parties time and money. Students and Colbert worked closely with the agencies involved to develop a program that benefits everyone.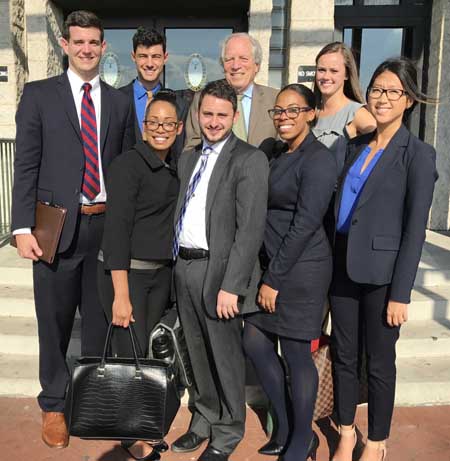 The students worked with an unlikely alliance of partners to bring the program to life, Colbert noted – prosecutors, police, and the judiciary aligned with public defenders and a nonprofit law clinic.
"It's quite unusual to have this type of collaboration," Colbert said. "While the students may have initiated the idea, we would not be here today but for this extraordinary collaboration between the principal players in our city's pretrial justice system."
Students played a critical and unique role in developing the initiative, said Maryland Carey Law Dean Donald Tobin, JD.
"I'm incredibly proud of Professor Colbert and the students in the Access to Justice Clinic," said Tobin. "They developed the idea of the FTA Second Chance Program and then worked to make it a reality. Second Chance is a winning proposition for everyone. By working together, people across Baltimore get a chance to resolve their outstanding FTA warrants, while public defenders, prosecutors, police officers, and judges can turn their attention to serious crimes that threaten our safety."
Development of the new program uniquely fulfills the purpose of the law school's clinical law initiatives, said Michael Pinard, JD, professor of law and co-director of the Clinical Law Program at Maryland Carey Law, who also spoke at the program's announcement.
"This is the type of collaboration that enhances the law school's mission to access justice for those who otherwise go without in Baltimore and in Maryland," Pinard said.
The Clinical Law Program is "a vital resource for the state," Pinard explained. "We provide tens of thousands of hours of free legal services each year … and we engage our students in all aspects of lawyering, from individual representation to community education, to legislative advocacy and policy advocacy." Pinard praised Colbert for his leadership and tenacity in bringing the FTA Second Chance Program to fruition and in educating his students.
The speakers at the program's announcement represented the diverse agencies involved in the FTA Second Chance Program. Barranco spoke on behalf of the Criminal Justice Coordinating Council, a group of 21 stakeholder agencies in criminal justice in Baltimore. Members include judges in leadership positions in both Circuit Court and District Court, as well as the other speakers present at the announcement.
"Thank you to all of our partners for your hard work and effort in bringing this program to fruition," Barranco said.
Julian, the public defender for Baltimore City, said the program is "a wonderful opportunity for individuals with failure to appear warrants to remove a barrier that has kept them from full participation in the community. Many are afraid to report to even probation for fear of being arrested, further compromising their freedom in future litigation."
Their fear, Julian said, is of being assigned bail they are unable to pay and being jailed, "removed from their family, their job and society. We are committing our staff to taking on additional work to achieve this. Our city can only move forward by supporting these kinds of initiatives."
State's Attorney Mosby praised Colbert for his "determination and persistence" in developing the program. "I've always said we need to take a holistic approach -- not just to prosecution, but a holistic approach to public safety in Baltimore City," Mosby said. "This is that holistic approach. We have to be able to break down those barriers of distrust in our community, and this program is an example of doing just that. This program is a matter of judicial economy that will rid the system of these old FTA warrants for nonviolent misdemeanor offenses. It allows all of us to be able to focus on those offenders in the city that need to be off our streets. And it gives the opportunity for folks to no longer have this type of barrier that's burdening them. It's freeing them to seek housing opportunities, to seek job opportunities. That's the holistic approach we should all be taking."
Commissioner Davis also praised Colbert for his "persistence" in creating the program that will target some of the 6,800 failure-to-appear warrants that are active in Baltimore City, out of 35,000 total active warrants.
"Most of the warrants that would be recognized in this program go unserved until there is an interaction between a patrol officer and the person who possesses the warrant," Davis said. "If they don't ever have an interaction with the police, they may live their entire lives in fear of that police encounter that will lead to their arrest. We believe this will reduce the tensions that would have existed between people with those outstanding warrant and the police."
"This is not a warrant forgiveness program, it has no effect on the underlying crime," Davis added. "All of this helps in BPD's goal to be more effective in our community policing by fostering trust between law enforcement and the communities that we serve. It allows BPD to focus our resources on the No. 1 priority for the city, and that's violent crime."
Assistant Sheriff Cogen spoke directly to people with affected warrants. "We are really thrilled to be participating in this program," he said. "We want you to turn yourself in. We do not want to arrest you, we don't want to stop you on a traffic stop. We want you to come into the public defender's office and have your warrant cleared. For us, it's the compassionate thing to do, to encourage you to do that."
Pastor Yeary said that he and other faith leaders have wanted to focus on redemption and restoration in criminal justice solutions.
"We've got to provide opportunities and gateways for folks to address outstanding concerns that actually hinder them from being full participants in their community, in their family, and in our city," Yeary said. "We believe we have to approach justice with a capital J."
Colbert said the hard work of the program lies ahead – getting the community's participation.
"We now have to convince a public that's often distrustful of our justice system to trust what we are saying, which is take advantage of this opportunity," Colbert said.