"Are you all looking forward to this 38-degree water?" someone shouted from high above the crowd. Hundreds of police officers from across Maryland cheered in response. Among the officers were nine members of the University of Maryland, Baltimore Police Department (UMBPD), huddled in the cold, waiting for the exact moment when they could brave the icy waters of the Chesapeake Bay for this year's Polar Bear Plunge.
(View a photo gallery.)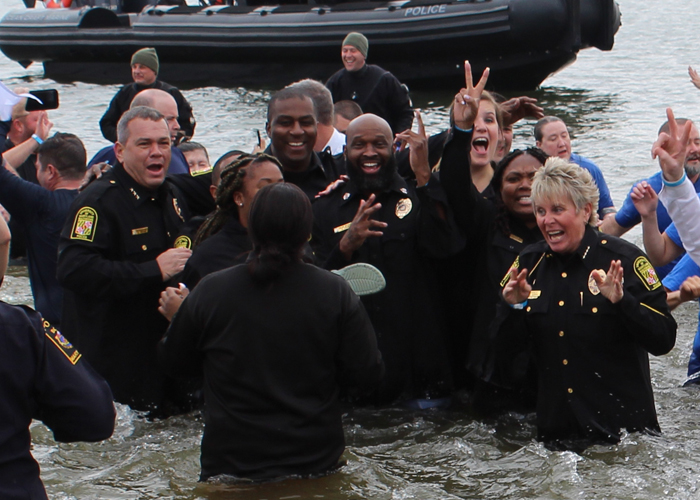 For more than a dozen years, UMBPD has participated in the plunge, which raises money for Special Olympics Maryland. The department's team, UMB Cool, raised nearly $3,000 this year.
"The plunge is a great way to raise money for a wonderful cause," says UMB Police Chief Alice K. Cary, MS. This is her second year running into the bay for charity. "I love seeing the camaraderie among our officers and our partner law enforcement agencies. It gives us the chance to connect and catch up with officers from across Maryland."
Joining the team for the first time were UMBPD comfort K-9s Lexi and Archie. The dogs didn't go into the water but attracted many admirers from the crowd, including Maryland Gov. Larry Hogan. The pups looked on from the beach as Cary, Deputy Chief Thomas Leone, Lt. Matthew Johnson, Cpl. Shantell Brown, Pfc. Fritzner Edouazin, Pfc. Joseph Fair, Sr., public information officer Carin Morrell, and police communications officers Erika Malone and Amanda Greene ran into the chilly water.
(View a video below.)
"Once you hit the water, the adrenaline takes over. You can barely feel the cold," Johnson says. "It's an honor to be able to help the Special Olympics while representing the UMB community."
This was Johnson's 11th year organizing the UMB Cool team for UMBPD. Johnson leads UMBPD's Community Outreach and Support Team (COAST), which works to provide opportunities and foster positive relationships between the UMB community and its neighbors. In December 2019, COAST was awarded the Governor's Award for Outstanding Proactive Crime Prevention Programs in Maryland. The Polar Bear Plunge is just one of many outreach events and activities UMBPD participates in throughout the year, including National Night Out, the Community Engagement Academy, and the Police Athletic/Activities League (PAL) in coordination with UMB's Community Engagement Center.
The three-day Polar Bear Plunge involves separate events for police, schools, corporations, and the general public. The Police Plunge, which took place Friday, Jan. 24, is open to first responders. The Maryland State Police is one of the major sponsors of the Plunge.
"Our officers work in such a serious job," Cary says. "It's nice to take some time to come together as a team, laugh, and have fun in support of a great cause. I can't wait to do it again, but we'll just cross our fingers for warmer waters next year."