The University of Maryland School of Dentistry (UMSOD) recently announced a newly endowed professorship in the Department of Orthodontics. It provides a powerful example of how alumni can work together to effect transformative change on behalf of the school.
Called the Alumni and Friends Professorship in Orthodontics, it has been established with funds raised by alumni and other members of the UMSOD community as well as support from the University of Maryland Baltimore Foundation, Inc.
"This remarkable gift will help the School of Dentistry attract and retain exceptional faculty and will ensure that, in the years to come, we will remain among the premier dental schools in the world," said Mark A. Reynolds, DDS '86, PhD, UMSOD dean and professor.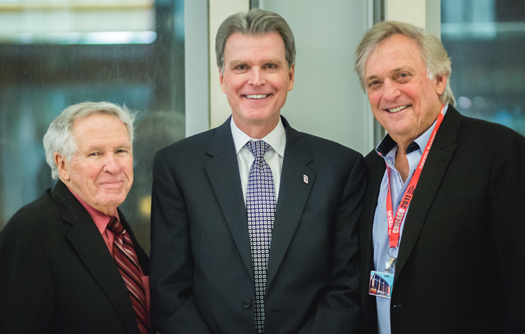 "I'd like to express my deep gratitude to the members of the alumni committee whose work and generosity helped establish this position, and, in particular, Dr. Edgar Sweren, who initially envisioned the professorship, and who steadfastly worked alongside his wife, Betty, to make it possible."
An endowed professorship benefits UMSOD in perpetuity and enables the school to attract top-tier faculty and reward outstanding performance. Exceptional faculty form the foundation for the excellence of our clinical programming, Reynolds said.
"I also would like to give my special thanks to Dr. Karl Pick, who, as chair of the committee, energized and organized its efforts on behalf of the professorship," Reynolds added.
The first endowed professorship established at UMSOD was the Frederick G. Smith, MS, DDS, & Venice K. Paterakis, DDS, Endowed Professorship in Oral & Maxillofacial Surgery. Created in 2015, it supports the work of a distinguished faculty member, enabling this professor to pursue new areas of research and innovative teaching methods.