The UMB Digital Archive, a service of the Health Sciences and Human Services Library (HS/HSL) at the University of Maryland, Baltimore (UMB), isn't just about digitizing old books. It also supports collaboration and the building of a legacy.
Collaboration is among UMB's core values.

"We've seen the benefit of the digital archive," said Shannon Tucker, MS, CPHIMS, assistant dean of instructional technology at the School of Pharmacy. "Having poster presentations entered into the digital archive in advance of conferences allows for greater collaboration between faculty, as well as increasing the visibility of the content in an enduring way."
Scholarly output that might otherwise be hidden comes to light in the archive. Posters, presentations, reports, and similar materials — whether in print (scanned in) or born digital — are ideal resources for deposit.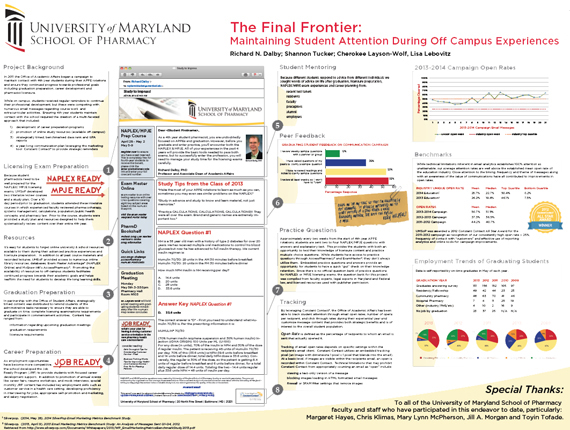 Each submission to the archive is assigned a citable, unique, and permanent URL and description. Scholars can share URLs of their work with colleagues or include them on their CVs.

Access to these resources is free and open through the archive.

Items within the archive range from doctoral dissertations and course catalogs to PowerPoint slides. "Most people aren't aware that the UMB Digital Archive also includes videos, oral histories, historical images, and annual reports," said Na Lin, MLS, head of resource development and sharing at HS/HSL.
Whether a print item is digitized or a PDF is pulled from a website, the archive is capturing and preserving the historical record of the campus.
Many entities at the University including the schools of medicine, dentistry, nursing, pharmacy, and social work, as well as the Office of Communications and Public Affairs, and the Office of the President value the UMB Digital Archive and use it to preserve their legacy.

"In the digital age it's important to preserve print that can be scanned but it is equally important to preserve born digital information that can easily slip away," said Patricia Hinegardner, MLS, AHIP, associate director for resources at HS/HSL. "The UMB Digital Archive will take UMB's legacy into the 22nd century."