The University of Maryland remains a top-10 public U.S. research institution, according to the National Science Foundation's (NSF) Higher Education Research and Development (HERD) survey, widely recognized as the preeminent national ranking for universities engaged in sponsored research.
According to the latest HERD survey released Dec. 15, the University of Maryland ranked 10th among all public institutions and 17th overall nationally in research and development spending based on figures from Fiscal Year 2021. The University of Maryland, Baltimore and the University of Maryland, College Park are linked as one research enterprise in the survey and reported combined research expenditures of $1.14 billion, an increase of about $39 million from the previous fiscal year.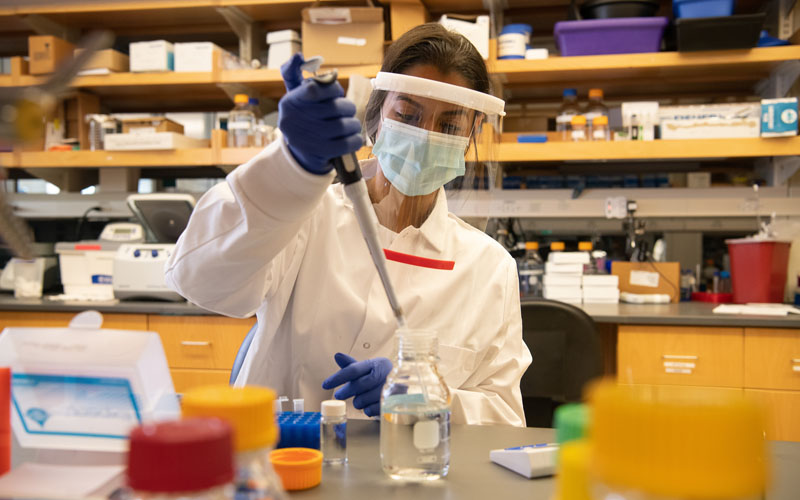 "Research expenditures and the HERD survey are a good indicator of the overall health and productivity of a research enterprise," said Gregory F. Ball, vice president for research. "The fact that the University of Maryland continues to be ranked so highly reflects the dedication and hard work of faculty and staff in both College Park and Baltimore who strive every day to combine discovery, creativity, and innovation in an effort to improve our state, nation, and world."
The University of Maryland conducts research addressing complex societal issues such as climate change, social inequality, and public health, employing cutting-edge science and technology including quantum science, artificial intelligence, data science, and augmented reality.
Click on the links below for more information on research happening in the following areas:
University of Maryland research expanded its broad impact through a strategic partnership called MPowering the State (MPower), established in 2012 and formalized as part of the University of Maryland Strategic Partnership Act of 2016. This paved the way for UMCP and UMB to combine research initiatives and leadership. MPower has fostered hundreds of collaborations across the Baltimore and College Park campuses that are growing Maryland's innovation economy, advancing interdisciplinary research, increasing educational benefits, and addressing the state's most critical issues. Learn more at mpower.maryland.edu.