The simulation rooms on the third floor of Pharmacy Hall are typically used by University of Maryland, Baltimore (UMB) students pursuing careers in pharmacy and the physician assistant profession to perform mock medical procedures and physical examination practice with realistic mannequins that can breathe, cough, and respond in real time to treatments and tests. But on Nov. 17, middle school students from Mother Mary Lange Catholic School (MMLCS) were treated to a behind-the-scenes look at the University of Maryland School of Pharmacy's (UMSOP) simulation space.
"It's really special for us to come here today," said Cynthia Tilghman-Lee, DVM, the after-school STEM program coordinator at MMLCS, which is located across from Pharmacy Hall on Martin Luther King Jr. Boulevard. "This is the last meeting of the semester, so we are ending with a bang with a field trip."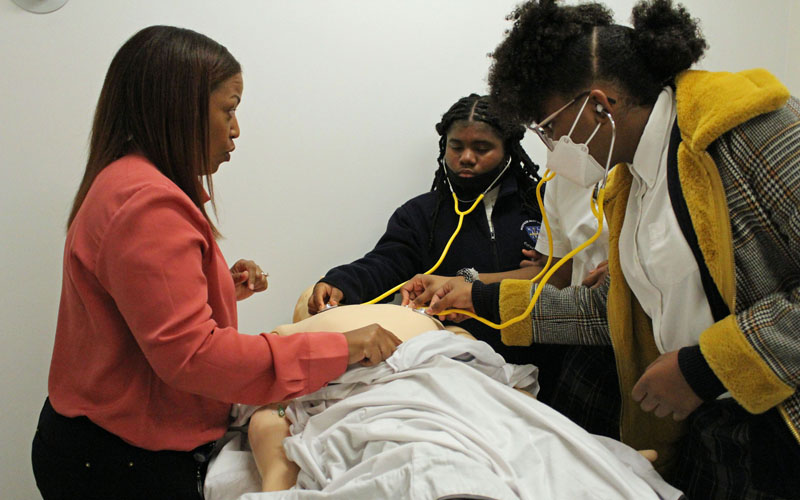 The students who participated in the field trip are members of MMLCS' Girls in STEM club, which is designed for young women with an interest in science, technology, engineering, and math (STEM). The girls meet with Tilghman-Lee once a week to learn about careers in the STEM field from guest speakers. They also work on special projects that provide STEM learning opportunities, such as building a working rollercoaster out of Legos.
The visit to UMSOP started with a short presentation from several female UMB professionals who discussed the education and training required to be a pharmacist, a physician assistant, and a simulationist.
After the presentations, the students went to the simulation rooms, where they were each given a stethoscope. They practiced checking the pulse, respirations, and blood pressure of the mannequins, just like the health professions students do in their classes.
"I feel like a kid doctor," said Catherine Barnes, a sixth-grade student. "I really like science, and I want to be a nurse who delivers babies, so this feels like really good practice."
Dixie Pennington MSMS, CHSE, CHSOS, director of simulation for UMSOP and UMB's Physician Assistant Program, led the students through the simulation labs. She told Catherine that they also have a mannequin that can simulate giving birth, and she would love to have the girls back to practice on it.
Tilghman-Lee was happy to see her students making these connections to learning and real-world opportunities.
"When they see someone who looks like them and can relate to them in real life succeeding in a STEM career, they think 'I can do that too,' " she said. "It's very important, and I'm proud to be part of this journey with them. As a retired veterinarian-turned-educator and an African American woman, it warms my heart to help connect them with these opportunities and be a mentor to them."
After checking out the simulation labs, the students took a tour of UMSOP's community pharmacy practice lab, where pharmacy students practice filling prescriptions and giving patient counseling.
Each student left with a UMB swag bag that contained information about STEM careers and school supplies they can use to continue learning. Organizers say that they are excited to have the Girls in STEM students — several of whom expressed an interest in pursuing a career in pharmacy — back for another visit in 2023.
Pennington summed up the afternoon best: "I loved how excited these girls are and that this event has sparked their interest in careers in STEM. I can't wait to see them again!"