'Tis the season of gift giving, and as the holidays approach, the University of Maryland, Baltimore (UMB) opened its annual Christmas Store at the Community Engagement Center (CEC) on Dec. 9 and 10. The store is a special tradition for West Baltimore neighbors that provides a convenient location to purchase holiday gifts for their loved ones at a deep discount.
"We are trying to make purchasing holiday gifts in reach for everybody," said Brian Sturdivant, MSW, director of strategic initiatives and community partnerships for UMB. "This year, in this economy, everybody's feeling stretched. We really want to make sure that our neighbors are able to buy gifts for their loved ones without putting themselves out too much."
Unlike many toy drives that happen around the holidays, UMB's Christmas Store works directly with parents so that they can hand-pick toys and gifts for their families rather than receive a gift from an anonymous source. For the Christmas Store, donors purchase full-priced toys through an online gift registry. Then, those toys are sold to West Baltimore neighbors at a steep discount. All the gifts in the store are marked down to a third or a quarter of their regular retail price, and most of them cost between $1 and $5. This model allows neighbors to personally pick out gifts for their loved ones and makes parents the "heroes of Christmas."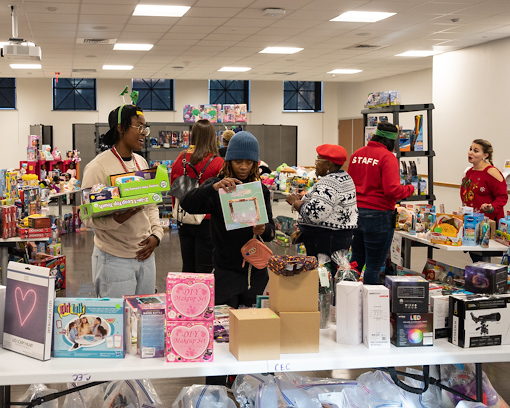 "I think it's a win-win situation," said Keesha Howard, a neighbor from Poppleton. "Instead of someone else selecting the toys for your kids, you get to pick them out. You know your children best. They have given their wish list to Santa Claus, and you get to fulfill that wish at a price that meets your income."
The store is organized through a partnership between UMB's Office of Community Engagement and the Foundry Church of Baltimore. This year, local CBS affiliate WJZ joined the effort in collecting inventory for the store, which totaled more than 1,000 toys. In addition to the toys for sale, the Maryland Book Bank set up shop in the store. Every shopper who passed through could pick out a book for each of their children and a holiday-themed book to read as a family at no charge.
"This store is a wonderful tradition for us, and we will continue to make it bigger and better every year," said Lindsay Ferguson, the director of operations and outreach for the Foundry Church. "We want to see people in our city lifted, thriving, and doing well, and we want to see our families grow and be strong."
All the money collected from the purchase of toys at the Christmas Store is donated back to the West Baltimore community. This year, the profit from the store will go toward supporting youth organizations such as 10:12 Sports and Safe Alternative.